Cream tea delight for older people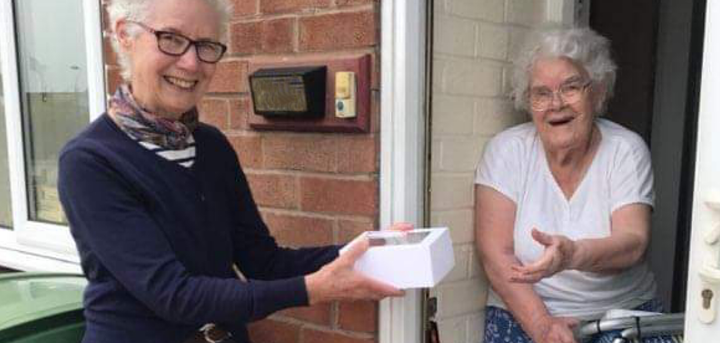 Published on 02 September 2020 01:47 PM
Day centre volunteers in Shrewsbury organised a lovely treat for their members last week by delivering cream tea gift boxes to the homes of older people.
Greenacres day centre volunteers Libby Baldwin and Stella Woodford have been a great support to their members during lockdown, making regular phone calls and organising deliveries of goodie bags and supplies to boost morale.
Our 37 day centres are usually a hive of activity for older people, but they are all temporarily closed due to the coronavirus pandemic. So that our members still have a friendly voice to chat to we've adapted our services, with volunteers telephoning 500 members, sometimes several times a week in the case of the most socially isolated, to alleviate any feelings of loneliness.
Heather Osborne, Chief Executive of Age UK Shropshire Telford & Wrekin, said: 'We want to thank all of our volunteers, like Libby and Stella, who take the time to support older people during this difficult time, whether it's making a phone call or picking up shopping, it makes a huge difference to the lives of older people across the county, particularly during the pandemic.'
If you need some help or support from Age UK Shropshire Telford & Wrekin call us on 01743 233 123, leave a message with your name and telephone number and we'll return your call as soon as we are able.