Tackling loneliness head on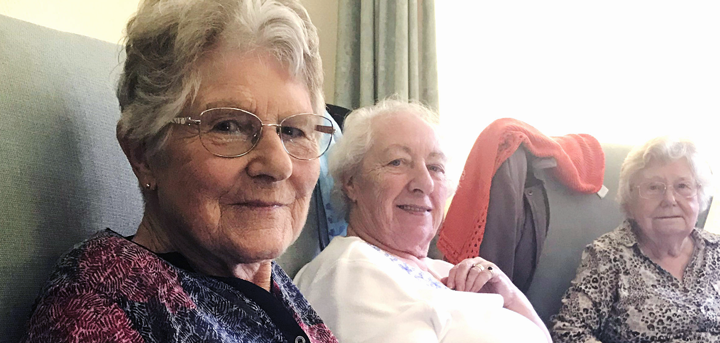 Published on 05 February 2020 10:00 AM
Loneliness can creep up on you but Age UK Shropshire Telford & Wrekin is working hard to tackle social isolation in older people head on.
We talked to June, a regular at one of our day centres in Shrewsbury, and she told us how much she's been helped by her weekly visits to Reabrook.
June, 84, has lived in Shrewsbury since her twenties after she moved there from mid Wales with her husband. She has seen many changes over the years, but it's the most recent changes in her life that have proved the greatest challenge.
June lost her husband in 2018 and shortly afterwards she had an accident, which left her stranded at home and feeling very isolated.
It was on a trip to her GP surgery that she had a chat with one of the nurses, who pointed her in the direction of Age UK Shropshire Telford & Wrekin.
'I felt shut in and didn't really know what to do with myself. I had some physio but that was about it. I was really struggling and my son said I was getting very negative. I think it was all down to loneliness.'
'I'd been to see the nurse and we got talking and she suggested I get in touch. I didn't know what to expect from a day centre but I did know I needed a bit of company. Rachel from Age UK Shropshire Telford & Wrekin came to see me and here I am!'
June has blossomed since she started going to Reabrook. When we met her for a chat, she had won a prize in the raffle and was positively beaming. 'It's given me more confidence and I find I'm looking forward to coming each week. The food is excellent. I love a meal out and everyone who runs the day centre is so friendly.'
On the subject of loneliness, June says, 'I think younger people find loneliness hard to understand. My son certainly found it very difficult to relate to. I became very low. Luckily, I'm okay now and I find the day centre brings me back among people and that is exactly what I needed.'
If you would like to find out more about Age UK Shropshire Telford & Wrekin day centres call us on 01743 233 123.