Volunteers deliver Christmas treats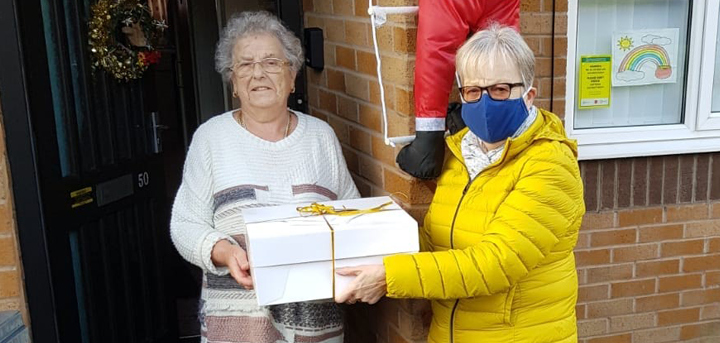 Published on 22 December 2020 12:34 PM
Day centre volunteers in St Georges organised a lovely treat for their members last week by delivering Christmas hampers to the homes of older people.
With the help of a grant from St Georges & Priorslee Parish Council and a generous in memoriam donation from a family of one of their members, the four volunteers have been able to purchase and deliver lots of morale boosting gifts throughout lockdown.
Since March, they delivered goodie bags containing treats, afternoon teas and most recently a Christmas hamper to the members of St Georges day centre.
The day centre volunteers have been a great support to their members during lockdown, making regular phone calls and organising surprise deliveries and supplies to boost morale.
Age UK Shropshire Telford & Wrekin's 37 day centres are usually a hive of activity for older people but they remain temporarily closed due to the current coronavirus pandemic. That hasn't stopped us though: we've adapted our services, with volunteers telephoning 500 members, sometimes several times a week in the case of the most socially isolated, to provide a friendly voice and alleviate any feelings of loneliness.
Our day services team also create and send over 200 activity packs every month to day centre members across Telford and Shropshire, with their Christmas themed pack now available for download on our website.
Heather Osborne, Chief Executive of Age UK Shropshire Telford & Wrekin, said: 'We want to thank all of our volunteers who take the time to support older people during this difficult time, whether it's making a phone call or picking up shopping, it makes a huge difference to the lives of older people across the county, particularly during the pandemic.'
To find out more about the support provided by Age UK Shropshire Telford & Wrekin, call us on 01743 233 123, leave a message with your name and telephone number and a member of our team will contact you as soon as they are able.
Further information
Related pages on our website