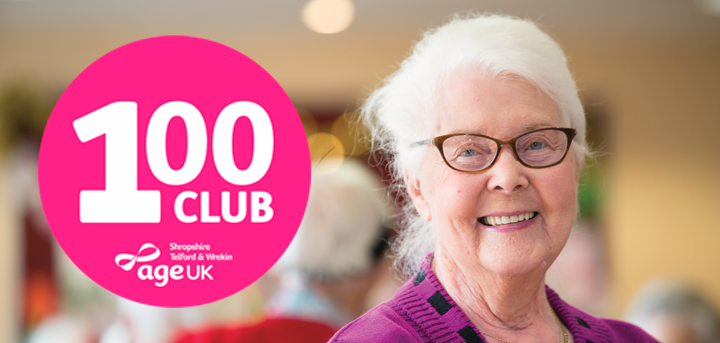 Join Age UK Shropshire Telford & Wrekin's 100 Club for your chance to win cash prizes every month and help local older people.
Our 100 Club is a great way for you to support us for just £2.00 a month with the chance to win cash prizes. Joining is really simple: complete and sign a membership form and standing order mandate for £24.00 annually (that's just £2.00 a month to play) or pay by cheque.
This buys you one membership number (allocated by us) which enters you into the monthly cash prize draw for 12 months. All participants must be over 16 years old.
The draw for first, second and third prizes will take place on the 27th day of each month.
If you win, a cheque will be posted to your address and your name will be published on our website and our social media accounts (unless you tell us you wish to remain anonymous).
The prizes
The prize money will be 45% of the membership fees collected that month.
First prize: 25% of the month's fees
Second prize: 15% of the month's fees
Third prize: 5% of the month's fees
So, if all 100 numbers are sold the prizes would be: first prize £50.00, second prize £30.00, third prize £10.00.
The remaining 55% goes to Age UK Shropshire Telford & Wrekin to help us to improve the quality of life for vulnerable and lonely older people in the county.
Join today and you could be our next winner
If you have any queries, please call our fundraising team on 01743 233 123 or email them at enquiries@ageukstw.org.uk
Previous winners
Congratulations to the winners of our June prize draw.
First prize: C Greenhalgh who won £18.00
Second prize: E Pugh who won £10.80
Third prize: B Mason who won £3.60
Further information
Related pages on our website