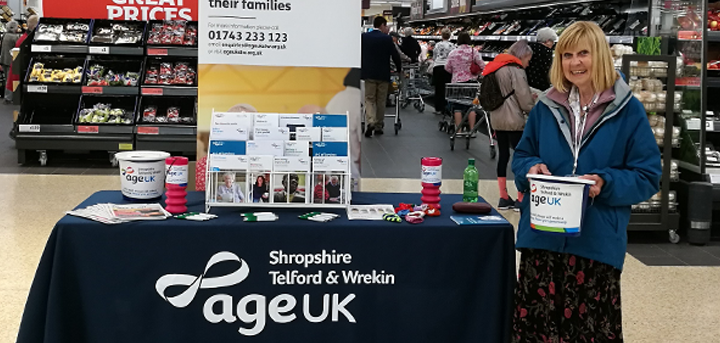 As a fundraising volunteer you could help to raise funds to support older people in Shropshire and Telford & Wrekin.
What do fundraising volunteers do?
Our fundraising volunteers help to raise money for Age UK Shropshire Telford & Wrekin and to raise awareness of the services we provide for older people and their carers.
We are looking for people to help us:
collect and distribute donation tins to businesses and organisations in your local area
attend awareness raising events where we often have a stand
with bag packing or collections in supermarkets
spread the word about our services in your local area by talking to people and distributing leaflets and posters.
What you will get out of it
It's a great way to make a real difference to someone's life
You'll be giving something to your community
You get to be part of Age UK Shropshire Telford & Wrekin's volunteer team
Volunteers tell us they find volunteering really rewarding
What is expected of me?
All you need is some basic knowledge about the charity and its services and the ability to talk to people. Just a small amount of your time can make a big difference. You don't need to make a regular commitment, we just need a group of people we can call on to help occasionally, maybe three or four times a year.