Shoppers at Asda Chelmsley Wood secure cash for local older people
Published on 18 February 2020 10:32 AM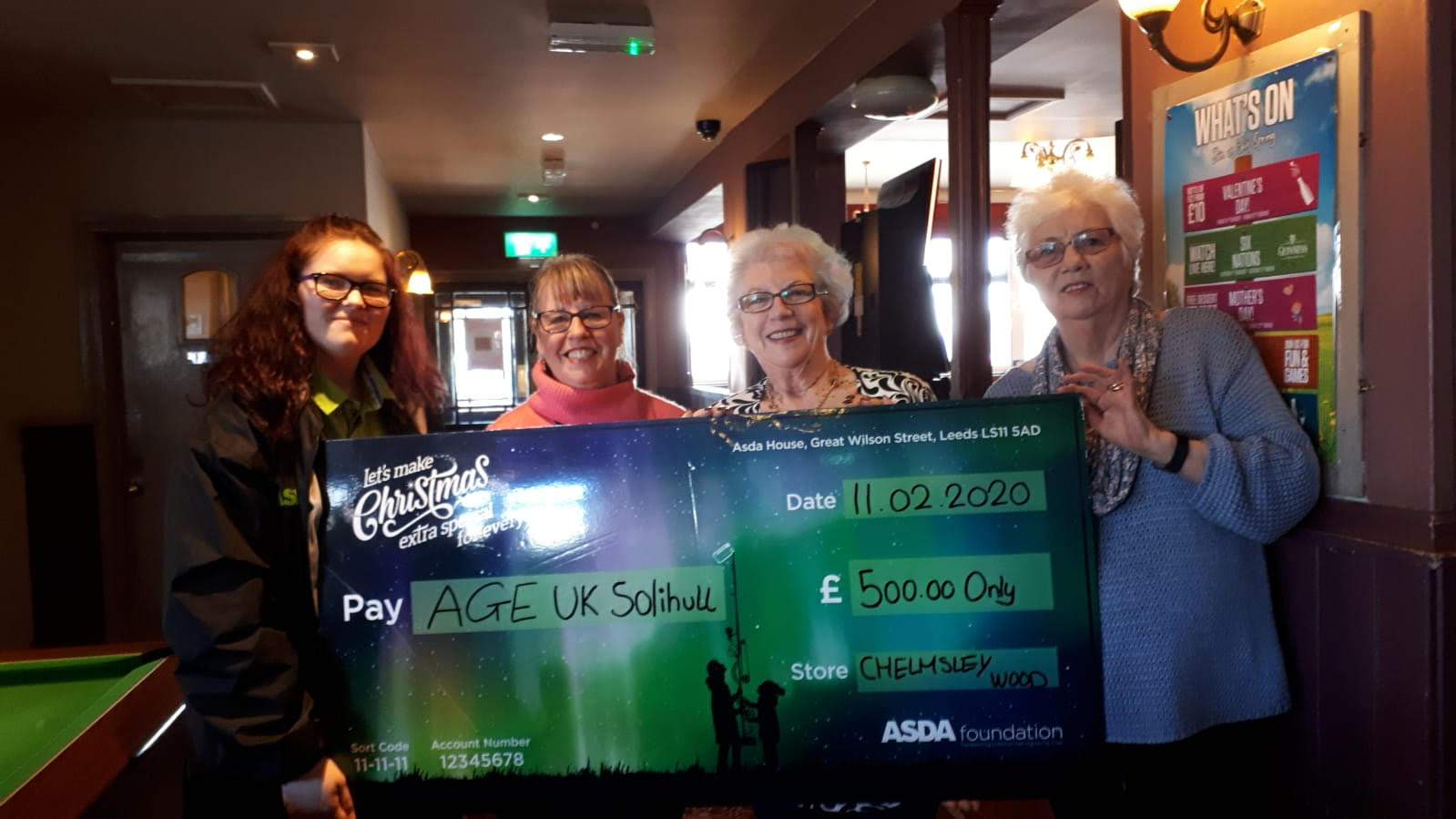 Shoppers at Asda Chelmsley Wood store have helped raise 500 pounds for Age UK Solihull.
We were one of three that were involved in the store's Green Tokens scheme for December 2019. Shoppers could collect a token when paying for their items, and 'vote' for their favourite cause by dropping it in the relevant charity's tube.
We finished the month in second place, and as Asda had doubled their donations to mark Asda Foundation's 30th birthday, this meant we were awarded £500 instead of the usual £250.
The store's Community Champion, Medina Chambers, presented the cheque to Age UK Solihull volunteers last week at our North Solihull lunch club. The Marston Green Tavern Lunch Club, or "Club MG", takes place every Tuesday. Older people who may be lonely or isolated enjoy a hot meal, entertainment and activities, as well as the opportunity to get out and socialise.
Lorraine Hart, Fundraising Manager at Age UK Solihull, said, "We were delighted to receive this generous donation. We are grateful to Asda Chelmsley Wood, and to all the shoppers who voted for us with their tokens. The money will all stay in Solihull to help us to provide our services for local people who need us, including those who are lonely or isolated."
Medina Chambers, Community Champion at Asda Chelmsley Wood, said: "We are really proud to be able to continually support the local charity groups in our area. At Asda, we're always thrilled when customers' chosen good causes benefit from these vital funding boosts and we get to raise awareness of what they do. It's great to see Age UK Solihull, who is right on our doorstep benefit from the £500 donation, double the normal about as we celebrated the Asda Foundation 30th Birthday."