Smartphone Quiz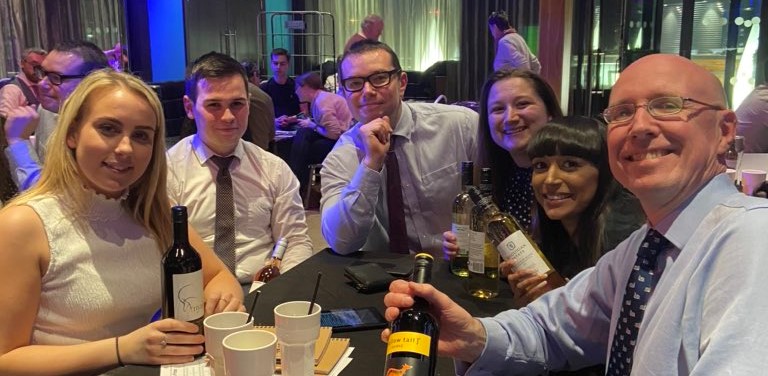 Published on 16 March 2020 11:36 AM
Our 6th Smartphone Quiz Night raised an impressive 2,000 pounds to help older people in Solihull.
The quiz, hosted by Stoo Pittaway, took place in Resorts World's Highline Lake Lounge, on Tuesday 10 March 2020. Guests enjoyed a complimentary welcome drink and a delicious buffet sponsored by Resorts World.
Almost 100 people bought tickets for the quiz, meaning it completely sold out. The hosts, Resorts World, and Birmingham Business Park both sponsored the event, and Barclays, Shirley branch, provided matched funding, which maximised the profits raised.
A raffle on the night raised £366, taking the total raised to over £2,000. Prizes generously donated by local businesses included an overnight stay and breakfast for two at the Genting Hotel, four tickets for the high ropes assault course at the Bear Grylls Adventure, and a £30 Touchwood voucher.
Several local businesses also put teams in for the quiz, including BCA Logistics, Cappfinity and Galliford Try, who are all based on Birmingham Business Park, local solicitors, Sydney Mitchell and QS Davisons, wealth management company, Jamieson Christie, Edwards Insurance, and the winning team, 'Residual Beneficiaries', from The Wilkes Partnership.
The money raised will all stay in Solihull to help Age UK Solihull provide its services to support local older people across the borough.
Lorraine Hart, Fundraising Manager at Age UK Solihull, said, "The Quiz Night was a huge success and we'd like to thank everyone who supported it and helped raised such a fantastic amount, from the businesses who donated raffle prizes, to Stoo who always puts on a brilliant quiz, to the guests who bought tickets and played the raffle.
"A special thank you to Resorts World who provided sponsorship and looked after us and our guests incredibly on the night, and to Birmingham Business Park, who also sponsored the event and promoted it to companies based on their multi-award winning park. Thanks also to Barclays, Shirley, who have provided matched funding and sent a team along to this and many of our previous quiz nights.
"We've had some wonderful feedback about the event and we're delighted that the guests enjoyed themselves as much as we did."
Liz Allister, Birmingham Business Park Development Manager, said, "Birmingham Business Park are honoured and delighted to support such a worthwhile local charity. Age UK Solihull do fantastic work and the smartphone quiz is a great example of bringing people and companies together in a fun environment for the greater good."
A Smartphone Quizz is a gameshow style interactive quiz which enables teams to answer quiz questions through a series of multiple choice, numbers and letter-based answers. Although it's done through smartphones and tablets, there's no chance to cheat and bonus points are awarded for being the fastest to answer the question.
We are planning another Smartphone Quiz Night for Tuesday 20 October. Keep your eyes peeled for further details!