Local businesses treat older people this Christmas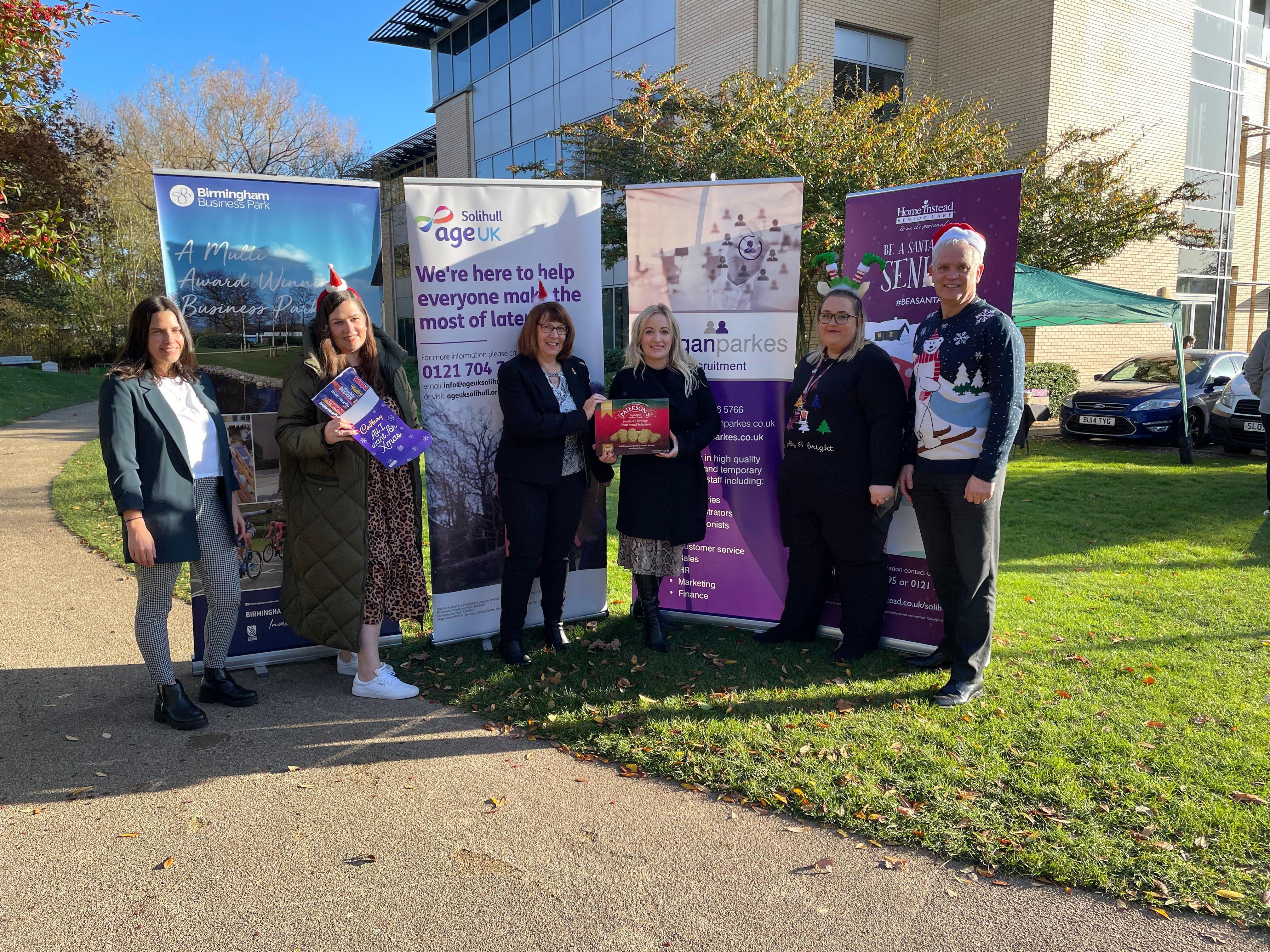 Published on 30 November 2021 01:50 PM
Three Solihull businesses have joined forces to collect sweet treats for Age UK Solihull in the run up to Christmas.
The campaign invites employees working on Birmingham Business Park, contacts of local homecare provider, Home Instead Solihull, and recruitment consultants, Morgan Parkes, to donate a selection box, box of chocolates or biscuits, which will be distributed to older people who attend our social clubs, or are clients of Linking People Together, our 1:1 befriending scheme. The target is for 200 gifts.
Age UK Solihull is a local charity which helps over 10,000 older people in the borough each year with the challenges faced in later life. Our Fundraising Manager, Lorraine Hart, says, "Christmas can be a difficult time for many of our clients who face the festive season on their own. Having a little gift given by a local person can lift the spirits and reassure them that they are not alone, and someone is thinking of them at Christmas. We are so grateful to the three companies for pulling together to coordinate gift collections. It is not the first time they have supported us at Christmas, and we are very grateful to them for taking time out of their busy schedules to coordinate such a worthwhile campaign."
Lori Henebury, Birmingham Business Park, says, "It is a privilege to be able to work with Age UK Solihull on this campaign to support older people in the local borough. It is heart-warming to see the generosity of our community as they come together to donate to such a worthy cause. I can't recommend more highly working with a local charity such as Age UK Solihull so that the donations made have an impact on the people in the local area."
David Dunn, Director of Home Instead Solihull, adds, "Every day we see the isolation and loneliness experienced by many of our elderly clients in the local community. it's a pleasure and a privilege to be able to support such a worthy cause and bring a little joy to someone's day."
Kate Morgan, Director of Morgan Parkes Recruitment, says, "We love supporting Age UK Solihull. After a tough couple of years for many, a bit of Christmas cheer and support is needed more than ever and the generosity of local people never ceases to amaze us. It also means we can raise awareness of the fantastic work that Age UK Solihull do at the same time."
Donations of selection boxes, or boxes of biscuits or chocolates (unwrapped) can be dropped off at Birmingham Business Park's Park Management Office, to Morgan Parkes' offices at 1 Old Warwick Road, Hockley Heath B94 6HH (opposite The Wharf pub), Home Instead's Offices at 5 Hockley Court, 2401 Stratford Road, Hockley Heath B94 6NW (opposite The Barn pub) or to the Community Advice Hub, The Core, Solihull Central Library or to the Community Advice Hub in Chelmsley Wood Library ideally by 6 December.