Older People's Information and advice
Age UK Solihull offers a free and confidential information and advice service for older people, their families and carers.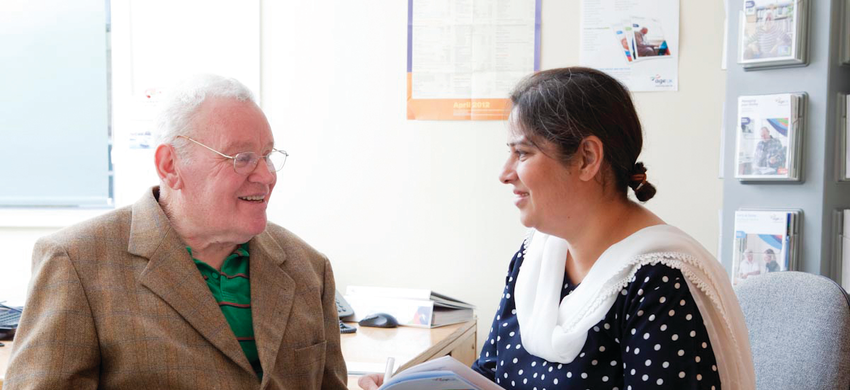 Older People's Information and Advice Service
Age UK Solihull is committed to giving older people comprehensive and high quality Information and Advice. We provide free, independent and impartial advice on a range of issues affecting older people, their families and carers. This advice is accessible, confidential, clear, and most of all, independent.
Our highly experienced Information and Advice Caseworkers will work with you on a one-to-one basis, enabling you to access the knowledge, skills and tools you require to resolve your issues and maintain independence.
Our specialist older peoples advisers can help you to navigate the care and support system in Solihull, help you to look at housing options, help you to find local services or just offer a friendly ear if you need to talk.
We can also provide you with information guides on a wide range of issues affecting older people and lists of local services and activities, such as tradespeople, care agencies, sheltered accomodation, and clubs in the area.
Factsheets, guides and local information
The Older People's Information & Advice Service can support you in times of crisis to access emergency grants and assistance.
To access the Age UK Solihull Older People's Information & Advice Service telephone 0121 704 7840 or email info@ageuksolihull.org.uk.
Coronavirus Information and Advice
If you are worried about how you or someone else will manage during the coronavirus crisis, we are here to help. Please contact us on 0121 704 7840 and we will see how we can support you.
Age UK has also produced a new guide about coronavirus (COVID-19) that includes information about the symptoms of the virus, how you can reduce the risk of catching the virus and spreading it to others, and how you can continue to look after yourself and others. It includes a useful organisations section with helpful signposts to other sources of specialist information.
Older People's Benefits Service
The Age UK Solihull Older People's Benefits Service provides older people with clear helpful advice and practical assistance to maximise their income and entitlements. This service is provided by highly trained staff and volunteers who can support you to understand your entitlement and complete the relevant forms, in a location to suit your needs.
Contact 0121 704 7840 or info@ageuksolihull.org.uk for more details.
Direct Payments Support Service
Direct Payments are monetary payments made to individuals who request to receive one to meet some or all of their eligible care and support needs.
Direct Payments can offer greater flexibility, choice and control than support being arranged for you by the local authority. For example, you may want to employ your own Personal Assistant, providing you with the support at the times you want. Or you may decide you want to use money to buy support from a care agency, or find an alternative to the types of respite support the local authority could arrange for you. You could also make one-off purchases such as a laptop to help you communicate, or a gym membership to improve your health and wellbeing.
Direct Payments can be used in a wide range of innovative and creative ways as long as they are safe and legal and meet your assessed needs.
To access more information telephone 0121 709 7591, email admin@direct-payments.org.uk or visit our Direct Payments page.