We provide a wide range of activities to help older people remain independent, connected with the community, healthy and active.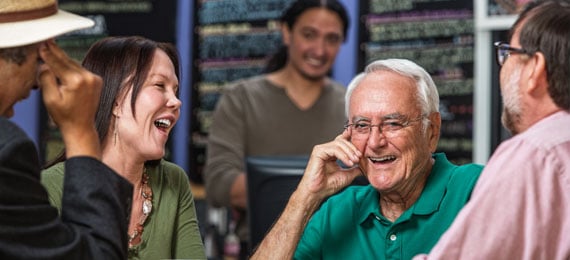 Age UK Surrey Activities and Events
Find out here about regular activites and events taking place at Age UK Surrey. From group walks to lunch clubs, we have something for all older adults.
Age UK Surrey Activities
We provide healthy walking activities to help you stay fit and healthy in later life.

Join our shed, make new friends and practise your carpentry.

Call for free help and advice on how to use your computer, tablet or iPad.
A friendly social group that meets up weekly in coffee shops in Cranleigh and Farnham.

Tea and Chat groups meet in day centres in Caterham, Oxted and Lingfield. Enjoy refreshments, quizzes and games.

A selection of free and nationally available creative resources
Age UK Surrey Events
The Big Knit started back in 2003 with an idea. innocent asked people to knit little woolly hats, then they put those hats on their smoothies. For each one donated by Age UK Surrey, they gave us 25p. Find out how you can knit for Age UK Surrey.

We have loads of fundraising ideas and tips for people who want to help us make a difference!

Charity Golf Day 2022

Do save the date and get your team of 4 ready! Age UK Surrey Charity Golf Day in aid of The Clockhouse, in Milford. On Thursday 19th March at West Surrey Golf Club, Enton Green, Milford, GU8 5AF.

Read more