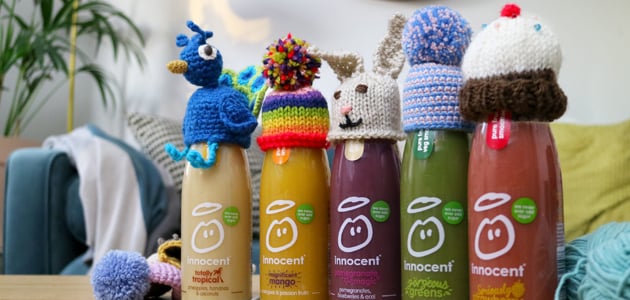 The Big Knit is our partnership with innocent drinks. Each one of these little hats makes a big difference!
What is the Big Knit?
The Big Knit is the campaign that Age UK Surrey runs in partnership with innocent drinks where we ask you to knit little woolly hats which then go onto the top of the innocent smoothie drinks. For every smoothie with a hat sold, Age UK Surrey receives 25p, so we really need your help to produce lots of colourful and fun hats!
A huge thank you to all those who sent us knitted hats - 17, 323 in total which is an amazing achievement! The deadline has been extended until this Summer so please keep knitting for us throughout these coming months.
Please send your hats to us by June 30th.


How to get involved
So if you find yourself at a loose end, we would love you to knit lots of lovely little hats for this year's Big Knit. And whether you're a knitting novice or a purling pro, it couldn't be easier.
Click on the image you like below to download the knitting pattern, make yourself a nice cup of tea, find a comfy chair and knit away!
Hand in your hats
Once your little knitted creations are ready, drop them off or post them to:
Age UK Surrey
Rex House
William Road
Guildford
GU1 4QZ
How does the Big Knit help?
The money we raise from the Big Knit helps us be there for older people who have no one else to turn to – so those little hats really do make a big difference!


Want to know more?
If you want any further information or different patterns please contact the Marketing & Fundraising Team on 01483 503414 or enquiries@ageuksurrey.org.uk.


More patterns? Please see below to download other designs:

Find out about ways you can support us...