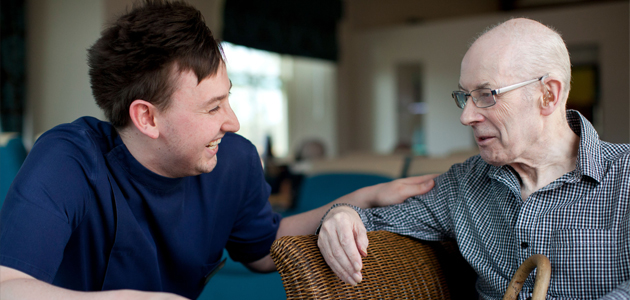 Thank you for your interest in volunteering for Age UK Surrey. We are an independent local charity and we rely on volunteers to help us offer vital services in the local community. We would love to hear from you if you would like to lend a hand.
Age UK Surrey are expanding their income generation function by opening charity shops to further engage with local communities. We are recruiting for two high-performing and experienced professionals to act as voluntary advisors for a 9-month period:
A General Income Generation Specialist in the third sector and a Charity Retail Specialist. These positions will have the option to become Trustees if vacancies allow.

In addition to our regular volunteer roles which will continue when it is safe to do so, during the Coronavirus outbreak we have the Check in and Chat telephone befriending.
Although we have had to suspend our home visiting Befriending Service at this time in Waverley, Guildford, Runnymede and Spelthorne, we are now offering a new service - Check in and Chat - to people across the County. One of the best ways of helping someone during this unsettling time is by just keeping in touch at a regular time to suit you. We are able to offer this service through the support of volunteers, who we match, with people who would like a call.
I would like to know more about volunteering
Every time you lend a hand, you are helping to change the lives of older people in Surrey.
Why volunteer?
Volunteering is a great way to meet new people, learn new skills, and support the work we do in the community.
Who can volunteer?
Volunteers ideally will have their own transport, especially for the more rural areas, willing to travel 5-15 mile radius of their homes. All volunteers need to be over 18 years.
How much time do I need to give?
It depends on the volunteer role you are interested in. Some people give an hour a week, other people do more.
Read what Jackie has to say:
Jackie is a microvolunteer who joined us as the pandemic hit and will be staying with us longer term to become a befriender:
"My name is Jackie and I am a new volunteer for Age UK Surrey. I joined, like many others, as a result of being furloughed from work and wanting to use my time to make a difference in my wider community. I have loved every minute of my volunteer experience having been first matched with a delightful Surrey resident for my Chat and Check-in calls and most recently, paired with another wonderful resident for a weekly meet-up and a cuppa.

The support from the volunteer team at Age UK Surrey continues to be top class. I am now in the process of becoming a Befriender and being approved for visits etc. What I love most is the chance to brighten up someone's day. I can honestly say that the feeling is mutual. The two residents I have been matched with are amazing people with so much life experience to share. My mum is 97 and my father 94 so I'm used to being around elderly folk and treating them with respect. The opportunity to learn is fantastic and the "thank you's" and "I look forward to hearing from / seeing you next week" is so rewarding.
I would recommend volunteering with elderly citizens to everyone. It's both a pleasure and a privilege."
You can find details of all our current volunteering roles as well as our Enquiry and Application Forms here.

Interested in volunteering but want to find out more? Have a look at what volunteering is, how it works and the sort of work our volunteers get up to...
What else you can do to support us
Could you help us to raise vital funds by taking part in a fundraising event? We have regular events such as sponsored walks, but you could also do your own fundraiser like a cake sale.



Could you talk to your colleagues or your employer about how you can support us? We have lots of ideas for how organisations can get involved, including sponsoring an event, making us Charity of the Year, or donating equipment.
If this isn't your cup of tea
there are so many other ways you can get involved, and in doing so, supporting older people in Surrey