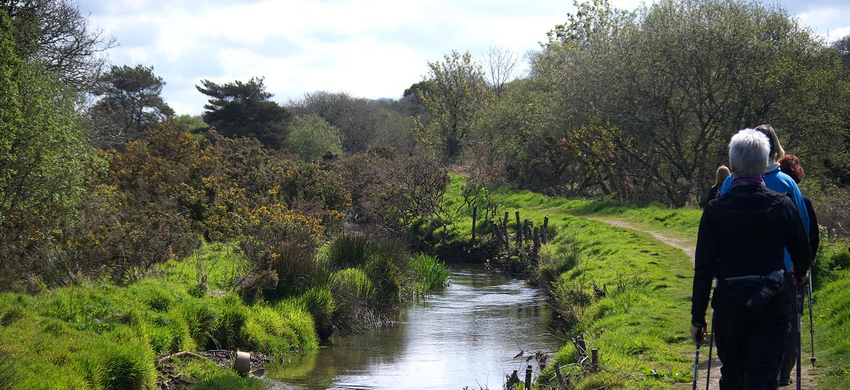 Meet new people, make new friends and enjoy the local area. We provide healthy walking activities to help you stay fit and healthy in later life.
Covid-19 Update:
GO50 Walks, we are excited to announce, are back to normal schedule.


GO50 Walks
If you've often thought about going for a walk but had no one to go with, then this could be for you! There'll always be someone at the starting point to greet you and lead the walk, and there is no need to book, just turn up! The length of the walks varies, anything from approximately 3.5 miles to 8.5 miles. The distance of each walk is clearly indicated on the programme. If you are in any doubt about your fitness, we strongly suggest that you try a shorter walk first. Don't forget to bring water and some food.
You can also download a PDF of the GO50 Walks Programme below:
NEWSFLASH: LYNETTE'S WALK ON 14TH JUNE IS CANCELLED
GO50 is a self-funded department of Age UK Surrey. All our activities are free, but a suggested donation of £2.00 would be very welcome. Donations go directly towards maintaining the GO50 programme. Using the Gift Aid scheme, we can reclaim the tax on your donations at no extra cost to you. GO50 activities are led by experienced volunteers who will meet you at the start and lead the way. No advanced booking is required - just turn up at the start and join in.


Tips for first-time GO50 participants:
Please arrive 10 minutes early to complete a registration form.
Please wear walking boots or other suitable footwear.
Bring a drink and a snack.
Please do not bring any children or dogs.
Please be aware of your own fitness levels and, if in doubt, consult your doctor before starting a new exercise programme.
Participants take part entirely at their own risk. GO50 and Age UK Surrey cannot accept liability for injuries or losses during the course of any activity.

GO50 Health Walks
Health walks are a chance for people of all ages to take part in local walks led by volunteers. Walks last between 1 - 1½ hours and are suitable for people of all abilities. There will always be a leader and a backmarker to make sure everyone gets back safely.
Health Walks are ideal for people who would like to improve their health by increasing their physical activity levels. The walks are friendly and supportive and particularly beneficial to those who are getting little or no exercise, recovering from illness, or lacking in confidence. Walkers are encouraged to walk at a pace that suits them. Ideally, this pace means you will feel slightly warmer, breathe a little faster and your heart will beat a little faster.
To find out more about GO50
please contact Age UK Surrey on 01483 503414 or email: enquiries@ageuksurrey.org.uk