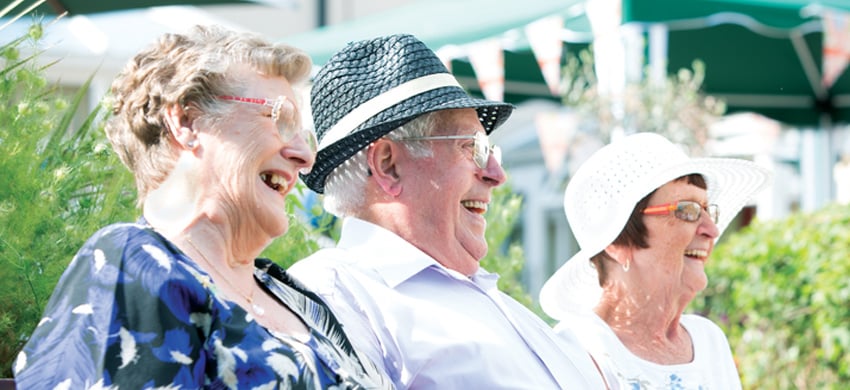 Age UK Surrey is an independent local charity providing services across the whole of the county to help people aged 50+ make the most of their life
We have been established for over 50 years and are a brand partner of Age UK and a member of the Age England Association.


Our Vision and Aim
Our vision is for people to improve their wellbeing and independence to get the most from later life.
Our aim is to provide services, support and activities across Surrey to enable people to be resilient throughout the changes and challenges of later life.
Download our Customer Charter for more information.
Our latest Social Impact Report
We work across Surrey, please view our latest Social Impact Report here.
Who does Age UK Surrey work with?
We work with many organisations in Surrey to reach the people who can benefit from our services, including:
Clinical Commissioning Groups
Health and Social Care Groups
Borough Councils
Surrey County Council
Local Authorities
Brand partners
Brand friends
We have to raise all of our own funds in order to provide our services to the people in Surrey.
Access statement
Our services - Age UK Surrey is committed to providing equality of service, access and facilities to all our staff, volunteers, service users and visitors. We will continue to make every effort to ensure adjustments are made as a matter of course and, if needs be, we will explore what these might be on an individual basis.

Quality - We take quality very seriously. Please visit Organisational Quality Standards.


Visiting Age UK Surrey
We are at Rex House, William Road, Guildford, GU1 4QZ. From Guildford train station, cross over from the station and then cross the bridge by the Odeon Cinema and turn left past the law courts. Follow the road until you get to William Road on your left. We are situated at the end of William Road. The bus station is 0.4 miles away.
We have disabled parking on site. There is also some free offsite parking nearby. There is a public, pay and display car park 0.3 miles away.
Our building is on the first floor. Outside there are a few exterior steps and then a full stairway inside. We understand that the building may present some access challenges, particularly for people with limited mobility. We have a Stannah stairlift installed for the inside stairway. If you ring the bell, Reception will help you. We have a private room for meetings but please make an appointment before visiting by calling 01483 503414.
Reception staff will greet you as you arrive and answer any immediate queries. Our waiting area has plenty of seating with cold water, hot drinks and toilet facilities. We have a hearing loop on Reception for people who are hard of hearing or deaf.
We do not have a Day Centre but you can enquire about our services by phone or in many cases we can come and see you.


Help & Advice
Our staff and volunteers are trained to provide a courteous and hospitable service and are knowledgeable in providing information on accessibility in our premises. We welcome comments and suggestions. Should you wish to discuss any issues in more detail, please contact the office on 01483 503414 or email: enquiries@ageuksurrey.org.uk.
Find out more about Age UK Surrey...