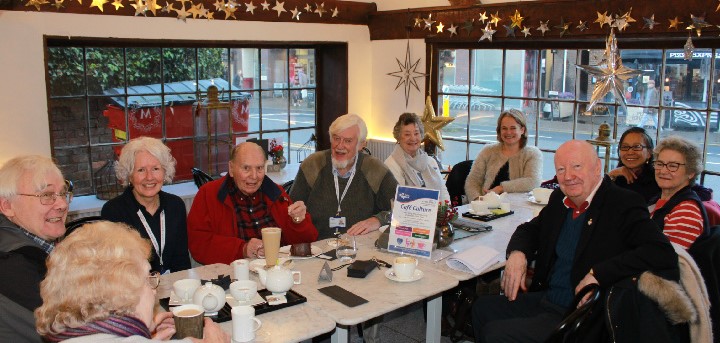 Our Café Culture group in Cranleigh.
For more information call: 01483 503414
Meet new people and build new friendships.
Come along and join Age UK Surrey for a chat every Tuesday 3pm-5pm at Bill's Coffee Shop in Guildford, Wednesday 2pm-4pm at Manns of Cranleigh coffee shop or Wednesday 2.30pm - 4.30pm at The Plough Public House, Farnham. Anyone aged 50+ is welcome, no booking required.
Get to know others who live in your area and enjoy a weekly get-together in a friendly, social environment. People are welcome to come on their own and bring their carers or family members to join in with the conversations.
Address:
Cranleigh: Manns of Cranleigh Coffee Shop, 101 – 105 High Street, Cranleigh, GU6 8AY, every Wednesday 2:00pm – 4:00pm
Guildford: Bill's Restaurant, 1 Angel Gate, Guildford, Surrey, GU1 4AE, every Tuesday 3:00pm – 5:00pm
Farnham: The Plough Public House, 74 West Street, Farnham, GU9 7EH, every Wednesday 2:30pm – 4:30pm
Di Cheeseman, Community Support and Development Manager said 'Many people do not see or speak to someone on a regular basis and therefore can become lonely and isolated. Café Culture is a great new initiative that encourages people to get out of the house and make new friends in a social environment on a weekly basis'.
Terry who attends the Cranleigh group said "When you retire you lose about two thirds of your friends and acquaintances. I don't have any family and I have lost some of my friends on top of this, so it gets a bit lonely. It's nice to have somewhere to go where you can meet for a coffee and have a chat with new people and make new friends."
Loneliness and isolation is a growing issue within our communities. Café Culture is one of the initiatives that we are setting up in Cranleigh and Staines to encourage people over the age of 50 to meet up weekly as a social group within the community.
If you would like to find out more about Café Culture please call 01483 503414.
We are always looking for volunteers. If you would like to volunteer for our Making Connections Service including Café Culture please do get in touch with either Lesley Power 01483 4466646.
Find out more about our other activities and events...