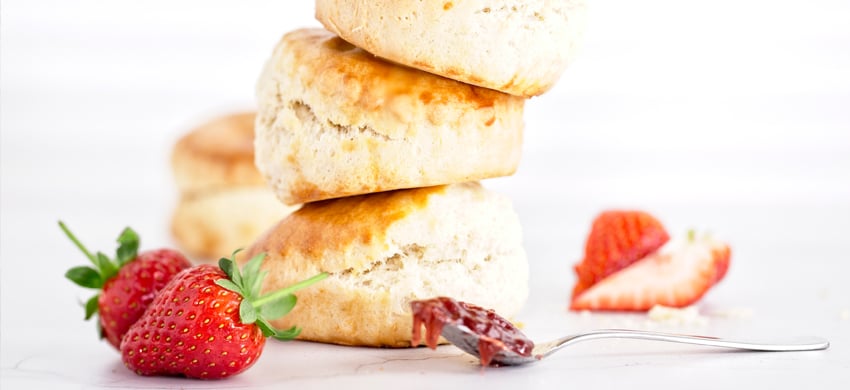 Cream tea - a delicious way to fundraise!
Invite your friends and family to celebrate National Cream Tea Day on Friday 25th June with a tea party to raise funds for Age UK Surrey. Your support could help us continue to provide our activities and services. Bring out the best china or picnicware, decorate with bunting, picnic blankets and cushions.
The idea is simple – invite some friends to join you at home or online (via Zoom for example), enjoy a cream tea, and donate to our aloneTOGETHER appeal. This appeal helps us provide our services for older people to help alleviate loneliness and isolation.
Tom George from The Rock Choir has put together a compilation of their songs for people to enjoy while they have their treat. See below:
Please make a donation by visiting our website www.ageuksurrey.enthuse.com/cf/alone-together and use Cream Tea as a reference. We can accept cheques made payable to 'Age UK Surrey'.
The Cornish Hamper Store are offering us a special 10% discount for cream tea deliveries – please quote AGEUK10 when you place your order www.thecornishhamperstore.co.uk/cornish-hampers. Alternatively, if you are a budding Mary Berry, you could make your own!
Raise some dough! Go on, you know you want to!
Bake up a storm - Scone Recipe here
Ingredients (makes approx 8 scones)
250g (9oz) self-raising flour
1 rounded teaspoon of baking powder
40g (11/2 ​oz) softened butter
25g (1oz) caster sugar
1 egg
approx 100ml (4fl oz milk)
handful sultanas (optional)
Method
Preheat the oven to 220C/200C Fan/Gas 7. Lightly grease a baking tray.

Put the flour and baking powder in a large bowl. Add the butter and rub in with your fingertips until the mixture resembles fine breadcrumbs or use a food processor. Stir in the sugar and sultanas (if using).

Crack the egg into a measuring jug, add enough milk to make the total liquid up to 100ml/4fl oz then whisk together. Put aside 1 tablespoon of the egg and milk for glazing the scones later. Pour most of the egg and milk from the jug into the flour mixture and mix to form a soft, slightly sticky dough. If the mixture is too dry add the remaining liquid.

Turn out the dough onto a lightly floured work surface, roll out gently to a rectangle about 2cm/¾in thick.

Cut as many rounds as possible with a fluted 5cm/2in cutter and place them on the prepared baking tray. Brush the tops of the scones with the reserved egg and milk.

Bake for approx 10-12 minutes, or until the scones are well risen and a pale, golden-brown colour. Lift onto a wire rack to cool.

To serve, split the scones, serve with strawberry jam and a good dollop of whipped or clotted cream
To make a donation
Please use 'cream tea' as a reference.