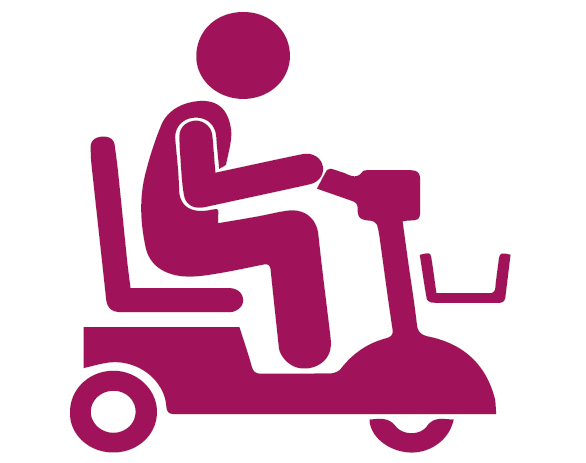 What is Shopmobility?
Shopmobility is a service run by Age UK Surrey and supported by Guildford Borough Council. Shopmobility provides a selection of manual and powered wheelchairs and scooters to anyone of any age group who experiences difficulty walking around Guildford Town Centre. This could be as a result of a permanent or temporary disability, frailty, accident or illness.
Who can use Shopmobility?
You do not have to be registered disabled to use the scheme; anyone who finds it difficult to walk around Guildford Town Centre can use Shopmobility. There will always be a member of staff on hand to welcome you to the centre and give you full instruction on how to use the mobility vehicle. There is a practice area in which to familiarise yourself with the vehicle. By prior arrangement you can be met at a pre-set point if you are travelling by taxi, bus or train. On your first visit to Shopmobility (Guildford) you will be required to provide evidence of your identity i.e. driving licence, benefit book, passport etc.
Where is Shopmobility?
Shopmobility (Guildford) is situated on level 3 of Bedford Road Car Park with access from the Laundry Road and is well signposted from the outskirts of the town. Toilet facilities are sited within the car park. It has its own free of charge car parking area alongside the office. A pedestrian ramp leads directly to the Friary Shopping Centre and other areas of the town.
Please note – From Monday 27th January to Monday 3rd February, our normal parking are on Level 3 of Bedford Road Car Park will be closed for Re-surfacing. Please use the other entrance in Bedford Road and follow the signs to our temporary parking area on Level 2 (next to the ramp leading to the Friary Centre). On arrival please call us on 01483 453993 so that we can bring the equipment to you. Alternatively use the ramp or lift to our office on level 3.
When is Shopmobility open?
Monday - Saturday: 10am - 5pm each day (except Bank Holidays).
What does the Service cost?
Although supported by Guildford Borough Council it is necessary for Shopmobility to make a registration charge to cover administration and insurance costs:
12 month registration with unlimited use: £40.00
6 month registration with unlimited use: £25.00
Single visit registration: £5.00
"I visited Guildford yesterday and used Age UK Surrey's Shopmobility service. I just wanted to say how excellent it was, and it made my day very special. The scooter was robust; coping with hills, and the gentleman a treasure. Thank you for the excellent service."