News From our Walking Groups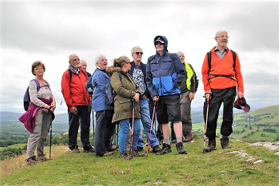 We organise three walking groups

Short Health Walks up to 60 minutes with 20 minute and 40 minute options
Wirralside Walkers up to 5 miles
White Top Walkers up to 8 miles

Click here for dates and locations of our next walks
White Top Walkers

White Top Walkers take a more challenging walk usually on the third Monday of the month. The walks last over 3 hours and cover over 4 miles.

Wirralside Walkers

Wirralside Walkers take a moderate walk, usually on the first Monday of the month. The walks can last up to 3 hours and cover up to 4 miles.

Short Health Walks

We usually meet at 10:45am for an 11:00am start and the walks will last one hour in total divided into three twenty minute routes.