Sarah Pugh is running the London Marathon in April!
Published on 25 October 2018 01:16 PM
We are so proud of Sarah for running the London Marathon in April 2019 and raising money to support older people. Sarah will be running in the Age UK team this year and has a fundraising goal of £2,000! What an amazing challenge and experience.
Sarah knows all about Age UK Bristol and supporting older people in Bristol. She is one of the nurses at our Healthy Together Clinic based in the Withywood Centre! We are so very proud that she is able to run in aid of Age UK and raise much needed funds for something that she is so connected to. Sarah helps people in her day job and is now raising money to support services for older people! Amazing work Sarah!
This will be her first marathon and the training has already started. Sarah ran the Bristol Half Marathon on the 23rd September and the Cardiff Half on the 7th October.
You can help Sarah reach her fundraising goal of £2,000 by donating on her Justgiving page https://www.justgiving.com/fundraising/sarah-pugh26. It is a big goal and she needs a lot of support.
You can also follow her journey by following her Instagram account: sarah_smiles_and_miles. She will be loading photos along the way of all of her training and races.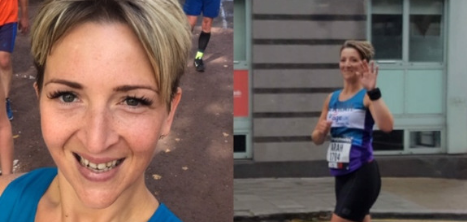 Good luck Sarah! We will be supporting her all the way to the finish line!
To find out more about our Healthy Together Clinic, visit our website here. The Healthy Together Clinic is run in partnership with Bristol Community Health. It is an innovative way to support people to care for their lower leg wounds.
Could you run a 10k or half marathon for Age UK Bristol? If this sounds like a challenge for you and you would like to raise funds for Age UK Bristol, you can contact Jen on fundraising@ageukbristol.org.uk