A Day in the Life of …Stewart, a Handyperson Assessor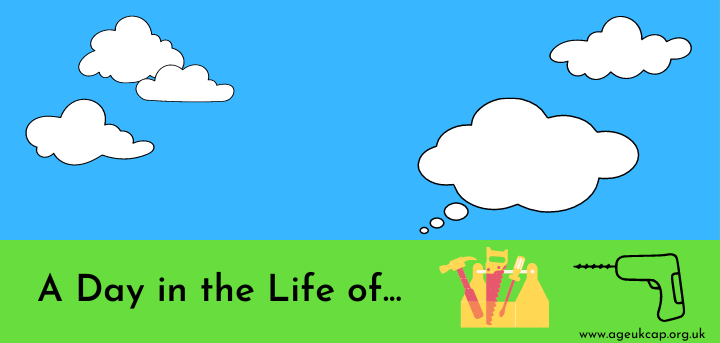 Published on 23 June 2022 10:37 AM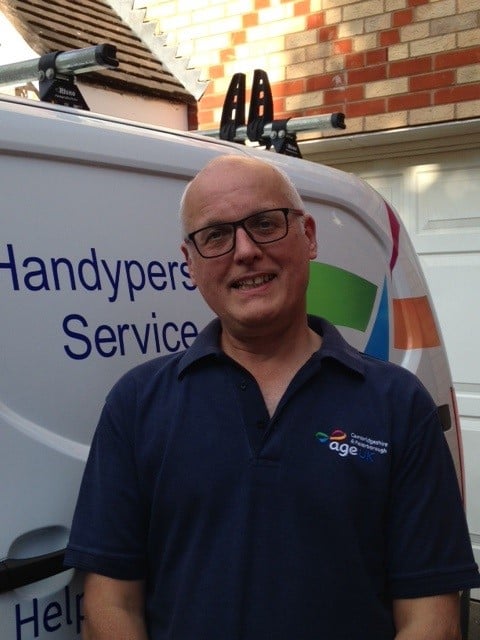 Hello, I'm Stewart. I work part-time (Monday, Tuesdays and Wednesdays) for AGE UK Cambridgeshire and Peterborough as a member of the 8 person Cambridgeshire Handyperson (CHP) Service Team. I am one of four part-time handyperson(s) assessors who visit Service Users in their homes throughout Cambridgeshire (not Peterborough) to offer advice and practical help to better enable them to remain safe and independent.
My key responsibility is to assess our Service Users' needs, and with them decide the best way forward by offering practical solutions, discussing other options and making recommendations that will better allow them to stay safe and continue doing the things they want to do in their home. To enable me to this I am able to provide a range of equipment to help with their mobility. Some of these systems are free and some self-funded, for example; grab rails are free and banisters rails are self-funded.
My Day: Monday - Starts with a visit to the office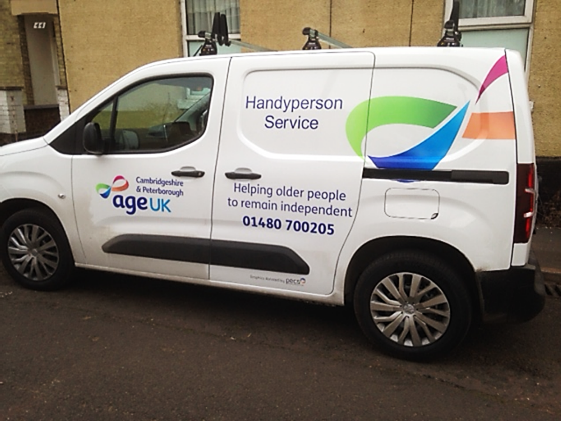 I normally jump in the Handyperson Van at about 8.30am to drive to the South Fens Office in Chatteris. My first task of the day, and on a Monday each week, is to process the paperwork from my previous working week. This is completed with our wonderfully efficient CHP coordinator, Mel. Mel is a service user's, or a service user's referrer's, first point of contact with the Handyperson Service. Mel gathers all the information needed from the service user to ensure that before any of the handypersons arrive at someone's home we have an indication of what their concerns are. She creates the job sheets and controls the administration which is essential to my role and books my appointments for the week ahead. Together, we run through the 15 or so completed job sheets from last week and I briefly update Mel on the outcome of my visits, such as: Mrs P job closed no issues, Mr C needs an invoice raised, Mr K needs a revisit and Mr S has been referred to…(a source of further support). When done, we review this week's jobs, running through each task to highlight anything of note, for example, a banister rail fitting or a 2-person furniture move. When completed, I load the van with all the stock items and spares, such as, key safes and grab rails, needed for the week. At about 10:30am, I'm heading out to my first job.
First Visit – A Lady from, South Cambridgeshire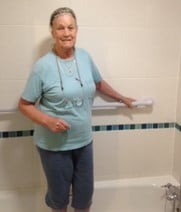 After identifying and introducing myself, I spend a couple of minutes chatting with the lady (Lucy) and her husband to help build a relationship, get a feel for their circumstances and to help me identify any additional help that might assist them. In this case, this meant a referral to occupational therapy for a full assessment of her needs.
Lucy, who is undergoing treatment for cancer, was referred to CHP by the Falls Prevention Team after she had a fall, which in addition to the physical damage, resulted in a loss of confidence when using the shower over their bath. She wanted some advice and wondered if some grab rails might help with her balance and reduce the chance of a fall.
This is a typical scenario of handyperson work, falls and fear of falling, especially in bathrooms are the source of many requests for our support.
After quickly checking the general suitability of the wall for fixing grab rails. I asked Lucy to show me how she currently uses her shower this, not only shows me where the best place for grab rails to be sited, but confirms that she can still use the shower. If Lucy is unable to use the shower without me fitting grab rails, she will need to be referred to an Occupational Therapist who will assess whether or not it is safe for her to use the shower. Lucy demonstrates how she uses her shower and we decide, how many and where the most beneficial place to position the grab rails would be for her.
For showers and wet areas CHP use a range of plastic fluted grab rails, designed to provide a better grip for a SU with wet hands.
After checking for hidden pipes, electric cables and other hazards the grab rails can be fitted. A routine fitting, such as the one for Lucy needing 3 grab rails in a bathroom normally takes about 90 minutes to complete.
When I'm finished I ask Lucy to come and test drive her new grab rails. This allows Lucy to use them for the first time safely with me there giving guidance, to check they achieve their purpose and confirm she is happy with the quality of my work before I leave.
Second Visit – A Lady from, East Cambridgeshire
I had previously visited Maureen to fit grab rails in her bathroom and measure her staircase for a banister rail. Maureen's husband passed away earlier in February, he helped Maureen "get about" especially on the stairs, where she felt vulnerable to a fall. Maureen's daughter contacted CHP and asked for an additional banister to be fitted. Today I am returning to fit the rail. Before starting, I take-up Maureen's offer of a cup of tea, and have a little catch-up. Unsurprisingly, she is still coming to terms with the loss of her husband of 60 years, the loneliness is hard for her and we talk about what opportunities may be available to get out and meet people, including our own services that could help. I give her some suggestions and leave one of Our Services leaflets with her. Maureen's daughter is visiting today and that helps her.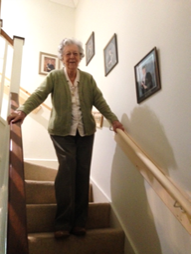 Fitting a banister is always a healthy challenge; it needs to be secure, be at the right height for the service user and/or match the other banister height and of course run parallel.
Today's banister fitting is slightly more complex because the walls are plasterboard which is considered 'soft' and not strong enough to safely support a banister rail without additional reinforcement. For this, timber backing board is screwed and glued to the walls providing the additional strength needed and the banister brackets are then fitted to backing board. Using 'secret jiggery-pokery' the banister is fixed securely into position.
When I'm happy, I clear my tools away, clean-up and ask Maureen to test drive the banister rail. Job complete I head off to my next job.
Third Visit – Another lady living in East Cambridgeshire
My last call of the day was with Margaret. Margaret was referred to CHP by her son who was concerned for her safety after suffering from a number of falls. We talk through Margaret's concerns and wishes. Margaret, explained that the falls had, as often happens, resulted in a loss of confidence when in the shower and when she uses the back door, where she had her last fall. Our chat resulted in a referral to our own Information & Advice team for a benefits checks, primarily to check her entitlement to Attendance Allowance, her son confirmed he would assist in applying for a Blue Badge for her and, I provided a range of options for Life-Line* suppliers. (*a touch button personal alarm worn by a person to alert an emergency response, e.g. re a fall or medical emergency).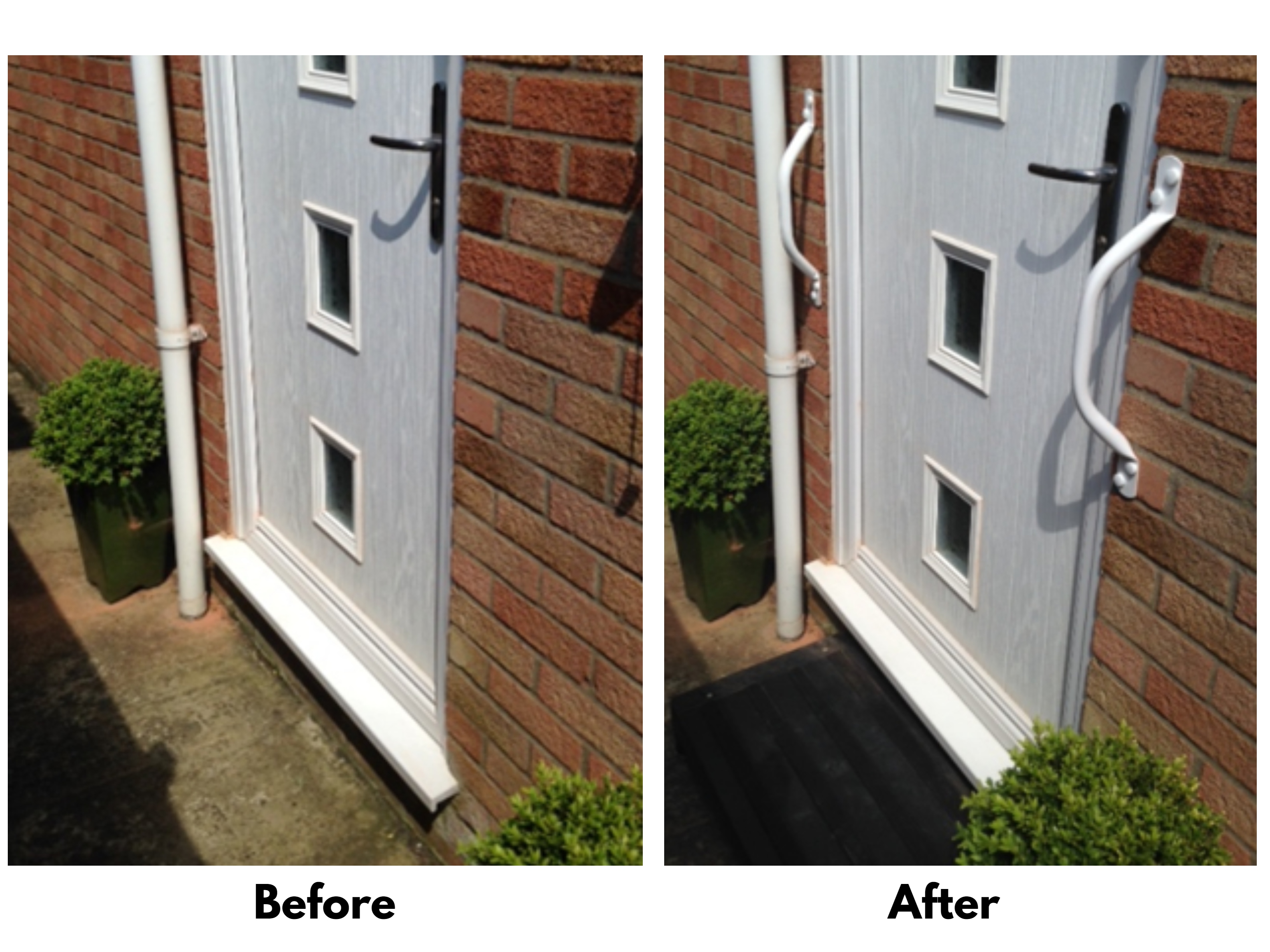 After fitting free grab rails in her bathroom and toilet we looked at what equipment could be provided to increase her safety at the back door. The door had a deep step down into the garden and this could be reduced by the introduction of a 'half-step'. Half-steps can be supplied and fitted by CHP but, need to be paid for by service user.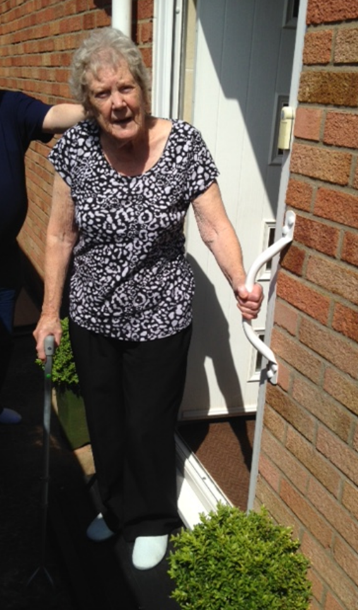 Margaret agreed to the installation of a 'half-step' and I also fitted two grab rails either side of the door giving her a firm hand hold when leaving or entering her home. As ably demonstrated by Margaret in the photograph.
Finally, Margaret's access to her garden was made difficult by the presence of a deep step from her patio to the lawn. I suggested she might benefit from a galvanised rail system, similar to the ones in the photographs (below). Margaret accepted the quote provided (galvanised rail systems are supplied and fitted at a cost to the service user) and a fitting date will be arranged as soon as possible by Mel the CHP co-ordinator.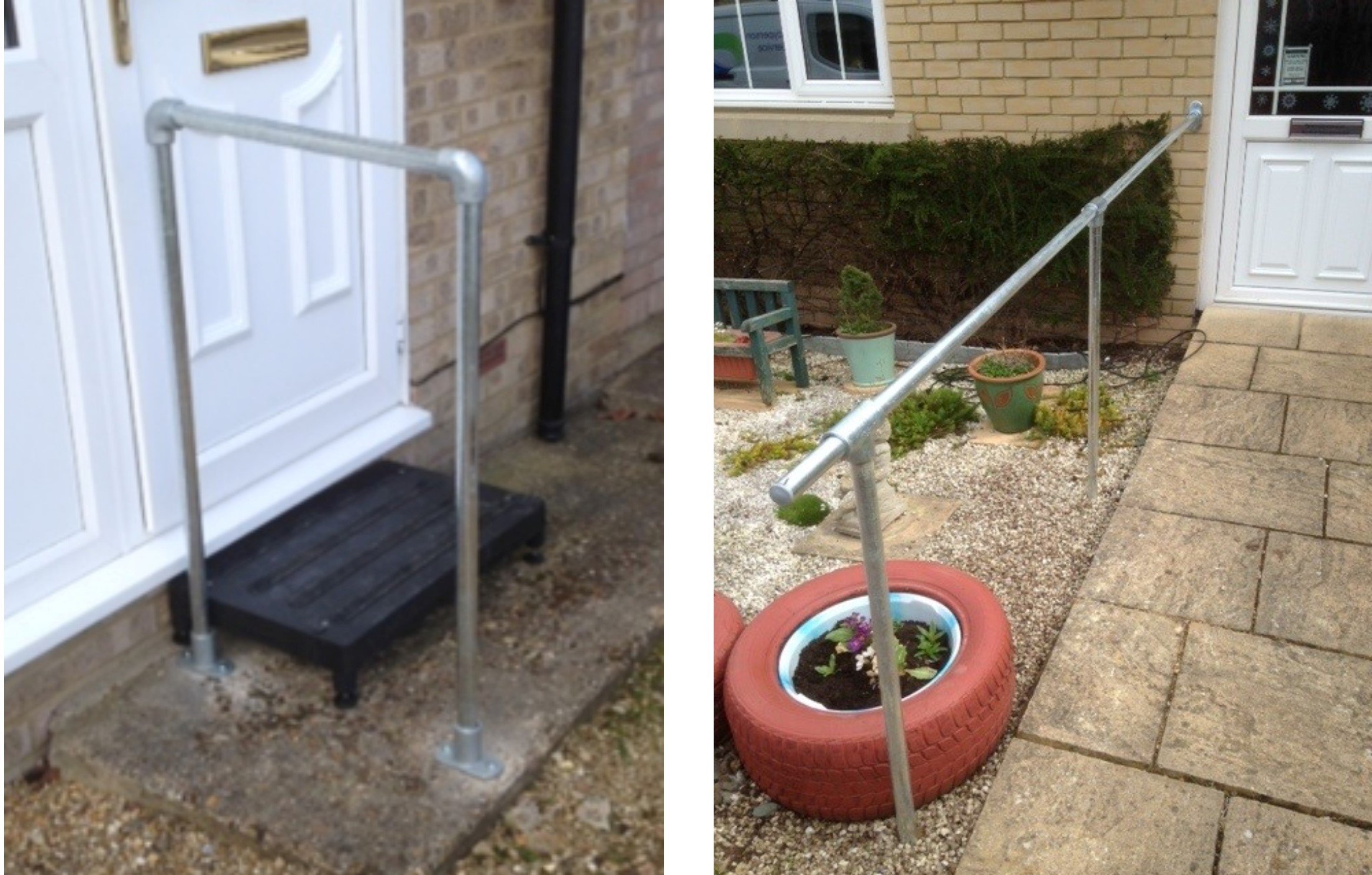 And that's my day done, now off home.
If you wish to know more about the Cambridgeshire Handyperson Service, please call the team on 01480 700205 or email chp@ageukcap.org.uk
Cambridgeshire Handyperson Service