Cambridgeshire Handyperson Services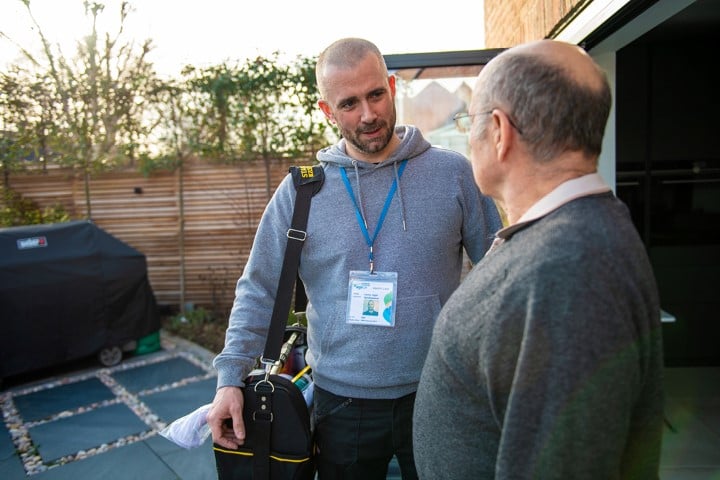 We offer a free Home Safety Assessment, installing grab rails to those in need. We are able to asses, quote, supply and fit other minor adaptations to increase safety and independence in the home. We do charge for £65 for Keysafes. Our Handyperson Works is a charged for service, costing £30 per hour.
Please note, this service is not available outside Age UK Cambridgeshire & Peterborough - Head Office's catchment area.
The Handyperson Service supports disabled and older people in their own homes to live independently and safely for longer. We have three assessors who are DLF Trusted Assessor trained to complete the assessments to a high level and install minor adaptations as needed.

We also complete minor DIY tasks, the jobs you maybe did in the past but feel unsafe to do so now.

The Handyperson Service also works closely with the Hospitals in Cambridgeshire by supporting discharge from hospital where possible.
How can we help
The Handyperson Services can assist in the following ways:
• Increase independence and safety by assessing your needs in your home and offering advice/installing minor aids and adaptations.
• Support you to access other services by signposting and referral on your behalf.
• Completing minor DIY tasks in your home, such as, building flat pack furniture, fitting curtain poles/blinds, changing lightbulbs (free if booked with an assessment), changing taps, gutter clean (bungalows only)
• Move furniture to support a hospital discharge, this service must be requested by a hospital professional.

What can we do?

🔑 Key safe supply and fit
📏 Grab Rails (free), Banister rail, Galvanised rails
🦽 Door Access Step
🔨 General carpentry / Putting up shelves /
🚿 Assembling flat-packed items / General plumbing / Renewing shower sealant / changing taps and washers
🧰 Fitting blind/curtains
💡 Changing light bulbs (free if completed at assessment)
🔧 And more ...

Please contact us to discuss your needs


See our article to see what is is like for 'A Day in the Life of a Handyperson':
https://www.ageuk.org.uk/cambridgeshireandpeterborough/about-us/news/2022/a-day-in-the-life-of-stewart-a-handyperson-assessor/
Who can we help?
We can support adults from 18 years of age with a disability who are in receipt of a Disability Benefit and older people.

The Handyperson Service supports people living in Cambridge City, East Cambridgeshire, South Cambridgeshire, Huntingdon and Fenland.

Unfortunately, we are unable to accept direct referrals for those living in Peterborough. Our Home Checks Service works directly with Peterborough City Council Adult Social Care obtaining referrals direct from them.

If you are struggling in your home, please contact PCC Adult Social Care directly on 01733 747474
How do I access this service?
We accept referrals from professionals, community services, self-referrals and those from family and friends.
Contact Us
For more information or to discuss your needs in more detail. Please contact us 01480 700205 or email is chp@ageukcap.org.uk

For more information please take a look at our leaflet:
https://www.ageuk.org.uk/bp-assets/globalassets/cambridgeshire--peterborough-/original-blocks/cambridgeshire-handyperson-service.pdf