MP's Recognise the value of Age UK Cambridgeshire and Peterborough's work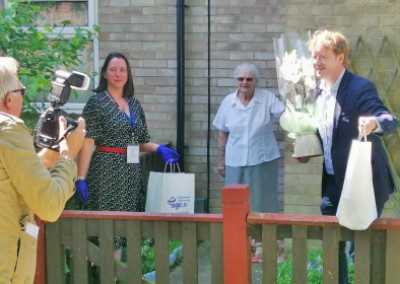 Published on 11 May 2020 07:54 PM
Two local Members of Parliament. have expressed their appreciation for the work being done by the staff and volunteers at Age UK Cambridgeshire and Peterborough in delivering services to older people.
"We are very pleased to have been recognised for the valuable work we are doing in supporting our older population", said Beverley Young, Communications and Campaigns Manager at Age UK CAP.
On 6th May Paul Bristow, Conservative MP for Peterborough met (keeping at a safe social distance) with our Peterborough Community Warden, Kate Selby at the home of one of our services users, Margot. Paul was keen to know more about our support service and spoke to both Margot and Kate. Kate explained how we have supported Margot since she returned home from a stay in hospital. We contact her daily to have a chat and see how she's feeling. We deliver her shopping, prescriptions and any other needs. During the coronavirus outbreak, Kate has also arranged for letters to be sent and received between volunteers and service users, to reduce loneliness.
Margot described why our contact is so welcome, as she doesn't have any family and has no help from anyone. "I don't know what I would do without Kate, she is so lovely, helpful and cheerful, nothing is too much trouble, she's a God send. I wouldn't be able to cope at home on my own without her. It's so comforting to know I have someone I can contact if I'm worried about anything. When I hear her voice on the phone or see her smiling face, I feel lifted ."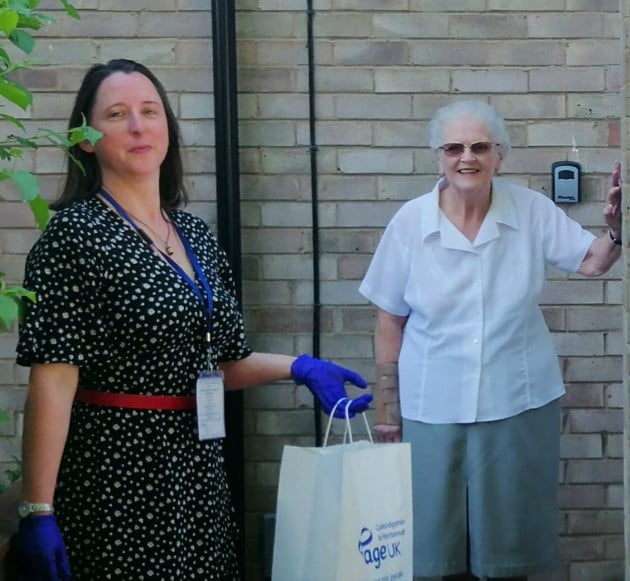 Paul Bristow expressed his gratitude at the meeting "thank you for what you are doing at this tough time" and recorded a short message for our staff and volunteers to acknowledge our work and pass on his "Thank You" to everyone.
Daniel Zeichner, Labour MP for Cambridge has also sent a video to thank our staff and volunteers for their work. Having seen our Bring Me Sunshine video, he returned some sunshine.
Melanie Wicklen, Chief Executive:
'Age UK Cambridgeshire and Peterborough is a local independent charity, part of the network of over 130 Age UK's across the country. The past 7 weeks have been challenging, yet immensely rewarding, as we very quickly tailored the support and services we offer to individuals across our county during the Covid-19 outbreak. Our immediate response was to support the essential needs of older people in Cambridgeshire and Peterborough, helping to deliver groceries and prescriptions and other critical matters that contribute to safety and wellbeing.
For older people and those either shielding, due to underlying health conditions which can make them more susceptible to the virus, and those encouraged to self-isolate, this period is likely to go on for quite some time. Whilst we continue to concentrate on the here and now, our priorities must also turn to supporting the wellbeing and longer term needs of our local older population, who have not seen their families, some who may have attended clubs regularly and those whose isolation has increased even further due to the lockdown. The risks to mental and physical wellbeing are increased throughout this period.
We could not be prouder or more grateful to our over 100 staff members and 520 volunteers (who themselves have re-deployed their skills and experience to provide support at a critical time) but it's important more than ever to highlight the fact that we have always been here and intend to be for the long term, when things return to some form of 'normality'. For this reason we appreciate the support of our local MP's who can in some way provide a voice for voluntary organisations, such as Age UK Cambridgeshire and Peterborough, with decreased income and increasing costs. The importance to provide a sustainable future is paramount in these unprecedented times.'
THANK YOU TO ALL OF OUR STAFF AND VOLUNTEERS
#PROUDTOBEAGEUK
Bring Me Sunshine
When our world turned upside down
Covid 19 HOPE Appeal
Help us to support more older people