Volunteers' Week 2020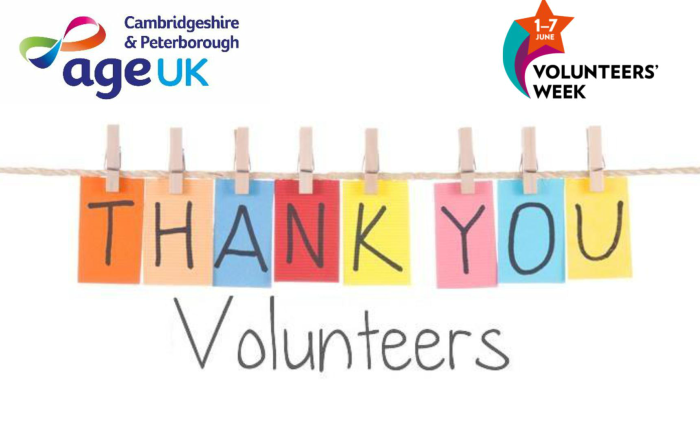 Published on 02 June 2020 03:13 PM
To mark National Volunteers' Week (1-7 June 2020 - volunteersweek.org/), we wish to thank and celebrate our strong and growing network of volunteers.
We truly have a remarkable team of kind and dedicated volunteers who share our desire to support wellbeing in later life and to enable older people to remain independent and safe living in their own home.
Our volunteers have readily adapted in the current coronavirus circumstances to new ways of offering support, often to the extremely vulnerable who have been most affected by government lockdown measures. Since the COVID19 lockdown began, we have also been fortunate to have new volunteers sign up and join us.
With around 500 volunteers, offering their free time, we have been able to deliver shopping, prescriptions and very importantly reduce feelings of loneliness and isolation by making regular telephone calls sharing time together, providing friendship and support.
Last year over 25,000 contacts were made by our volunteers to share time with an older person. Volunteers continue their support thorough out the year, making visits over holiday periods including Christmas.
Volunteers also help with our administration and back office work, some provide information and advice, others share their expert knowledge and skill sets with us to assist with our operations and services delivery. All of our board of trustees and president are volunteers.
We take this opportunity this week to say THANK YOU to all our amazing volunteers and celebrate the enormous contribution they make to our charity.
"My volunteer has been with me for over 4 years and I could not imagine life without her. She is my go-to lady, and means so much more to me than just a volunteer."
"My volunteer is my wonderful friend and brightens up my day."
Here is a short video message from Melanie Wicklen, Chief Executive, Age UK Cambridge and Peterborough
Melanie adds:
"The past few weeks have been challenging, yet immensely rewarding, as we very quickly tailored the support and services we offer to individuals across our county during the Covid-19 outbreak.
Our army of local volunteers has been paramount in enabling us to continue to support our communities. Their resilience and ability to adapt during these difficult times has been fantastic. While it is disappointing that we have had to pause many of our services that are face to face, such as Sharing Time, Day Services and Friendship Clubs, our volunteers have adapted and used the phone to maintain contact and strengthen relationships and they have gone above and beyond their remits by assisting with shopping and other errands.
Many older people will be feeling more isolation and loneliness during these times, impacting their mental and physical wellbeing. With our network of volunteers, we aim to address these issues and make a positive difference in the lives of our county's older people."
Can You Support Us?
Join our team of enthusiastic supporters - fundraise, volunteer, donate - Get Involved!
Local MP's say Thank You
Two local MP's acknowledge the work of volunteers with Age UK CAP