Slip into Slippers: Thank You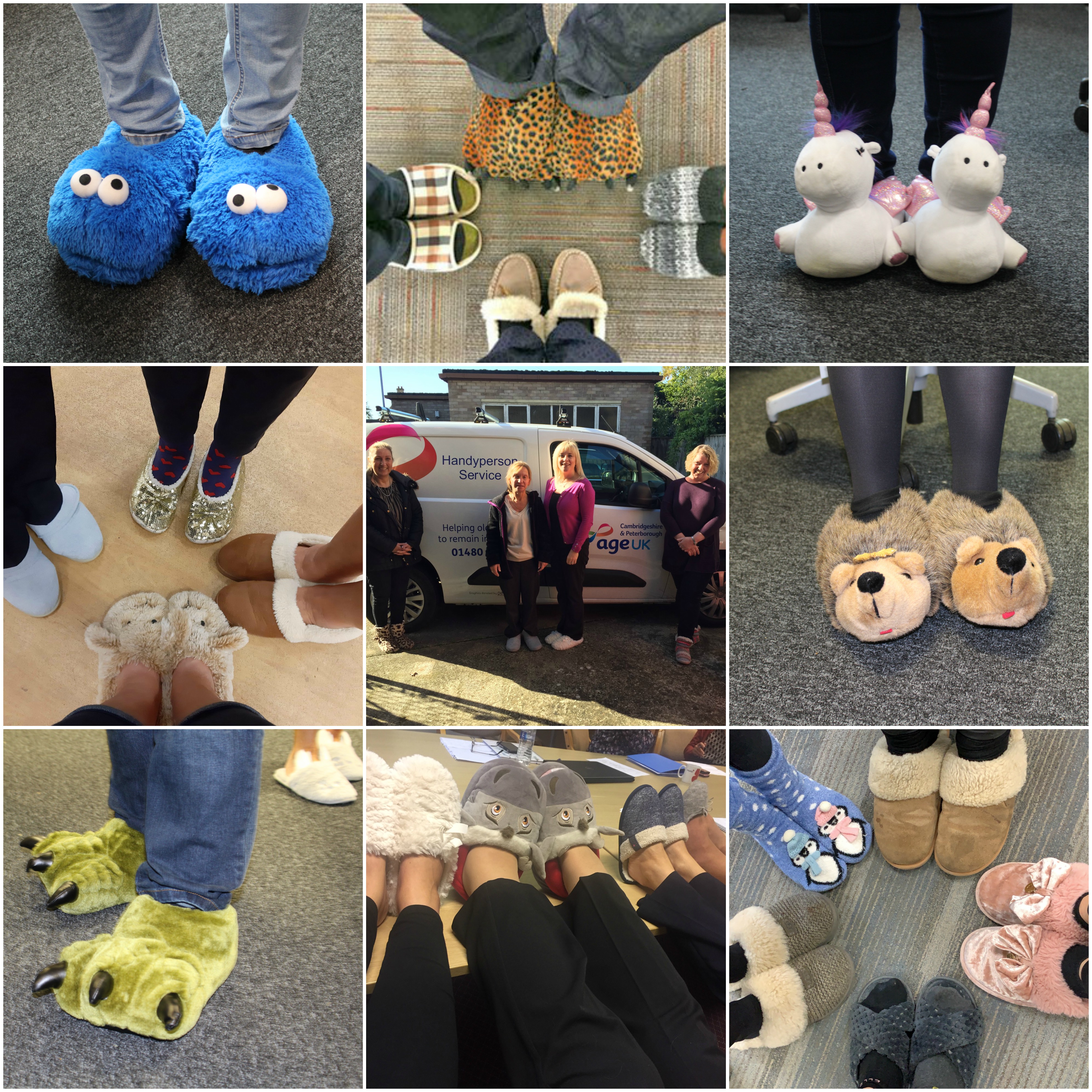 Published on 20 December 2019 05:47 PM
THANK YOU EVERYONE
This year we held our first Slip into Slippers fundraising campaign.
THANK YOU so much to everyone who took part. We hope you had as much enjoyment FUNdraising as we did! It was great to see your slippers, thank you so much for sharing your photos with us as well as the magnificent fundraising you did. Not only did you help us to raise £784, but you also created awareness of our charity. You involved staff, family, friends, children, members of the clubs you attend, all of which enabled the sharing of information about us, our charity, and the services we can offer.
Seeing your slippers made us laugh and we shared your photos with service users, so they could enjoy the campaign too and know of your support. Slippers included: monsters, unicorns, stripes, spots,pompoms, a huge assortment of animals, feathers and fluff! The self made ones were...... interesting! :-) Look at these hilarious pairs (is that a wig?!) created by imaginative staff at Peterborough Land Registry.

And here are some of the groups that sent us photos: Pinnacle HouseTable Tennis Club, Parkhall Playgroup, Volunteer Walkers (thankfully a dry day!), Cambridgeshire and Peterborough Against Scams Partnership.

All of the money raised is used directly by us for the provision of local services. Last year (2018/2019) we helped over 26,000 older people. In our mission to reduce loneliness and social isolation we supported over 14,000 attendences at our friendship clubs, almost 5,500 attendances at our day services and more than 25,000 Sharing Time contact visits. Your support helps us to continue this valuable work and enables us to reach out to more people.
We acknowledge and thank the following organisations for supporting us:
Adult Services
Cherry Trees
House of Hair and Beauty Peterborough
Huntingdon Older People Care Team
North Reablement Team
Netherton Friendship Club
Oasis Day Centre
Orton Pre-school
Parkhill Playgroup
Pinnacle House Table Tennis Club
Thorney Friendship Club
Whittlesey Friendship Club
We are an independent charity. This means we rely on grants, sponsors, commissioned services, donations, legacies and gifts to help support older people living in Cambridgeshire to remain independent, and enjoy a better quality of life, whilst feeling safe within their own homes and communities and improving health and well-being. With 160 staff (mostly part-time, 54 equivalent full-time) and 500 volunteers we reached over 26,000 older people last year who were able to benefit from our services in many different ways.
Slip into Slippers Campaign 2019
Wear your slippers and donate