Carer's Week 2021 - Make Caring Visible and Valued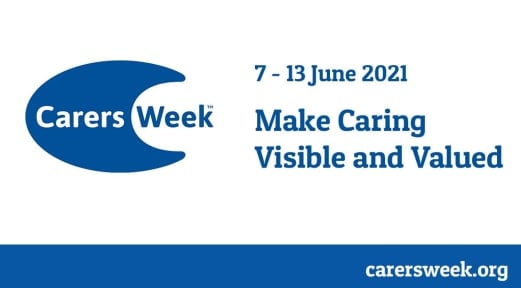 Published on 07 June 2021 01:09 PM
We are delighted to be supporting Carers Week 2021.
What is Carers Week?
Carers Week is an annual campaign to raise awareness of caring, highlight the challenges unpaid carers face and recognise the contribution they make to families and communities throughout the UK. It also helps people who don't think of themselves as having caring responsibilities to identify as carers and access much-needed support.
This year, carers across the country are continuing to face new challenges as a result of the COVID-19 pandemic. Many people are taking on more caring responsibilities for their relatives and friends who are disabled, ill or older and who need support.
They need to be recognised for the difficulties they are experiencing, respected for all they are doing, and provided with information, support and understanding. So during Carers Week, we're highlighting the campaign to help Make Caring Visible and Valued. We are also supporting the national charity Age UK in calling upon the Government to meet its pledge to 'fix social care' so that carers can get the support and respite they desperately need.
New research released for Carers Week estimates that:
1 in 3 of all people aged 65+ in the UK is a carer – amounting to 4.1 million older people.
Over seven in 10 carers (72%) have not had any breaks from their caring role at all, and of those that did, a third (33%) used the time to complete practical tasks or housework, and a quarter (26%) to attend their own medical appointments.
Three quarters (74%) of carers reported being exhausted as a result of caring during the pandemic and more than a third (35%) said they feel unable to manage their unpaid caring role.
Melanie Wicklen, Chief Executive, Age UK Cambridgeshire & Peterborough (AUKCAP):
"Looking after loved ones is an act that so many of us wouldn't even consider as caring, just a natural step that most would automatically take in a time of need. However, for many hidden carers, often older people themselves, we should take time to recognise the value and commitment they provide, ensuring that care is constant and needs are understood. This week whilst celebrating the role of unpaid carers, we should also take time to recognise that carers themselves often have their own health and social care needs, requiring support from the voluntary and statutory sectors. Carers should know that help is available to them in their local area and not be afraid to seek this. Something as simple as a chat over a cup of tea can make all the difference."
How can we help carers?
The services we provide can support carers. We can do some of the practical things, such as housework or handyperson DIY; we can phone or visit to provide companionship and check on welfare; we can provide information and advice to guide carers and ensure all options are known.
Some feedback we've received from carers:
"The support you have given to my Dad makes me feel so much better, knowing someone else is also looking out for him really helps and he loves talking to you."
"On your visit, you found my mum had fallen and spent the night on the floor, you called the ambulance, waited with her giving much needed reassurance and contacted me. I can't thank you enough for your kindness, care and professionalism."
"My mum goes to your day centre twice a week, which frees me up and is an enormous help."
If you are caring for an older person contact us to find out how we can provide support and help share some of the caring. Call 0300 666 9860
Carer's Week Report 2021
Breaks or Breakdown - new report
Our Services
Support we can provide