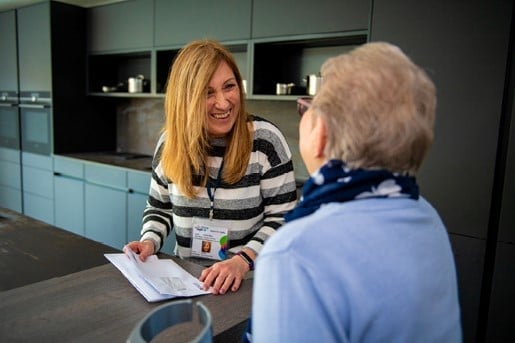 Community Warden Services
The service assists older people to continue to live independently at home by providing daily contact (Monday to Friday) and support, either by a personal visit or telephone call, to ensure a sense of security and wellbeing
What can we help you with?
Listening to your concerns and linking you to helpful information and guidance
Advice on other local community services
Small items of shopping
Collecting prescriptions
Reading post
Making phone calls on your behalf, if requested
Ensuring your safety and wellbeing
Funding
The service is funded by various local agreements.
Free Trial
You will be entitled to a two week free trial, however after the trial period, we charge a small fee for our
service which is payable to the warden.A warden will provide you with daily contact giving you peace of mind and support for independent living, this can be ongoing or short term support depending upon what you need.
It is important to note that the warden is not a domestic, home help or a carer providing physical care.
The Community Warden is employed and paid by Age UK Cambridgeshire and Peterborough and must not undertake tasks for you on a private basis.
Please contact us If you're not sure if the service is delivered in your area, call Information and Advice service on 0300 666 9860 and we can advice you what is available in your location.
Contact Us
For more information please call our helpline 0300 666 9860 between 9am-3pm Monday to Friday, calls made outside these hours will be transferred to our Age UK National Helpline or email: wardens@ageukcap.org.uk
Wardens contact numbers:

Team Leader – Marion Arnold – 07944181307
Littleport – Debbie Forsdick - 07970166835
Waterbeach, Landbeach & Chittering – Diane Robertshaw 07977219403
Teversham – Vacant – 07754107943 (Please contact Carol Flanders in the interim)
Linton – Melanie Laing – 07931852019
Small Villages (Weston Colville, West Wratting, Balsham, Shudy Camps, Horseheath, Castle Camps & West Wickham) Carol Poll – 07436102865
Ely – Jane Freeman – 07918569987
Stapleford – Donna Allsopp – 07436102733
Cambridge City – Carol Flanders – 07970168046
Ramsey – Pam Bates – 07900340265
Girton – Fiona Bennett - 07979333963
Swavesey – Tracey Booth – 07436102736
Histon and Impington – Gillian Berry – 07957608530
Community Support at Home – Peterborough area only – Pam Bates – 07900340265 and Kate Selby – 07966282723
Community Warden Service
For more information on Community Warden Service in your area and all other services please download one of our leaflets.