2023 Annual Christmas Community Concert
Published on 17 November 2023 01:59 PM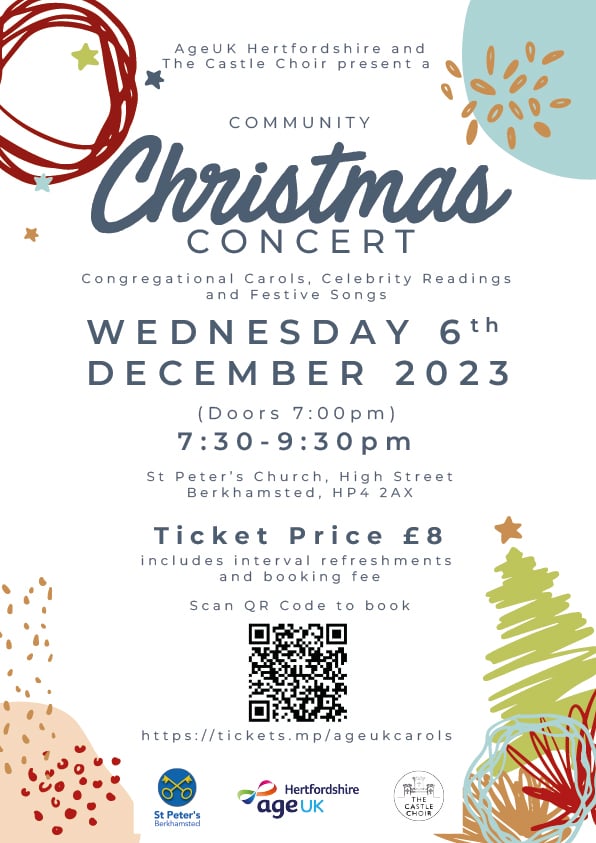 What is happening?
Age UK Dacorum's annual fundraising Community Christmas Concert with Carols Readings and songs, is different to the norm. The festivities are led by the Rector of St Peter's Church, and features:
Traditional congregational carols
Festive music performed and sung by the Castle Choir
Well known Christmas chart toppers led by local musicians
Extracts from the Bible together with modern yuletide messages; either chosen and read by local celebrities or they write and read their own diverse personal messages.
This seasonal celebration has an interval, at which mince pies and mulled wine will be served as part of the ticket price.
Who is reading?
Confirmed readers include:
Robin Ince [Comedian and Writer]
Nigel Barden [Food and Drink broadcaster]
Miles Harrison [Rugby Commentator]
Berkhamsted School 6th form pupil
Liz Green [High Sheriff of Hertfordshire]
Richard Roberts [The Leader of Hertfordshire County Council]
Diane Delicate [ Manager Ashlyn Care Home]
Paul Ryan [Local Businessman]
Parul Dix [Manager Swan Youth Project]
When & Where
Wednesday December 6th Event 7.30pm – 9,30pm [Doors Open 7.15pm]
St Peter's Church ,High Street Berkhamsted HP4 2AX
Ticket Price and Link
£8 includes Complimentary Mulled Wine and Mince Pie during the Interval - https://tickets.mp/ageukcarols