Being Active with Parkinson's
Published on 12 April 2023 11:27 AM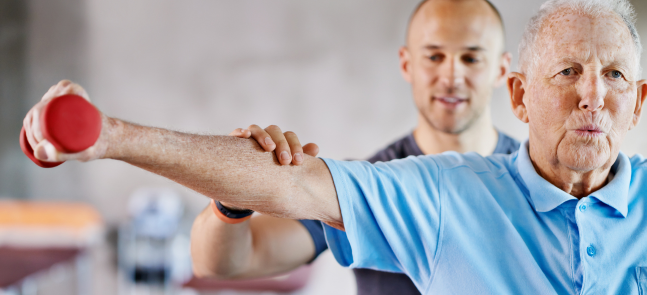 Yesterday was World Parkinson's Day and this month is dedicated to raising awareness of Parkinson's disease.
Living with Parkinson's is tougher than people think, But it doesn't define you. You are still you and you can still do amazing things.
The average age for the onset of Parkinson's is 60 years of age, although a small proportion of people are diagnosed with early onset Parkinson's before the age of 50.
Parkinson's disease is a condition in which parts of the brain become progressively damaged over many years.
It is caused by a loss of nerve cells in part of the brain called the substantia nigra. This leads to a reduction in a chemical called dopamine in the brain. Dopamine plays a vital role in regulating the movement of the body. A reduction in dopamine is responsible for many of the symptoms of Parkinson's disease.
Exactly what causes the loss of nerve cells is unclear. Most experts think that a combination of genetic and environmental factors is responsible.
Symptoms of Parkinson's:
The main symptoms of Parkinson's disease are:
involuntary shaking of particular parts of the body (tremor)
slow movement
stiff and inflexible muscles
A person with Parkinson's disease can also experience a wide range of other physical and psychological symptoms.
These include:
depression and anxiety
balance problems (this may increase the chances of a fall)
loss of sense of smell (anosmia)
problems sleeping (insomnia)
memory problems
Why is it important to be active?
Research has shown that regular, moderate to vigorous physical activity can help relieve some of the motor symptoms of Parkinson's, as well as improving overall mental and physical wellbeing. The physical benefits of being active can include:
better muscle and bone strength
improved flexibility and joint mobility
improved balance and a reduced risk of falls
higher energy levels and better sleep
lower stress levels and lower blood pressure
reduced risk of developing other health problems such as heart disease, stroke, diabetes, osteoarthritis, dementia and some cancers.
Being physically active can also bring benefits to mental wellbeing, including:
improved confidence and self-esteem, especially from the social benefit of being active with others
improved cognitive ability, helping your brain work more efficiently, so you can learn and remember more
reduction in anxiety and depression, and increased happiness, especially if you can be active outdoors
Check out Jagdeep's Story:
"I found that exercise, and in particular boxing, would benefit people with Parkinson's. "
Parkinson's UK have created a guide that covers a range of topics including why it is important to be active when living with Parkinson's, how to get started, why intensity can be important for the disease. The guide also includes some inspiring stories sharing the real-life experiences of those within the Parkinson's community.
To order a free guide or download a digital copy click here. This guide will help more people enjoy being active and live well with Parkinson's.