Age UK & John Lewis
Published on 26 November 2015 12:41 PM
Join Age UK and John Lewis to help some of the million older people who go a month without speaking to anyone.
One million older people go for a month without speaking to anyone.
A £5 donation could help us answer a call by our Telephone club. For older people with nowhere else to turn, getting in touch with Age UK Dacorum could open the door to many opportunities for companionship, advice and support.
Our Befriending service can be a next step for an older person who calls. We match older people with like-minded volunteers for weekly companionship or regular 'good day' calls. To an older person who hasn't spoken to anyone in weeks, it really can make all the difference.
Many clubs and activities close down between Christmas Day and the begining of January. For many people the loneliest time of the year is that period in between. Christmas Day and Boxing Day are usually busy but what do you do in between?
This year we are opening a drop in club in Berkhamsted at The Quaker Meeting House on Tuesday 29th December from 10am - 2pm.
Come and join us for a chat and enjoy a light lunch and some good company.
There is no charge but if you need transport please call 01442 259049 (our office) to book.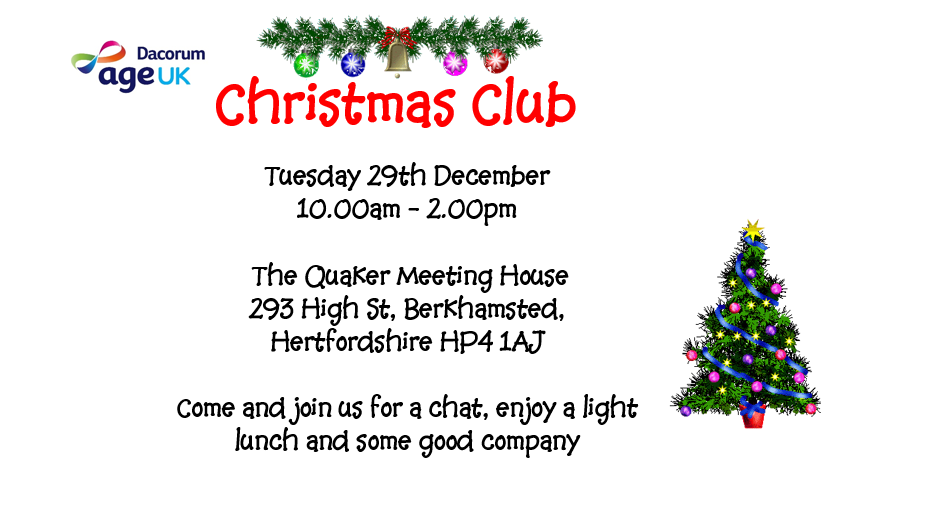 Donate to show someone they're loved this Christmas.
Donate by mobile phone with JustTextGiving

Text AUKD16 £5 to 70070 today
About Text Giving