Ambers Beauty Studio 30th Birthday Event
Published on 22 November 2016 07:57 PM
40 Long Chaulden, Hemel Hempstead, Hertfordshire, HP1 2HX
Tuesday 22nd November
From 9.30am to 5.30pm
Thank you very much for raising

£

642 which will go towards the running of our Dementia Services.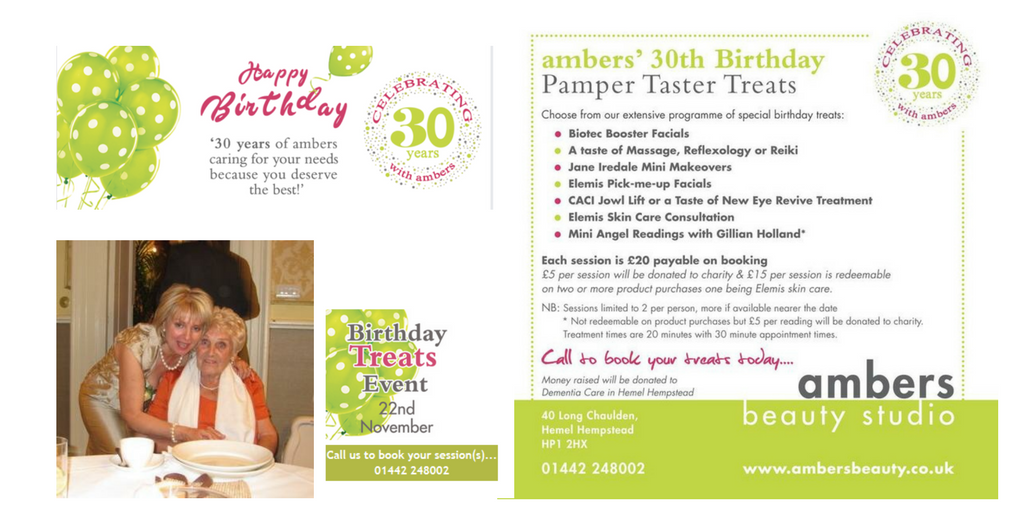 From Kim, Ambers Beauty Studio:
Throughout our 30th Birthday celebrations🎉£5 from each treatment on our birthday treat day will be donated along with our raffle money.

We chose this charity as a sign of our gratitude and respect to an amazing lady Ethel. Who is our mum/nan of the salon and Linda's Mum. Ethel is a legend her encouragement commitment and endless support to Linda our owner therapist and director here at Ambers made us who we are today.

I was very lucky to have the honour of working alongside Ethel for many years, she was an inspiration strong, tirelessly committed to the salon and Linda. The funniest lady I know.

Heartbreakingly she has dementia and won't be able to celebrate with us. The party won't be the same with out her always first on the dance floor an energy that was hard to keep up with.

We are so happy to raise funds for Dacorum age uk it's based here in Hemel Hempstead and it helps people like Ethel enjoy their later years.
From Us:

Thank you so much to Linda and all the staff at Ambers for raising money or us on their 30th Birthday Treats Event. The money raised will go towards our Memory Loss Project.
This project is to help people with memory loss, (whether or not they have a diagnosis) and to also help their carers to enable them to cope and try to understand. We offer one to one support and provide information so they will learn how best to live with memory loss or how to aid someone with memory loss, live an enjoyable and healthy life. We help them identify their needs, promote their independence and help them remain confident. We assist them to understand the practical impact and the psychological impact memory loss and dementia can have.
We provide emotional support giving opportunities to talk freely about how they are coping and to help them come to terms with memory loss and dementia. We can check they are receiving the benefits they are entitled to and signpost them to other organisations that may be able to help with other issues.
There is also group support for people with memory loss and their carer who want to learn more about living well with memory loss and dementia and meet and socialise with others in similar situation.


Living with memory loss is challenging not just for the person with memory loss, but for their carers', family and friends. Everyone affected will experience memory loss and dementia in their own way, it is unique to each individual, attitudes, relationships and the environment all have an impact. This project is here to help throughout the process.

We want to assist and provide support, guidance and optimism to the increasing number of older people struggling with memory problems. We also want to be a source of support and information for their loved ones.