Dementia services in crisis in dacorum -warns charity
Published on 11 September 2016 09:20 PM
Published in The Gazette - Berkhamsted and Tring edition on 7th September 16
Dementia services in Hertfordshire could reach breaking point in the future if nothing is done now, it has been warned.
Melanie Clarke, independent living scheme manager at Age UK Dacorum, says the charity's dementia service is oversubscribed and the need is growing.
As part of its work with dementia patients, Age UK Dacorum runs several popular Cogs clubs helping those suffering with memory loss through music, activities and reminiscence.
Melanie, who supports dementia patients and their carers as part of her role, said: "Our clubs are all full and they all have waiting lists. "We only have one club for clients and carers together but we need more. "There aren't enough people to run them but the need is there, and it's really important. "We also have people with younger onset dementia who have to mix with the older clients because there is no separate group for them."
In response to the increased demand, Age UK Dacorum took on a memory support worker in August, but Melanie says one person isn't enough to meet the needs of the thousands of patients and carers in the borough.
The charity's memory loss support project provides one-to-one support to those suffering with suspected dementia – they don't need an offical diagnosis, as Age UK supports them every step of the way.
Another way local authorities are tackling the rising number of people diagnosed with the condition is to create dementia-friendly communities, which means everyone from governments and health boards to corner shops and hairdressers share responsibility for ensuring those with dementia feel understood, valued and part of the community.
In the newly-published Dementia Atlas, Tring was highlighted as the only town in the county with dementia-friendly status.
Melanie said: "I think it would be really handy if more shops and businesses in Dacorum were trained in how to interact with people who have dementia."
Latest statistics show Dacorum has the highest number of over 65s with dementia in Herts at 1,885, and this figure is predicted to rise to 2,159 by 2020.
The Hertfordshire Dementia Strategy 2015-19 report, which is a collaboration between county hall and health bosses, sets out a five-year plan to tackle the increasing number of dementia diagnoses in the county.
It is estimated that there are 15,000 people living with the condition in Hertfordshire, including 600 people with early onset dementia. The county council spends more than £90m every year on services for people with dementia and their carers, but due to the ageing population its thought this figure could rise.
Tune in to BBC Three Counties Radio at 7.20am on Monday 12th September to listen to Melanie Clarke, Independent Living Scheme Manager from Age UK Dacorum talk about Dementia Services in Dacorum.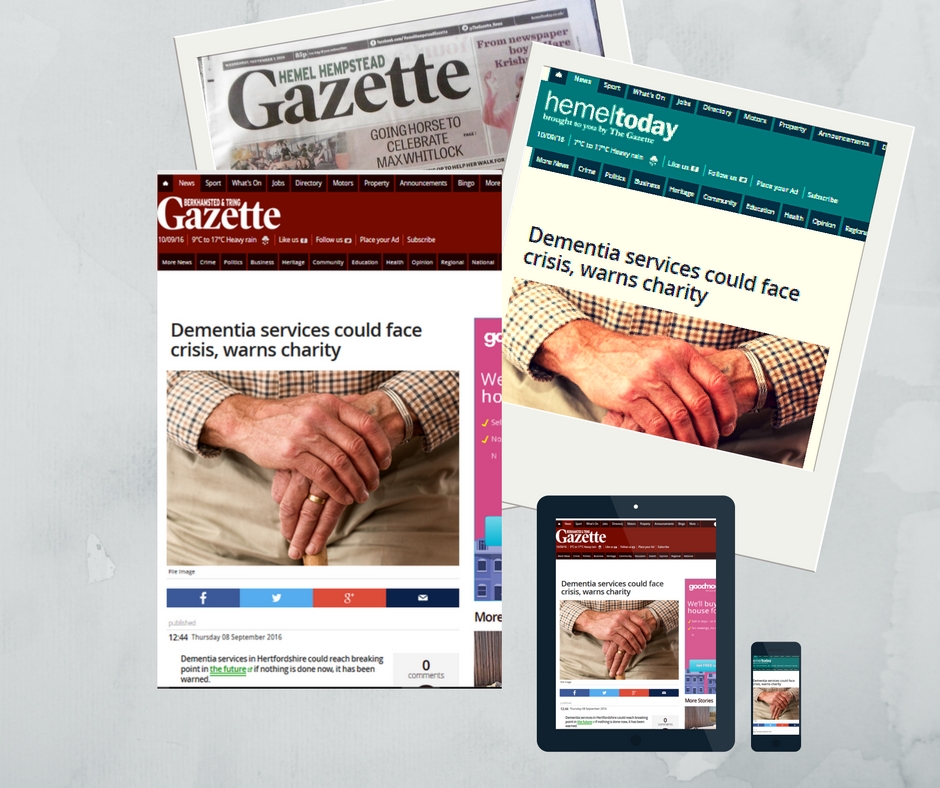 You can read the full printed article in the Berkhamsted & Tring edition of the Gazette . To read online go to Hemeltoday or Berkhamstedtoday or click on the facebook link below.