Mini bus drivers could be forced off our roads by EU's red tape
Published on 15 July 2018 09:33 AM
Minibus drivers could be forced off our roads by EU's red tape
Minibus drivers could be forced off our roads by EU's red tape that may leave charities, schools and clubs facing £1,000 licences to run vehicles
Since 1985, those from charities and not-for-profit groups can drive a nine- to 16-seater minibus with standard driving licence
New plans could see drivers needing competence certificate - and undergo 35 hours of training
Charities estimate it will cost £400m to comply with regulations – dwarfing £69m bill estimated by DfT
By James Salmon for the Daily Mail
Published: 23:27, 13 July 2018 | Updated: 23:36, 13 July 2018
Thousands of vital minibus services laid on by charities, schools and clubs are under threat due to an old Brussels edict that may leave the groups needing special £1,000 licences.
For more than 30 years a light-touch regulatory and licensing regime has helped charities and not-for-profit organisations provide vital transport services.
This includes giving elderly people a lift to a hospital appointment, or taking Scout groups or children with special needs on field trips.
A permit system – introduced under the 1985 Transport Act – has allowed anyone from charity workers, to teachers and Scout leaders to drive a nine- to 16-seater minibus with a standard driving licence.
But, under new plans from the Department for Transport, many community drivers will need to obtain a Driver Certificate of Professional Competence, costing more than £1,000 each, and undergo 35 hours of training.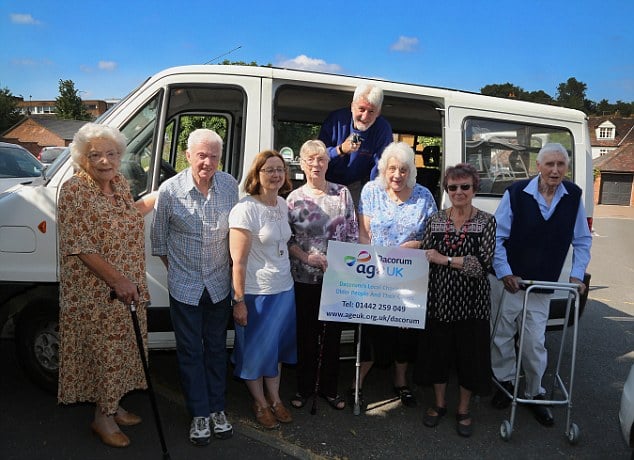 Many older people rely on the minibus service provided by Age UK Dacorum to take them to social clubs weekly. They pay £5 to get picked up in the morning and taken home in the afternoon. The Hertfordshire-based charity has four paid drivers, with five volunteers acting as escorts. They have to pass a free Hertfordshire County Council minibus driving test. Age UK Dacorum says the proposed commercial licences will cost an average £1,700 per driver, or around £12,000 per annum . Chief executive David Pearce said the plan would result 'in people becoming housebound, isolated and lonely...'
Organisations will also need a Passenger Service Vehicle bus-operating licence.
Whitehall officials insist they have been forced to do this because of Brussels red tape. But charities and MPs have accused the Government of 'gold-plating' EU regulations, and capitulating unnecessarily.
Charities estimate it will cost just under £400million to comply with the regulations – dwarfing the £69million bill estimated by the DfT.
Age UK has warned this risks 'condemning thousands of elderly people to loneliness and isolation'. And Whitehall officials are attempting to ward off a legal challenge from private bus and coach operators which have accused the Government of failing to comply with EU legislation introduced in December 2011.
They say they are losing business to charities and other not-for-profit organisations which avoid costly red tape, meaning they have a competitive advantage when applying to local councils to run certain services.
But charities warn the extra costs could force hundreds of local charities and other organisations to stop laying on transport for their local community.
The Community Transport Association says the draconian rules could even mean teachers will not be able to drive pupils in a minibus to sporting events or geography field trips without a commercial licence.
If the Government pushes ahead with these changes it will spell the end for many local community transport services across the country...
Caroline Abrahams, Age UK's Charity Director
Charities say this will make it almost impossible to recruit volunteer drivers – even if they can afford to pay for training – as it takes about 35 hours to complete. The proposals have infuriated MPs, including Andrew Bridgen, a pro-Brexit Tory, who said: 'Isn't it time for the Government to put the brakes on excessive, onerous EU legislation given we are leaving in a few months?'
The charity sector has been backed by more than 20 MPs, including former chancellor Ken Clarke, former Tory chairman Sir Patrick McLoughlin, Liberal Democrat Leader Sir Vince Cable and Lilian Greenwood, the Labour chairman of the commons Transport Committee.
Caroline Abrahams, Age UK's Charity Director, told the Mail: 'If the Government pushes ahead with these changes it will spell the end for many local community transport services across the country...'
Meanwhile The Bus and Coach Association has taken its fight to the European Commission, arguing the UK's light-touch approach breaches EC 1071/2009 road transport legislation.
But the Commons transport committee, which completed a review into the plan in December, warned of the threat to vital minibus services and urged the Government not to use a 'sledgehammer to crack a nut.'
The DfT is set to publish its final plans shortly after consulting on the new regime. A spokesman said: 'We recognise that community transport provides a vital service, particularly in the more remote areas. However, some operators may need to ensure they have professional licences, especially if they compete for commercial contracts.'