Penny in Dacorum - Care Crisis
Published on 09 August 2018 04:19 PM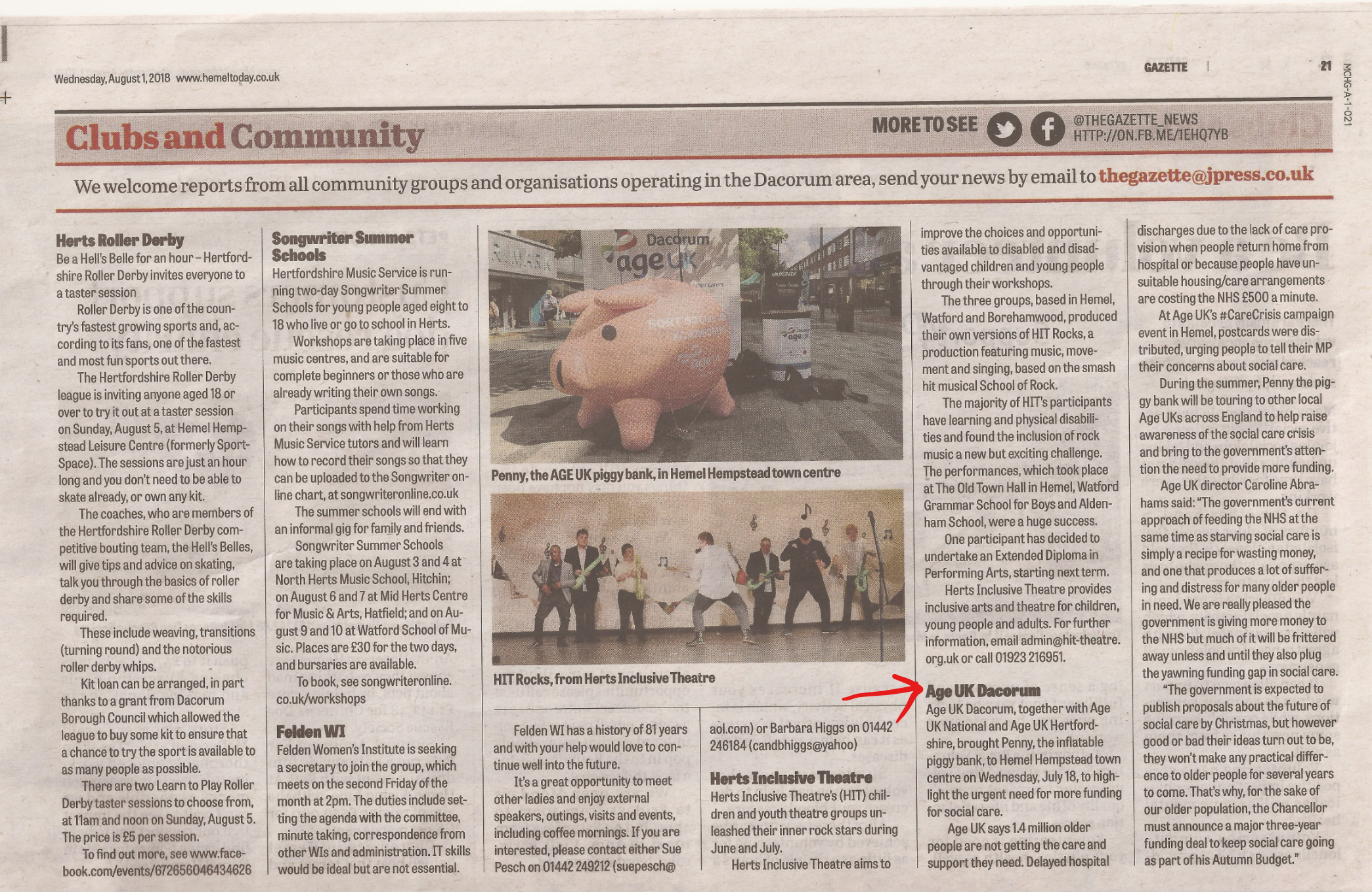 Wednesday, 1st August 2018. Gazette&Express
Published on Wednesday, 1st August 2018. Gazette & Express.
Age UK Dacorum together with Age UK National and Age UK Hertfordshire brought Penny the inflatable piggy bank to Hemel Hempstead town centre on Wednesday July 18th to highlight the urgent need for more funding for social care.
Age UK says 1.4 million older people are not getting the care and support they need. Delayed hospital discharges due to the lack of care provision when people return home from hospital or because people have unsuitable housing/care arrangements are costing the NHS £500 a minute.
At Age UK's #CareCrisis campaign event in Hemel postcards were distributed urging people to tell their MP their concerns about social care.
During the summer Penny the piggy bank will be touring to other Age UKs across England to help raise awareness of the social care crisis and bring to the government's attention the need to provide more funding.
Age UK Director Caroline Abrahams said:
"The Government's current approach of feeding the NHS at the same time as starving social care is simply a recipe for wasting money, and one that produces a lot of suffering and distress for many older people in need. We are really pleased the Government is giving more money to the NHS but much of it will be frittered away unless and until they also plug the yawning funding gap in social care.
"The Government is expected to publish proposals about the future of social care by Christmas, but however good or bad their ideas turn out to be they won't make any practical difference to older people for several years to come. That's why, for the sake of our older population, the Chancellor must announce a major three year funding deal to keep social care going as part of his Autumn Budget. "