Staying Safe Online Workshop
Published on 05 June 2018 09:37 AM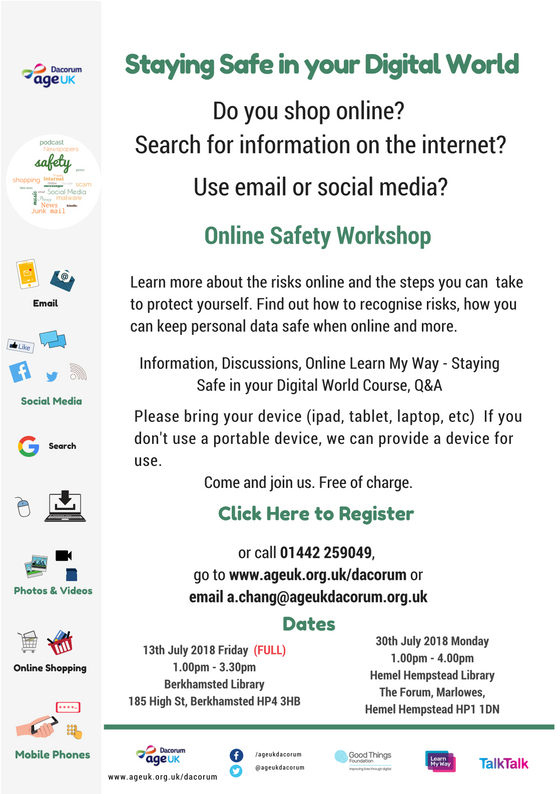 Online Safety Workshop

Going online offers many benefits. The internet is a great place to learn, share experiences, keep in touch with family and friends, access public services, play and be entertained but there are hazards and risks.
This workshop will help participants be aware of the risks and provide information on what steps they can take to protect themnselves when online.
It will help them recognise the signs of an improper approach when transacting online, through emails and phone calls.
Through discussions, a set of online questions/course (Staying safe in your digital world) from Learn my way, participants can learn more about privacy and how they can keep their personal data safe when putting information out on the internet.
The dates and venues for the workshops are:
18th June 2018 Monday (Full)
1.30pm - 4.00pm
Boxmoor and Warners End
Community Centre
Northridge Way,
Hemel Hempstead HP1 3QG


28th June 2018 Thursday
10.30pm - 1.00pm
Boxmoor and Warners End
Community Centre
Northridge Way,
Hemel Hempstead HP1 3QG


5th July 2018 Thursday (Full)
11.30am - 2.00pm
Hemel Hempstead Library
The Forum, Marlowes,
Hemel Hempstead
HP1 1DN
13th July 2018 Friday (Full)
1.00pm - 3.30pm
Berkhamsted Library
185 High St, Berkhamsted HP4 3HB

30th July 2018 Monday (Full)
1.00pm - 4.00pm
Hemel Hempstead Library
The Forum, Marlowes,
Hemel Hempstead
HP1 1DN

Some comments from participants
'Very well done course. I learnt relevant practical suggestions.'
'Thank you for a good afternoon.'
'I only use my ipad for information that I am unable to source elsewhere. The session has given me confidence to make more use of it.'
'This session has given me confidence that I DO know what I'm doing.'
'It is good to hear other people's questions.'
'Clear explanation of what to look out for.'
'Many thanks. Very helpful.'
'Very useful course.'
'Very informative.'
For queries please use the form below or call 01442 259049 . To read more on Online Safety go to 'Staying safe in your digital world'