Good Neighbour Scheme Launches
Published on 01 March 2019 04:15 PM

Boxmoor residents have launched a scheme to support elderly people in the community.
Boxmoor Good Neighbours has support from Age UK Dacorum and Neighbourhood Watch, with initial funding from the Hertfordshire Police and Crime Commissioner.
Similar schemes are already runnning in St Albans and Kings Langley and Boxmoor hopes to achieve the same success.
The Boxmoor Good Neighbours Scheme aims to help Boxmoor residents who are elderly, unwell, lonely, disabled, facing a crisis, or need temporary support, and do not have family or a good neighbour to turn to.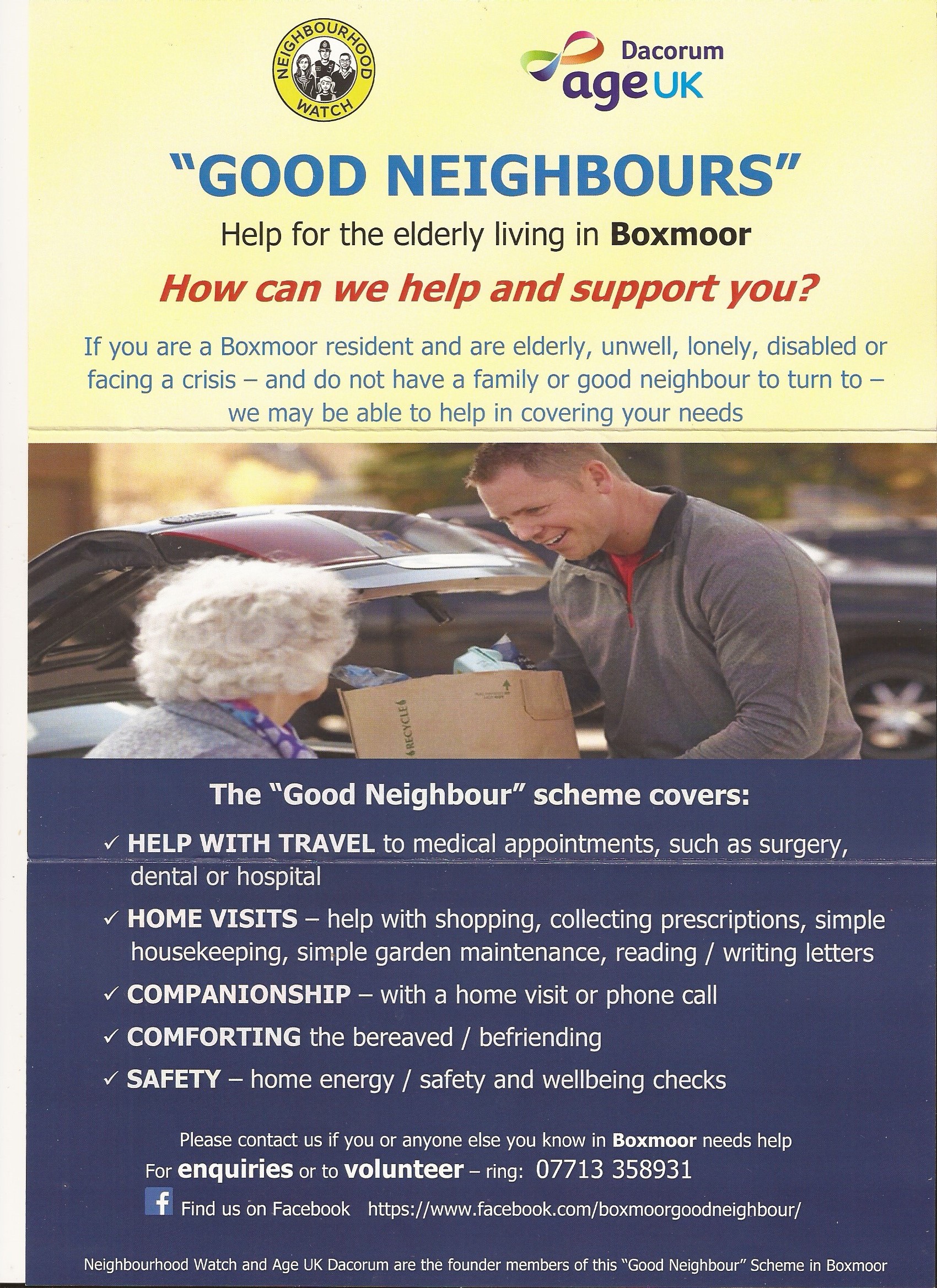 Types of support the scheme can offer include:
Help with travel - to medical appointments, such as surgery, dental or hospital;
Home visits - help with shopping, collecting prescriptions, simple housekeeping, simple garden maintenance, reading or writing letters;
Companionship - with a home visit or phone call;
Comforting - the bereaved/befriending;
Safety - home energy/fitting smoke alarms and wellbeing checks.
The scheme is free of charge although donations are welcome.
For medical appointments, normally at least a week's notice is welcomed but scheme members will always try to assist in an emergency.
Boxmoor Good Neighbours is run entirely by volunteers and volunteers are needed to make the scheme work well.
"We all have busy lives, but even if can only spare an hour occasionally, your help can make a real difference to our elderly neighbours and offers a chance to give back to your local community. It just needs enthusiasm and a can-do approach. Don't worry, relevant training will be given and expenses are covered."
If you think Boxmoor Good Neighbours can help you or to volunteer, call 07713 358931 or visit www.facebook.com/boxmoorgoodneighbour.
Published in the Gazette & Express Wednesday 27th February 2019