Mums UnLtd Summer Event 2019
Published on 07 July 2019 11:31 PM
SUMMER NETWORKING EVENT AND SHINING STAR AWARDS
11th July 2019
Hunton Park Hotel
Kings Langley 10am-2.30pm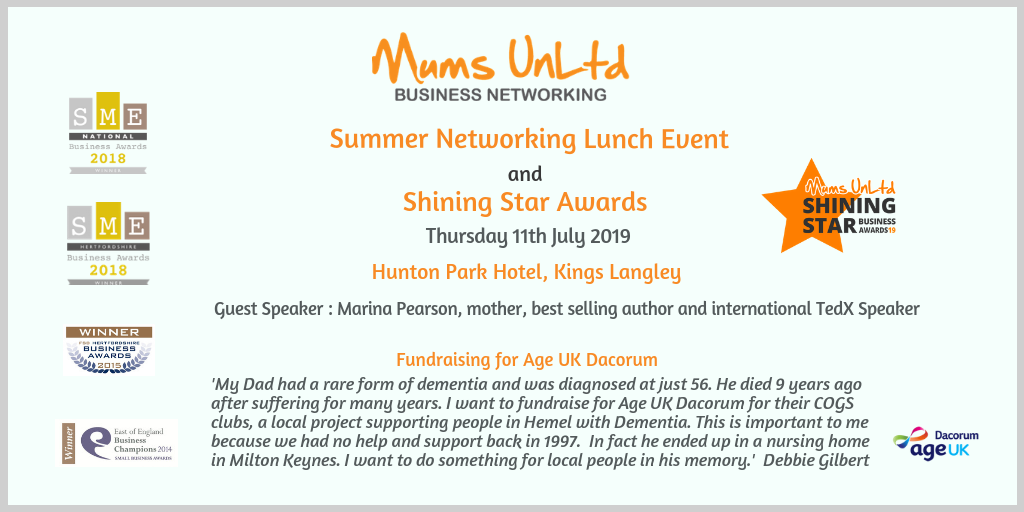 Debbie Gilbert, owner of award-winning business-networking company Mums UnLtd will (as with her 50th Birthday event last year) be fundraising for us at their Summer Networking Event on 11th July at Hunton Park Hotel in Kings Langley.
"My Dad had a rare form of dementia and was diagnosed at just 56. He died 9 years ago after suffering for many years. I want to fundraise for Age UK Dacorum for their COGs clubs, a local project supporting people in Hemel with Dementia. This is important to me because we had no help and support back in 1997. In fact he ended up in a nursing home in Milton Keynes. I want to do something for local people in his memory."
The networking lunch event is an excellent way to make lots of connections in a fun and friendly environment. This year they are joined by inspirational guest speaker, Marina Pearson, mother, best selling author and TEDx speaker - whose 20-minute transformation talk 'MumRelief: Break Free From The (Mental) Burdens Of Motherhood & Modern Day Life' is not to be missed.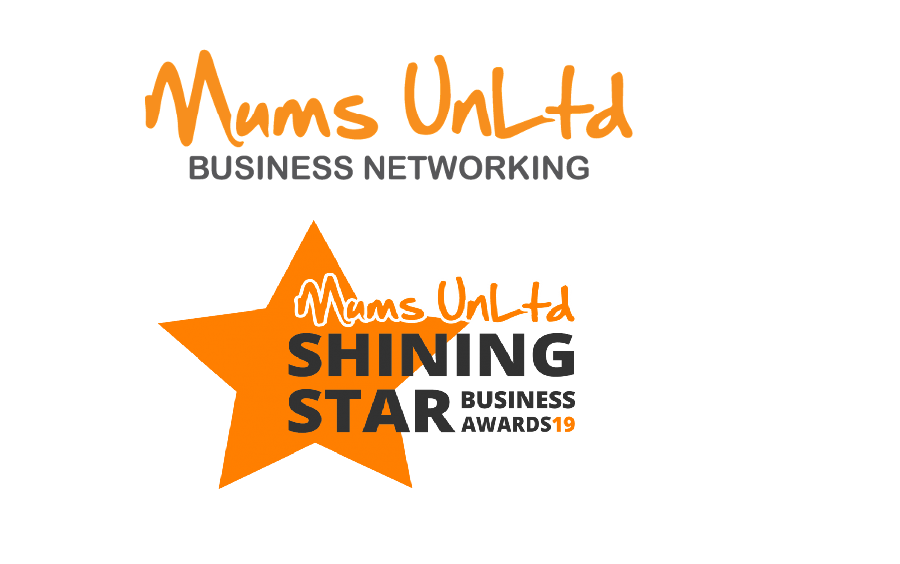 Mums UnLtd runs events for people who are thinking of starting a business, already running a business or taking a break from their business or employment. They opened their first group in 2011 and they welcome all business owners along including Dads and non-Mums. They now have groups in Hertfordshire, Buckinghamshire, Kent and Northamptonshire and each group runs once a month chaired by one of their team of group leaders.

Their objectives are simple - to provide inspiration, support, information, contacts and connections to help small business owners succeed.

They have won 4 business awards and they also run their own business awards - The Shining Star Awards which will be part of the Summer Lunch Event. Book your tickets now!

£32.50 plus VAT for 2 course lunch, refreshments and networking
£42.50 plus VAT for 2 course lunch, refreshments, networking and display table
If you have any special dietary needs please add to the comments box when booking.