Strength and Balance exercises
Published on 17 October 2019 02:31 PM
Physical activity can reduce your risk of major illnesses, such as heart disease, stroke, type 2 diabetes and cancer by up to 50% and lower your risk of early death by up to 30%.

Research shows that physical activity can also boost self-esteem, mood, sleep quality and energy, as well as reducing your risk of stress, depression, dementia and Alzheimer's disease.
Strength and Balance classes are designed for individuals wanting to improve their strength and balance while learning new exercises to maintain independence. They are suitable for anyone who hasn't exercised before or are experiencing a decline in their physical ability.
Monday 9.45-11.15am
Adeyfield Community Centre
Cost £3
To book call 01438 223223
Find more Physical Activity for Wellbeing Classes here.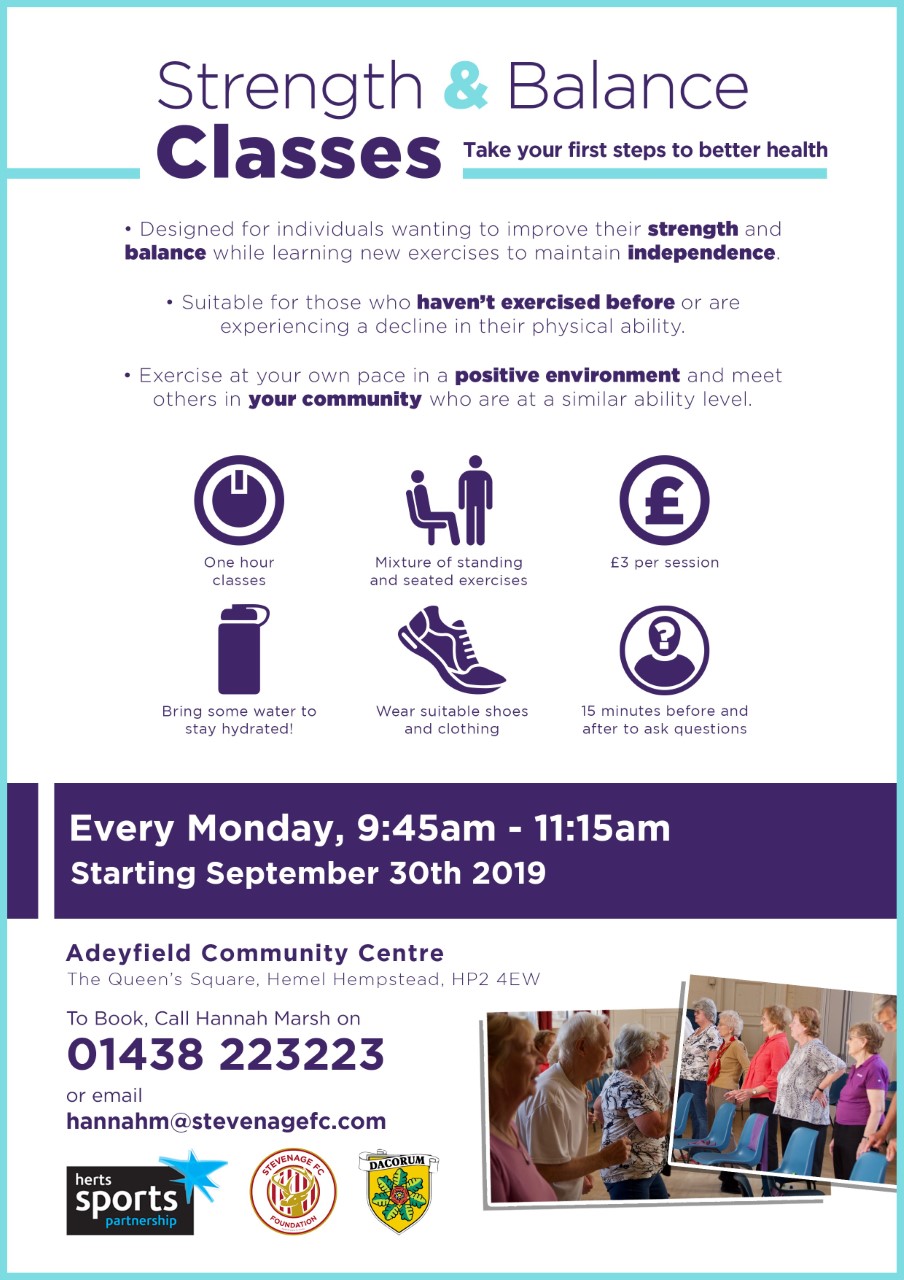 Can exercise reverse the ageing process?
We often confuse the effects of inactivity with the ageing process itself, and believe certain diseases are purely the result of getting older.
Actually, our modern sedentary lifestyles have simply speeded up our underlying age-related decline. This contributes to the onset of diseases such as type 2 diabetes, cardiovascular disease and cancer.
Many of us are simply not active enough. In England fewer than half of 16-24 year olds meet the recommendation for aerobic and muscle strengthening exercises; for 65-74 year-olds, it falls to fewer than one in 10.
Not only does exercise help prevent the onset of many diseases, it can also help to cure or alleviate others, improving our quality of life.
Read more on this from the BBC News article: Can exercise reverse the ageing process?