Carers Week 2020
Published on 08 June 2020 01:53 PM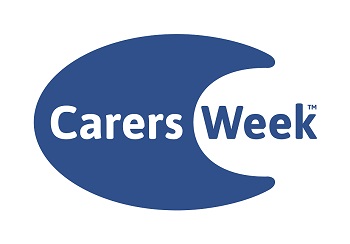 Carers Week (8th - 14th June 2020) - Making Caring Visible

Carers Week is an annual campaign to raise awareness of caring, highlight the challenges carers face and recognise the contribution they make to families and communities throughout the UK.
Caring can be a hugely rewarding experience but sometimes carers find it challenging to take care of their own well-being whilst caring.
Carers Week 2020: Message from Sir Mike Penning for this Carers Week during the coronavirus pandemic.
Making Caring Visible in 2020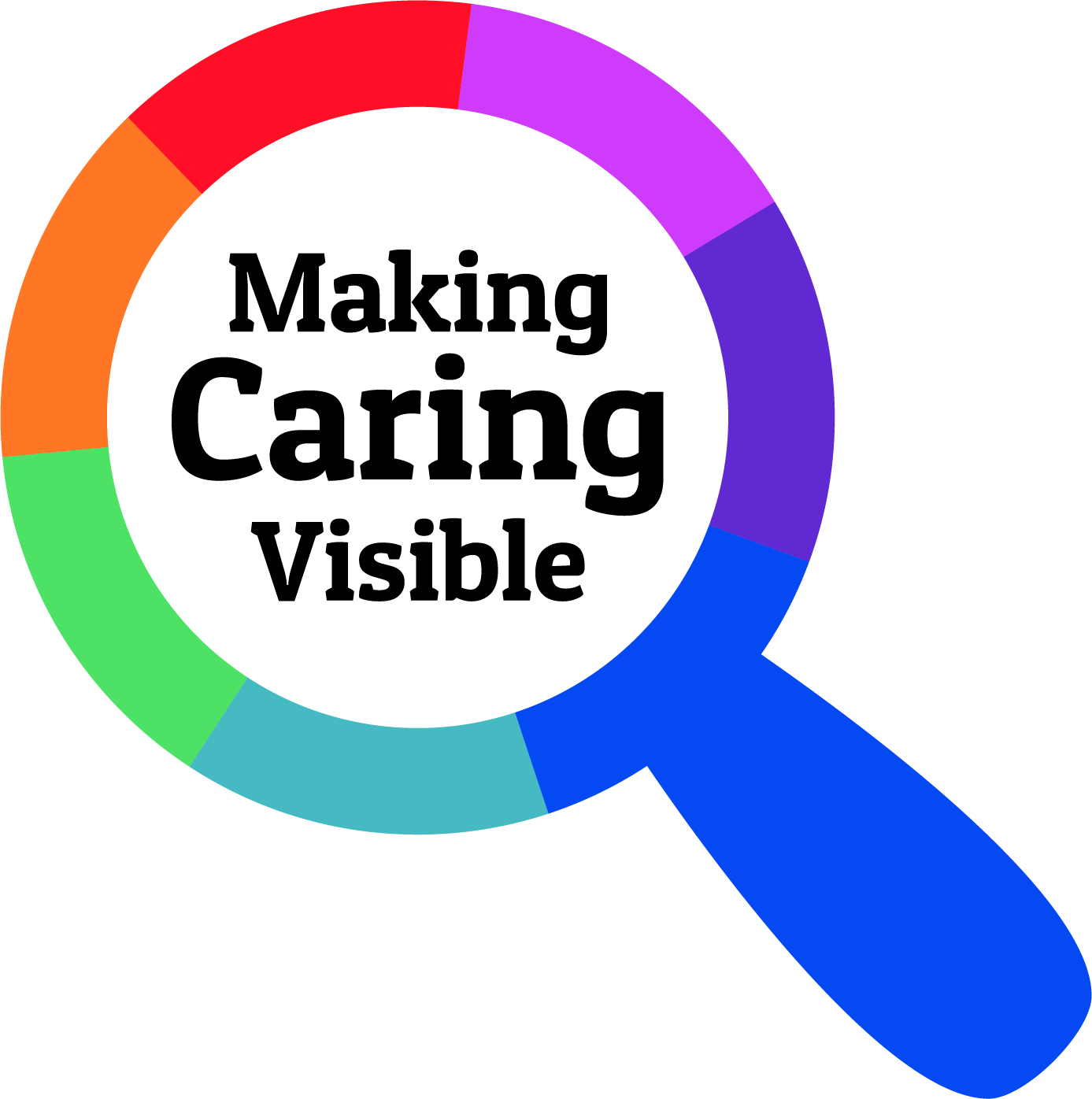 This year, people across the country are facing new caring challenges as a result of the coronavirus outbreak. Some have taken on more caring responsibilities for their relatives and friends who are disabled, ill or older and who need support.
There are an estimated 13.6 million unpaid carers in the UK today. Most of these unpaid carers, 9.1 million, were already caring before the coronavirus outbreak. A staggering 4.5 million people have started providing unpaid care since the outbreak. This represents nearly a 50% increase in the number of unpaid carers since the crisis began. (Carers Week Research Report)
Family carers have taken on more care tasks because respite opportunities and other care support have been reduced or stopped. Many older people are self-isolating or shielding whilst holding carer responsibilities at the same time.
During this difficult time Age UK Dacorum is offering support with telephone befriending, shopping and collecting prescriptions, amongst other support services. Should you or someone you know benefit from this support, please do contact us.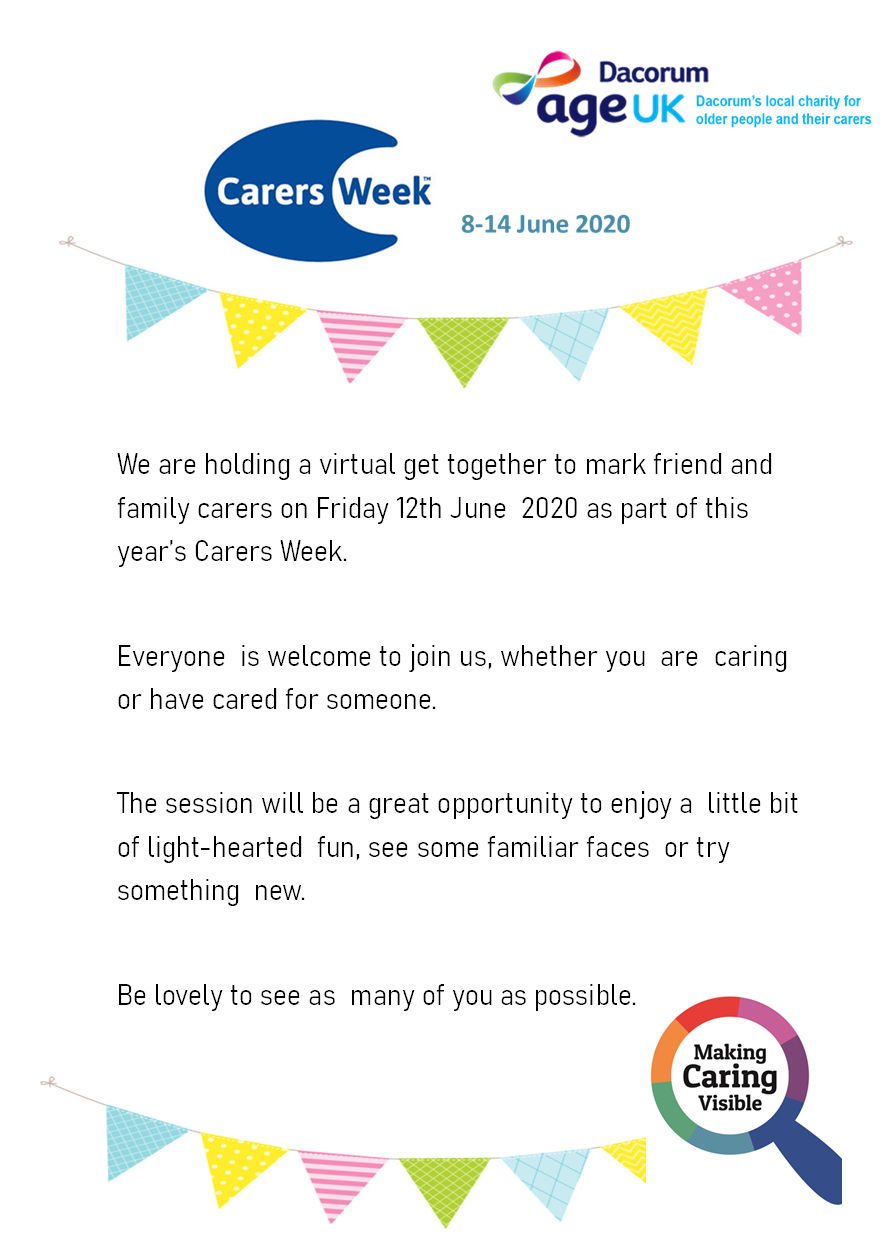 Carers Week Virtual Get-Together (12th June 2020) - fun and light-hearted with a bit of everything

Our Carers' Support group will be holding a virtual get-together on Friday 12th June 2020 as part of this year's Carers Week.
The session is open to members of our Carers Support groups - both carers and ex-carers. We value our ex-carers' knowledge and experience with the caring role and appreciate that caring has affected their physical and emotional life for ever.
If you are interested in attending the virtual get-together or joining our Carers' Support Group please email carers@ageukdacorum.org.uk or call 01442 259049 (leave a message on the answerphone and we will call you back).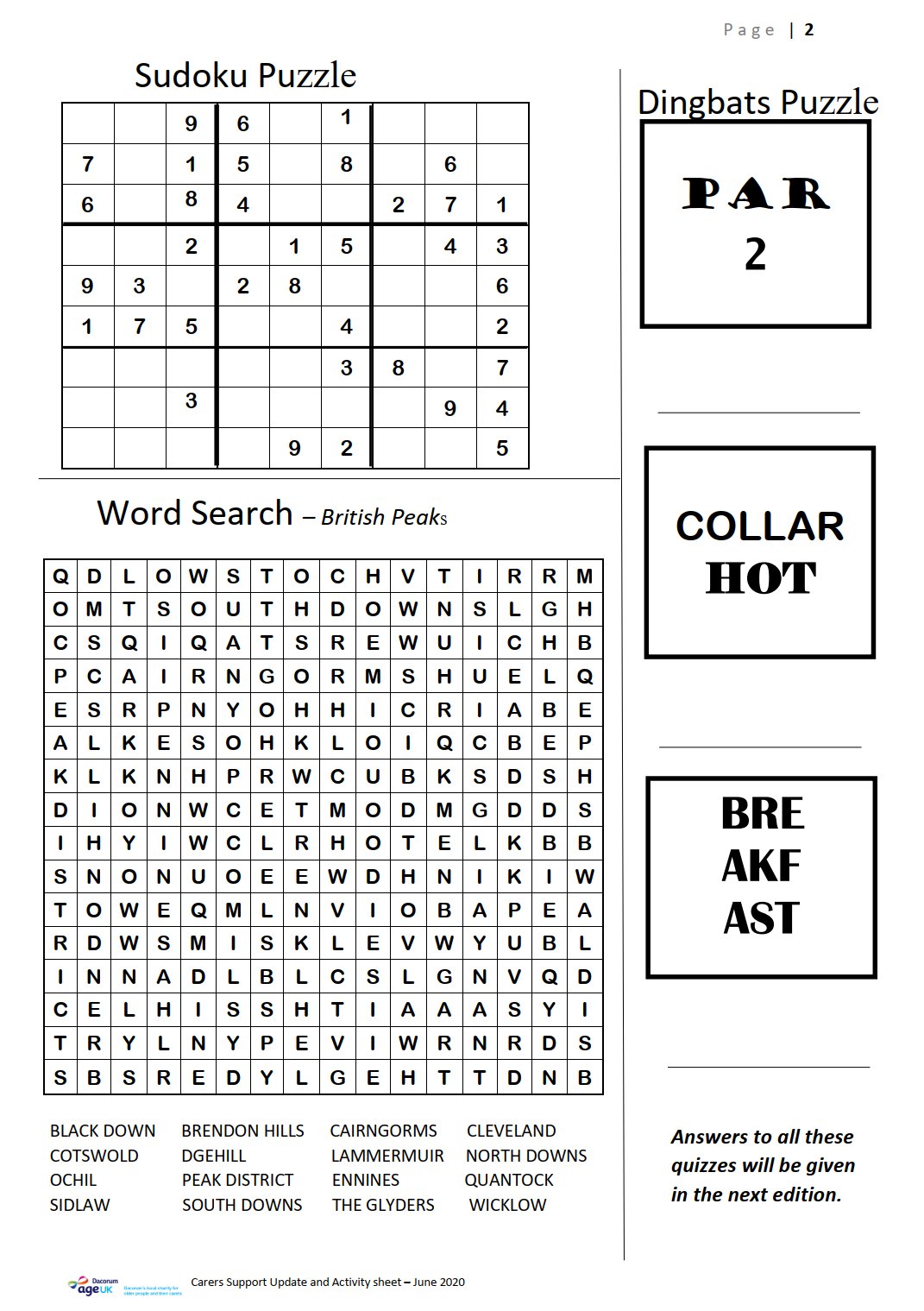 Carers' Support Update and Activities Newsletter
Download
the Carers' Support Update Newsletter (with activity sheets) for June 20 here.