Coronavirus pandemic: Appeal
Published on 14 April 2020 01:46 PM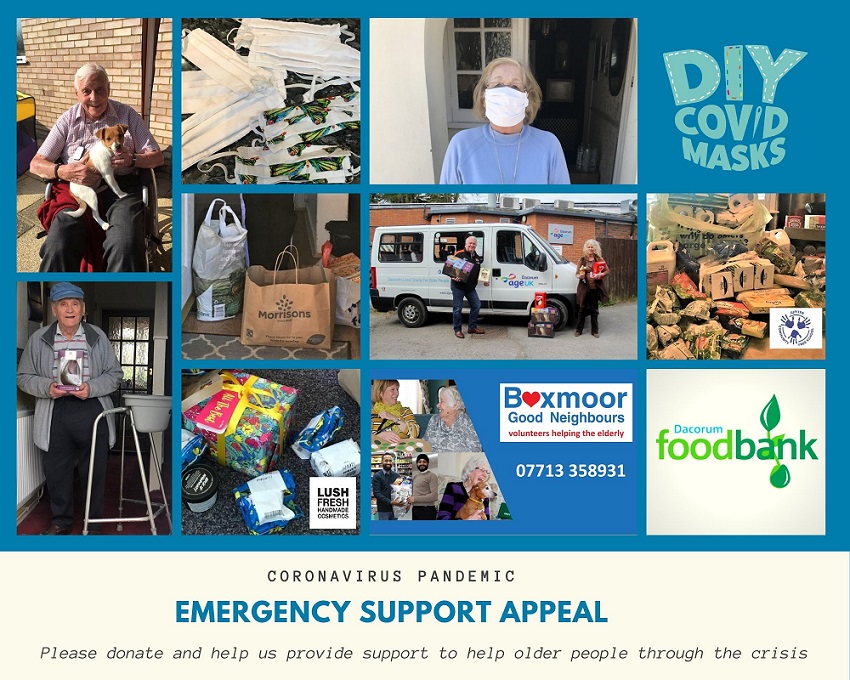 Age UK Dacorum requires your support to help the local community
As the coronavirus crisis continues to affect our daily lives and the knowledge that this will not just be for the short-term, Age UK Dacorum will continue to work at the forefront with other organizations to protect the communities we serve.
We know that older people are susceptible and are more likely to succumb to COVID-19 if they have pre-existing conditions. It is vital, therefore, that the Coronavirus Emergency Support services we are offering now - our telephone calls, shopping for daily essentials, fitting of key safes and information services continue.
As the crisis moves on, things could get more challenging. It is important that we keep our clients fit and healthy and that they don't become lonely and isolated. Most important of all we want to keep people out of hospital.
We applaud the extraordinary efforts of staff and volunteers and how communities have come together during this time of crisis. Something we must not lose post coronavirus.
Age UK Dacorum will continue to protect and support the communities we serve. We recognise the contributions older people make to society, the lifetime of knowledge, experience and love they offer, not to mention the massive void that would be left in the lives of those who love them if we did not help to keep older people safe and healthy during this crisis.
We are here for them and we hope you will help us to continue to deliver the highest quality services not just for now but also for the future by making a contribution, small or large, to support our work.
Please donate and help us provide vital support services to vulnerable older people in Dacorum.

How we will use your donation.
During this pandemic lockdown, we have changed our services to meet the demands of self-isolation However, our aims remain the same. To provide the highest quality services to support older people and their carers. Reduce loneliness and isolation, whilst reducing the demands on the NHS and statutory services.
With over 1000 calls being made to older, vulnerable people and their carers checking on their health and wellbeing and providing a friendly voice to chat to.
We receive on average fifty calls per day (including weekends) from people who need information and advice (sometimes from worried relatives across the world)
Over 300 people receiving a service to undertake shopping, dog walking, laundry, collecting prescriptions.
Our personal assistants and living well service make visits several times a week to the most vulnerable people in the community with physical and mental problems including dementia.
We continue to fit key safes so people can be discharged from hospital.
We are working with a wide range of partners to enable us to work together to offer a combined effort to support the community.
We hope you will support our work – If you can support us – we can support our clients. We hope you will and thank you.
Coronavirus Pandemic: Age UK Dacorum requires your support
Please donate and help us provide vital support to older people. You can donate: