Carers Week 2021
Published on 06 June 2021 01:53 PM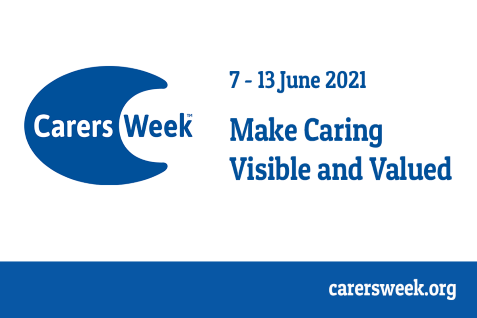 Carers Week (7 - 13 June 2021) - Making Caring Visible and Valued

Carers Week is an annual campaign to raise awareness of caring, highlight the challenges unpaid carers face and recognise the contribution they make to families and communities throughout the UK. It also helps people who don't think of themselves as having caring responsibilities to identify as carers and access much-needed support.
This year's theme is Make Caring Visible and Valued.
The role of a family carer has its challenges. The last 16 months have been particularly isolating and exhausting for many. The COVID-19 pandemic has had a significant impact on carers' ability to access break. Many carers have been on call all day, with no time to themselves or proper time with family or close friends. Unsurprisingly, many carers are now exhausted and worried about how they will continue to care without increased support.
The Carers Week Breaks or breakdown research report shows the impact of reduced support from both services and family and friends has had on carers' health and wellbeing. It demonstrates that without the right interventions there could be more carer breakdown and why the UK Government should increase funding for carers' breaks, so all carers providing significant hours of care have access to a meaningful break.
At Age UK Dacorum, we have kept in contact with many of our unpaid carers with support calls or via online platforms. This year it is important that we mark the incredible work that family, friends and neighbours do as carers. We want to highlight the vital role carers play in our communities and draw attention to just how important caring is.
To find out more about our Carers' support scheme and what we could do for you, please contact us at 01442 259049 or email carers@ageukdacorum.org.uk
Carers Week Event (7th June 2021)
Carers' Week Nature Walk.
Nature Walk at Phasels Wood Scout Campsite for carers living with someone with dementia. 7th June 2021 2pm. This is an invite-only activity for 3-4 couples.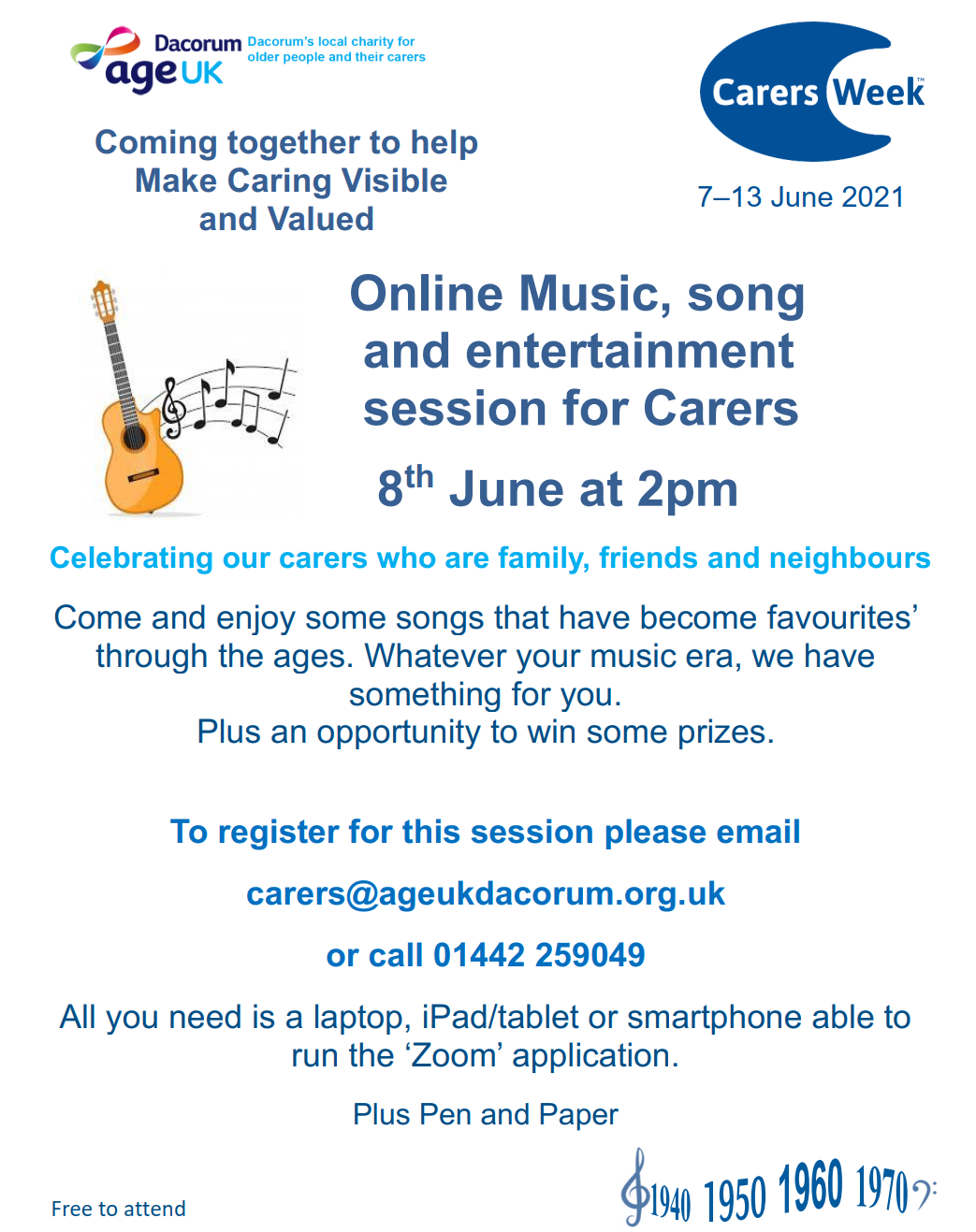 Carers Week Event (8th June 2021)

Online music, song and entertainment for carers
Come and enjoy some songs that have become favourites through the ages. Whatever your music era, we have something for you.
Plus an opportunity to win some prizes!
To register for this session please please email carers@ageukdacorum.org.uk or call 01442 259049 (leave a message on the answerphone and we will call you back).