Slipper-thon Success!
Published on 28 October 2021 04:15 PM
A HUGE thank you to everybody who got involved in our Slip into Slippers campaign on Friday 1st October to celebrate the privilege of ageing and commemorate the UN's International Day of Older Persons. What an astonishing response from our community to which we really grateful, both for the fun photos and the generous donations.
We raised an amazing total of £1000.00 which will enable us to continue to improve the lives of the elderly and their carers within Dacorum. Especially those who are suffering a sense of loss and grief through either bereavement or covid as we offer a unique dedicated "Bereavement and Covid-19 support service" and the monies raised will help to continue to maintain this important service.
We would like to say a special thank you to the following businesses who got involved, these businesses helped by either supporting and promoting our campaign and others helped us by taking part on the day and donating to our cause!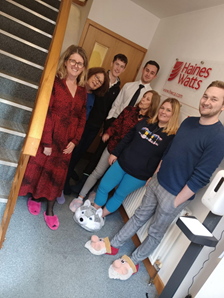 Haines Watts joined the Slipper-thon in their office in Berkhamsted!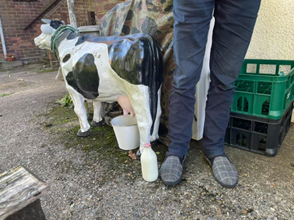 Martin the Milkman proudly wears his slippers outside his home in Bovingdon in support of Age UK Dacorum.
Indigo Tree wore slippers on Friday 1st October and are a "great supporter of local charities and are proud to help Age UK Dacorum to highlight the needs of older people and raise vital funds to support their services."
Also, a big thank you to all the staff and pupils at Galley Hill Primary School , Pixies Hill Primary School in Hemel Hempstead and Swing Gate Infant School and Nursery in Berkhamsted for helping raise funds for us. Looks like you all had fun joining our Slipper-thon!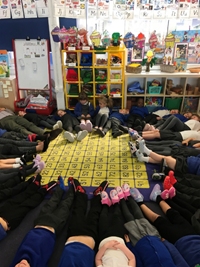 Pupils of Galley Hill Primary School, Hemel Hempstead showing off their slippers!
We really loved the pictures sent in by B&M Care Homes and love that their staff and residents got involved in the fun!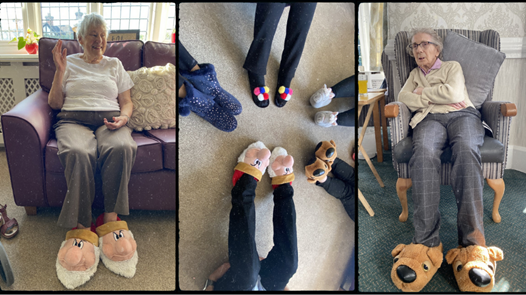 This was our first ever Slip into Slippers campaign and we are astounded by the community's response.
This will become our annual fundraising/awareness campaign and we'd like to get more businesses and schools involved in the following years. If you would like to be engaged in next year's campaign, please email editorial@ageukdacorum.org.uk.