Thank you Sign with Anna
Published on 29 September 2021 11:49 AM
Sign with Anna runs fun, friendly classes and workshops for babies and toddlers 0-3.
We'd like to thank Sign with Anna for supporting our Slip into Slippers campaign and encouraging others to join in, the money raised will go towards our Bereavement and Covid-19 support service, a telephone service that provides a local support network for those who need emotional and practical help with issues such as grief through bereavement, isolation, and loneliness.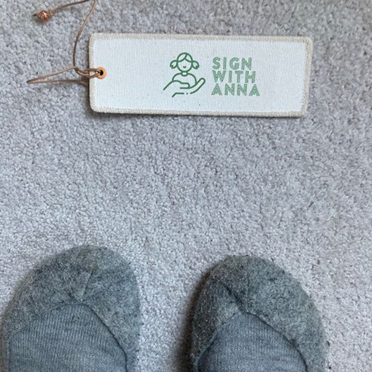 "So, today I'm supporting Age UK Dacorum's 'Slip into Slippers' campaign. I'm a few days early - the Slipper-thon is officially on 1st Oct, but as I teach on Tuesdays, I thought I'd use the first week of my new Baby Signing Basics course to highlight this important campaign!
It's a privilege to support Age UK Dacorum and raise vital funds to support their services which help older people to live independently and safely, preferably in their own home, as well as helping to tackle loneliness. I've made a donation - will you do so too?"
Make a donation?
Would you like to make a donation to our Slip into Slippers campaign.