Berko Dino Trail!
Published on 22 July 2022 09:00 AM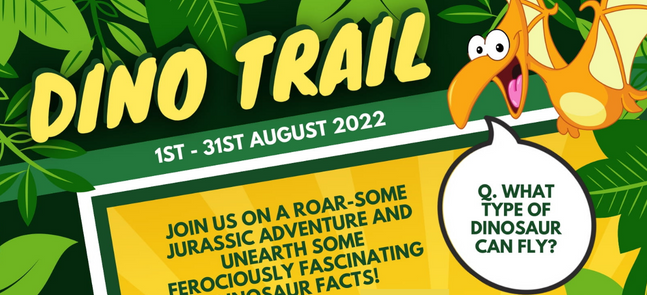 Join Dacorum Borough Council and Age UK Dacorum on a roar-some Jurassic adventure and unearth some ferociously fascinating dinosaur facts!
This summer the streets of Berkhamsted will see a Free Family Friendly Dino trail hit the highstreets, allowing participants to take a prehistoric walk with dinosaurs and be in with a chance of winning some amazing prizes!
We have partnered up with Dacorum Borough Council and the LoyalFree app who have created this trail. The trail is aimed at all the family, but especially grandparents, who often have to look after their grandchildren during the summer holidays. The purpose is everyone to have some fun whilst raising awareness of the work that Age UK Dacorum does for older people and their carers throughout Dacorum. We support 1,000 older people a week and last year we made 29,000 calls to assist people. We provide vital support to those in our community and with your support we can help even more!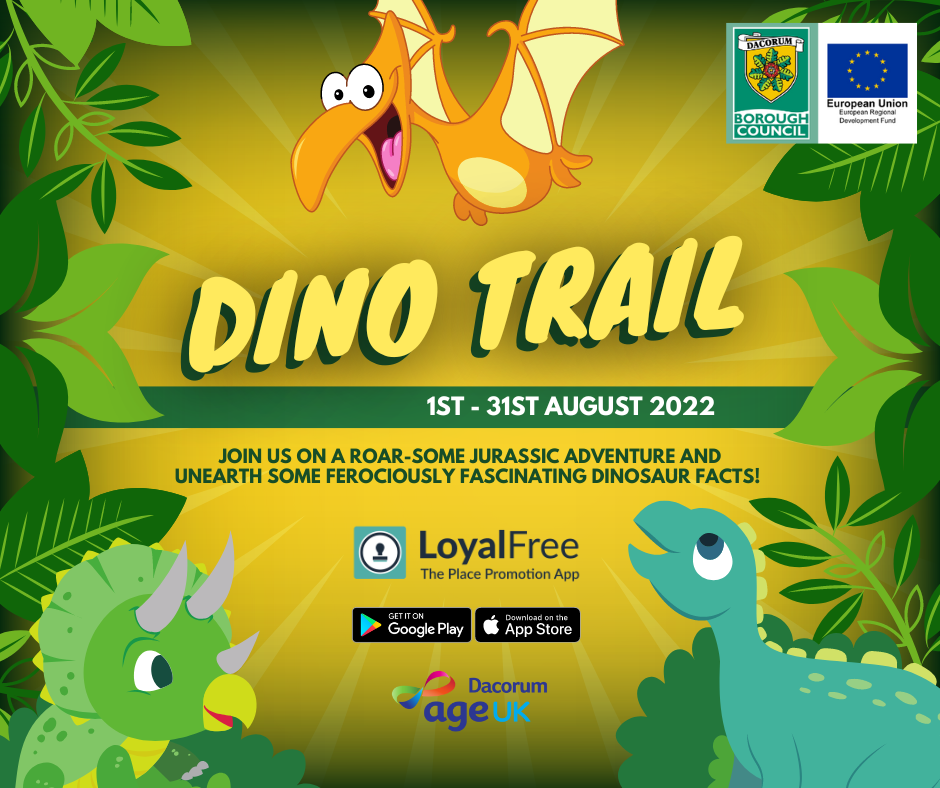 The trail is set to launch 1st of August and will run over the summer until August 31st.
The Dino trail will feature 10 locations. Each location will host a poster with an educational dinosaur question. Participants can stomp along the trail and discover the answers by scanning the QR code on each poster. Explorers who complete the trail, visiting all locations and scanning the QR codes will be entered into a prize draw to win a range of great goodies from participating shops.
Participants are warned to keep their eyes peeled for anagram letters along the way. Those who find all the letters and can unscramble them, solving the anagram can submit their answers for an additional chance to win.
Age UK Dacorum's Development Officer, Charlie Hussey says, Age UK Dacorum are very proud and happy to be part of this wonderful enjoyable educational family initiative. A natural alliance for us, as summer school holidays are often a time when grandparents look after their grandchildren, and this is an ideal opportunity for all to participate in a fun activity '
Dacorum Borough Councillor Alan Anderson, portfolio holder for planning and infrastructure said, "This is a great opportunity for residents and visitors to enjoy our local high streets over the summer holidays, and we are pleased to be able to offer this alongside Age UK Dacorum to promote the great work that they do."
Taking part in the trail is easy! Simply download the LoyalFree app for free and head to the trails section of the app for more information. The LoyalFree app can be downloaded using this link: www.loyalfree.co.uk/download or by searching for 'LoyalFree' in your app store.
If you are participating in our trail please show your support to us by making a donation via our special JustGiving page, links can also be found on the trail posters.