It's never too late to be active
Published on 04 May 2022 02:00 PM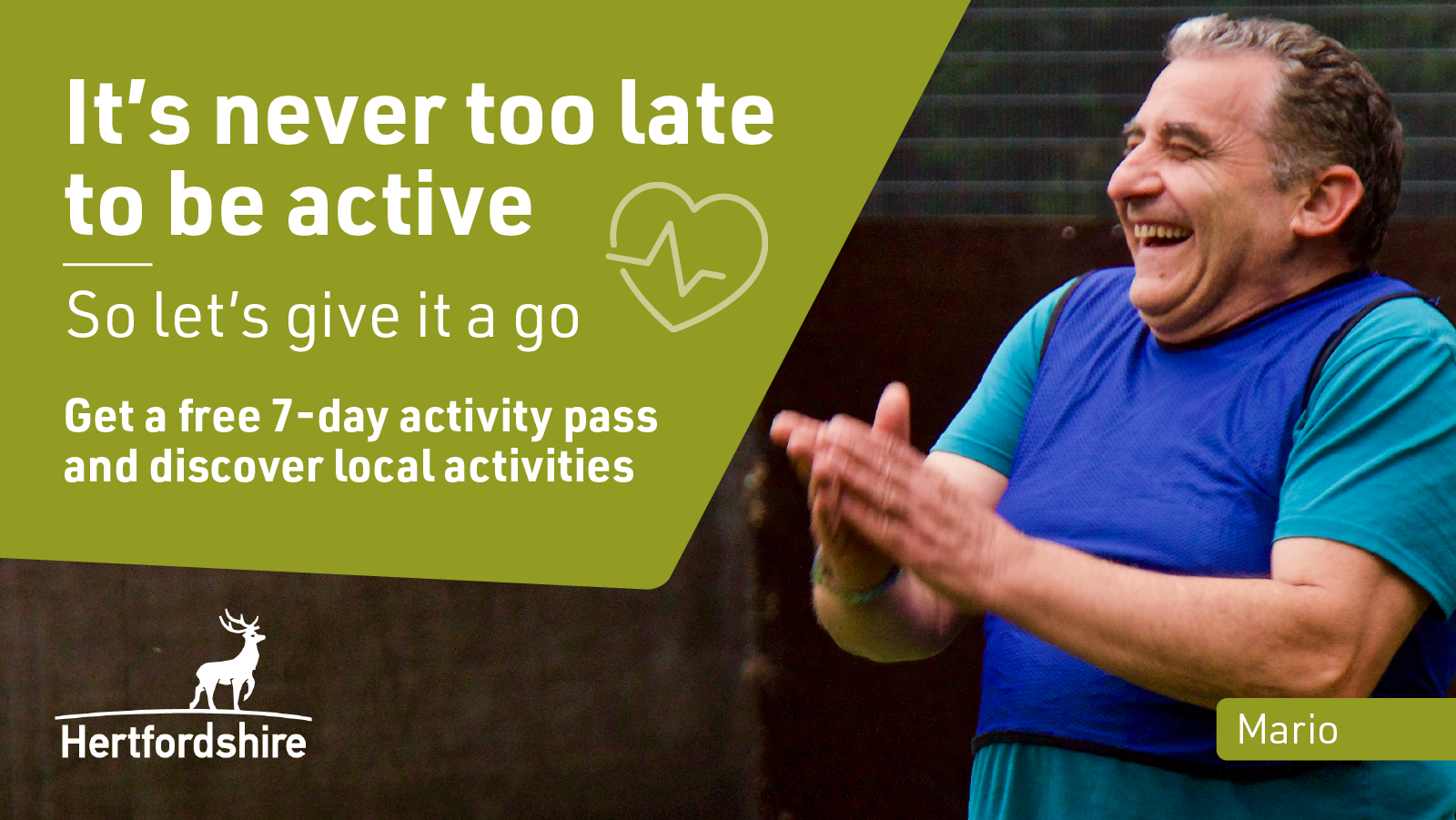 Hertfordshire County Council is working with local organisations like Age UK Dacorum to launch a countywide campaign to help older adults become more active.
The popular 'It's Never Too Late to be Active' campaign is back for a second time, to help adults in Hertfordshire – especially the over 50s - become more active.
Being physically active for 30 minutes at least five days a week is known to provide important physical and mental health benefits for older adults. This is particularly important as we start to reverse some of the effects of COVID-19 and Lockdown.
The aim is to inspire inactive and low activity older adults to become more active, help them to find new activities that they will enjoy and support them during the campaign to achieve their activity goals.
'It's Never Too Late to be Active' runs for 12-weeks from 9 May to 29 July 2022.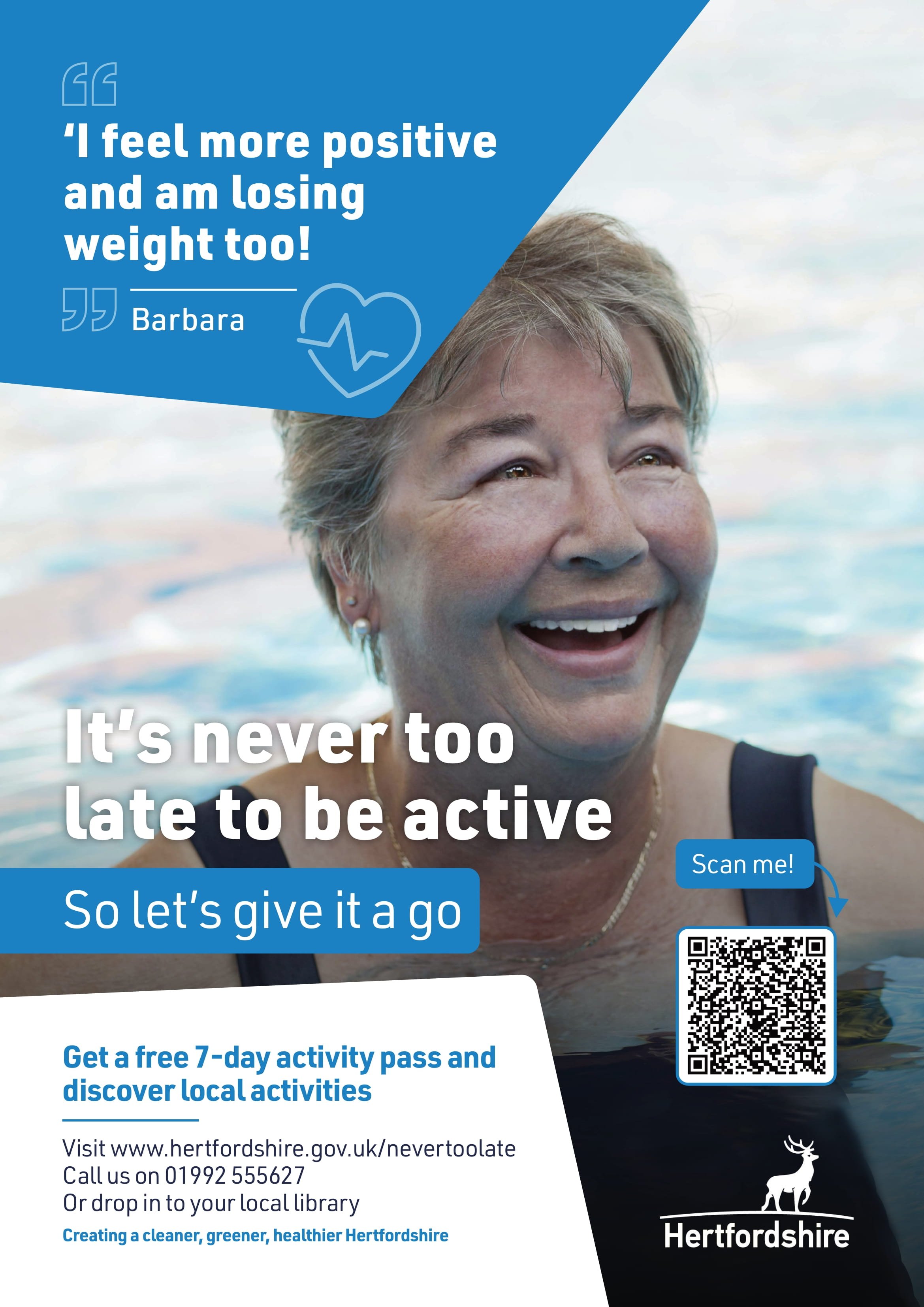 Do you want to get more active but aren't sure where to start? Hertfordshire County Council is here to help!
By joining the campaign, you'll get a free 7-day activity pass to a local leisure centre, so that you and a friend can try new activities for free. To help you find something you'll enjoy at the right level for you, ongoing support is only a phone call away. You could also win £150 sports voucher and other prizes. And you could help your local school win £1000 too!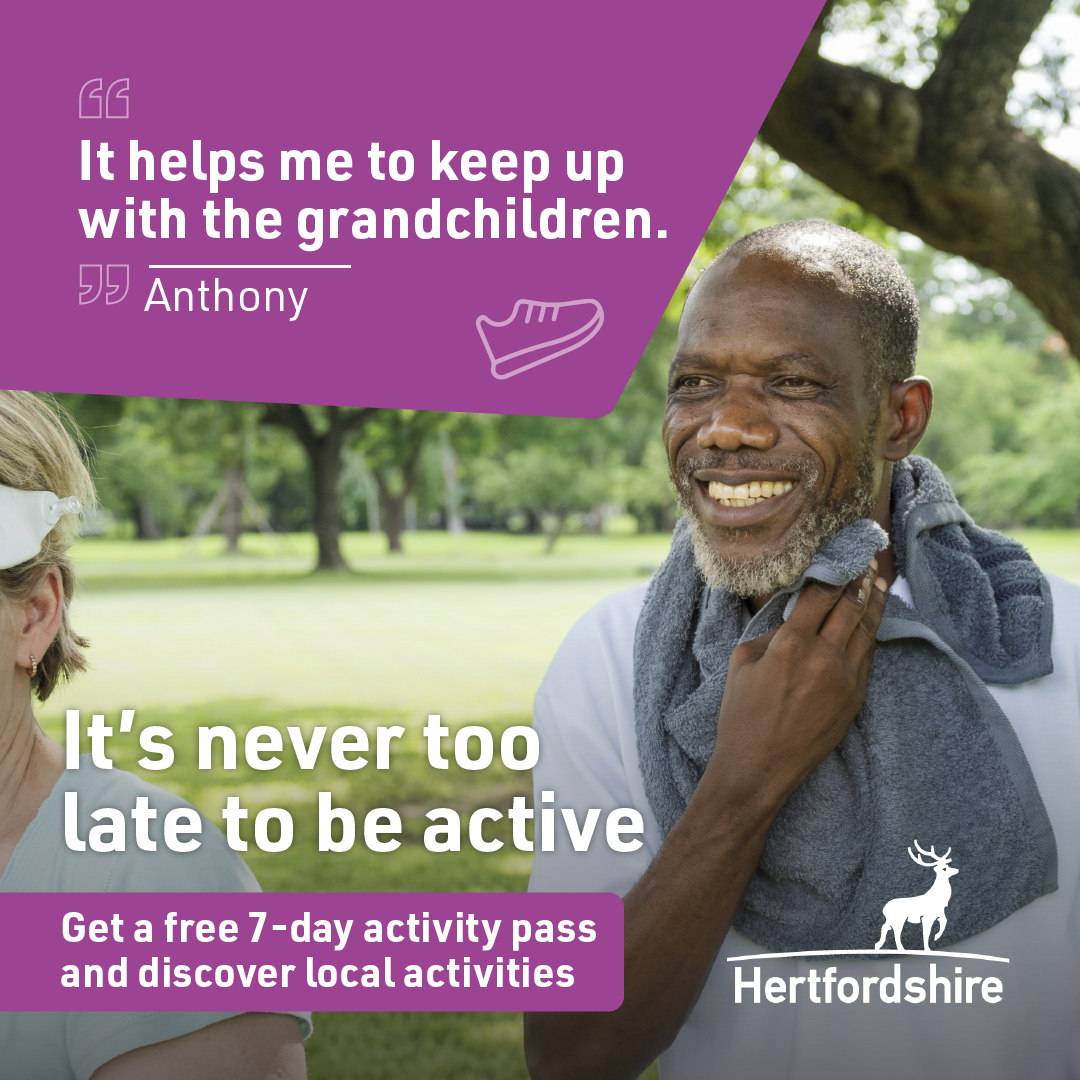 71-year-old retiree and Stevenage resident Jim Furman is no stranger to the campaign – when it first ran in 2018, he took up the offer of a free activity pass and he and his wife haven't looked back!
He said: "The campaign made a big difference to our activity levels as it introduced us to the great activities available at our leisure centre, where we now play badminton regularly. It has made me feel really positive about trying new things."
Jim is well-aware of how important it is for us to continue being active as we get older, both physically and mentally, so he also stays active at home using a second-hand cross-trainer. "I'm a firm believer that it really is never ever too late to make changes, whether that's getting active or making other changes," he said.
"I always feel better after any kind of physical activity, especially when it is enjoyable, which the activities I've discovered through this campaign are. It's at the forefront of my mind now, reminding me to be active every day."
Just 20 minutes of physical activity a day is all you need to get enormous benefits to your physical and mental health, both now and in the future.
So, let's give it a go. Sign up to Never Too Late and keep your body strong, your mind sharp and spark the energy you need to keep doing the things you love.
Want to sign up?
You can sign up from 1st May 2022 by clicking the link or alternatively by calling 01992 555627 or by dropping in to your local library.