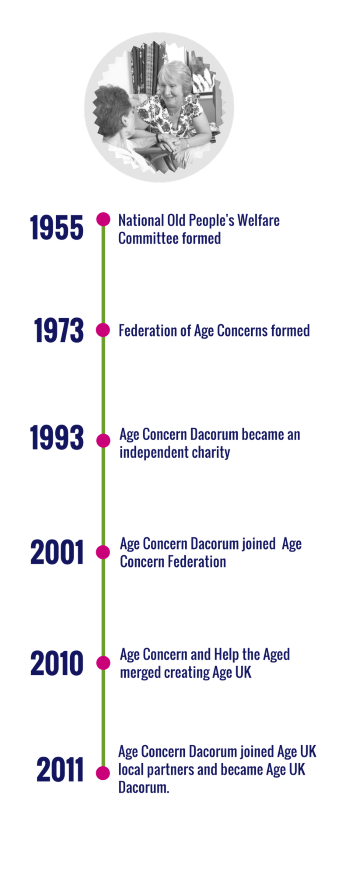 We began our work as part of Age Concern...In response to the large number of older people who were evacuated from cities during 1939/40 the National Council of Social Services set up an old People's Welfare Committee. The objectives of this committee were to 'study the needs of old people and encourage and promote measures for their wellbeing'.

By 1955 this committee had become the National Old People's Welfare Committee and at a local level, including Hertfordshire, Old People's Welfare Committees were pioneering services such as meals on wheels, home help and day centres.

In 1970 the Council became independent from the National Council of Social Services and adopted the name Age Concern. Age Concern England was formed in 1973 and since then the national network has expanded rapidly, made up of independent groups all working to improve the quality of life for older people.

After that, the Federation of Age Concerns was formed. All Age Concerns belong to the Federation and have to meet quality standards in order to do so. Age Concern services are funded in a number of ways and Age Concerns in different parts of the country provide different services.

Following the merger of Age Concern and Help the Aged - we now work under the new name of Age UK. We are now Age UK Dacorum.

The History of Age UK Dacorum
1984 Age Concern Hertfordshire was the County organisation based in Hatfield. Research showed that an increasing number of requests from the residents of Dacorum for a local service meant that organising a new Age Concern for the area was viable.
In the summer of 1984 the organisation convened in St Mary's Road. Shortly afterwards application was made to Age Concern England for a grant to start up this service and a three year grant was given. Age Concern Dacorum was then under the management of the Dacorum Council for Voluntary Service (CVS) at their offices in the Old High Street in Hemel Hempstead. The staff consisted of a Chief Executive and a secretary offering an Information and Advice service.

1988 A grant from Dacorum Borough Council was obtained to continue the work of the organisation and the Day Care Scheme started including the Ethnic Day Care.

1990 The Befriending Scheme started on a voluntary basis only.

1991 A Carers Support Service started with a small satellite office in the CVS in Tring.

1993 Age Concern Dacorum became an independent charity and moved to its own office in Half Moon Yard.

1995 The Befriending Scheme received funding to continue.

1996 The Handyperson Scheme started.

1998 Four Day Centres formerly supported by Adult Care Services were taken over to be supported by Age Concern Dacorum.

1999 The Hospital Discharge and Independent Living Scheme started.
2000 The Telephone Club began.

2001 Age Concern Dacorum joined the Age Concern Federation, a national umbrella organisation and the Sycamore Day Care Club in Sutton House, Grovehill was opened.

2003 Age Concern Dacorum adopted a new Memorandum and Articles of Associations and became an incorporated company limited by guarantee.

2010 Age Concern and Help the Aged merged creating Age UK.

2011 Age Concern Dacorum joined Age UK local partners and became Age UK Dacorum.

2013 Launch of 1st Cogs Club in Aldbury.
2014
Launch of 2nd Cogs Club in Berkhamsted.
2015 2 more Cogs Club launched in Hemel Hempstead (Bennetts End and Leverstock Green)
2015 Launch of Community Memory Support Service
2017 5th Cogs Club launched in Tring