Charity Concert 'The Voyage'
The Voyage
The Voyage (
published in 2016)
, a collaboration between Bob Chilcott and author Charles Bennett, was commissioned by Age UK Oxfordshire as part of a project to highlight and combat loneliness (Campaign to End Loneliness). It brings together young and old and
aims to address the issue of loneliness by talking about the feelings stirred by the aging process and the life journey we travel in. In performing the Voyage, singers of different generations interact with one another, making musical conversation about the many stages of life.
Saturday 23rd March 2019
7.00pm
St John's Church Boxmoor
Station Road
Hemel Hempstead
Herts HP1 1JY
featuring
Aeolian Singers - conductor Stephen Jones
Dacorum Community Choir - conductor Rufus Frowde, accompanist Judi Kelly
Sandringham School Choir - conductor Amy Stothard
St Albans Schools instrumental ensemble - led by Anna Le Hair
Refreshments will be available during the interval
Tickets £12 & £3 (under 18)
Concert tickets can be purchased from Age UK Dacorum, Half Moon Yard, High Street, HP1 3AE or call 01442 259049. Please click
here
to send us an online message.
Ample parking facilities are being provided on the moorland adjacent to St John's Church by kind permission of Box Moor Trust.
About the concert
Throughout the piece, singers assume the role of narrator, guiding the listener on a voyage using nautical imagery. The outer movements provide a watery framework to the piece with rippling figurations, gentle waves and echoes in the choral parts.
There will be a full supporting programme in the second half of the concert in which each of the groups will perform their own selection.
More about 'The Voyage'
The Voyage was, in 2017,
shortlisted
in the Learning and Participation Category of the Royal Philharmonic Society (RPS) Music Awards. The RPS Music Awards - presented in association with BBC Radio 3, are the highest recognition for live classical music in the UK.
The Voyage was also performed by VocalEssence in
Minneapolis
.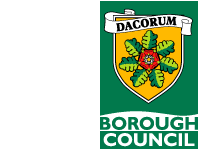 The concert is funded by Dacorum Borough Council, Boxmoor Trust, the John Laing Charitable Trust and others. All proceeds from this concert will go to the newly-launched Boxmoor Good Neighbours service which provides help and support to older people living in Boxmoor, Hemel Hempstead.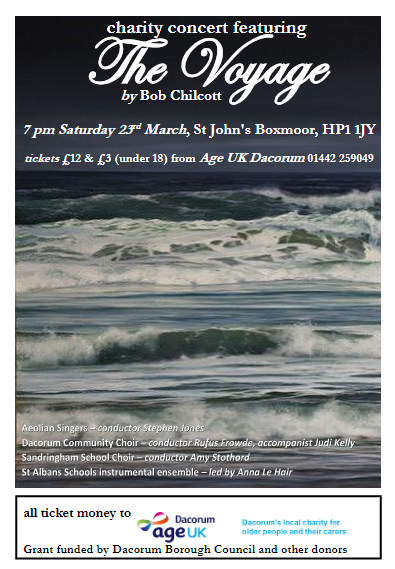 Image - The Incoming Tide - Cannon Beach - Oil on canvas by Renat Muccilo