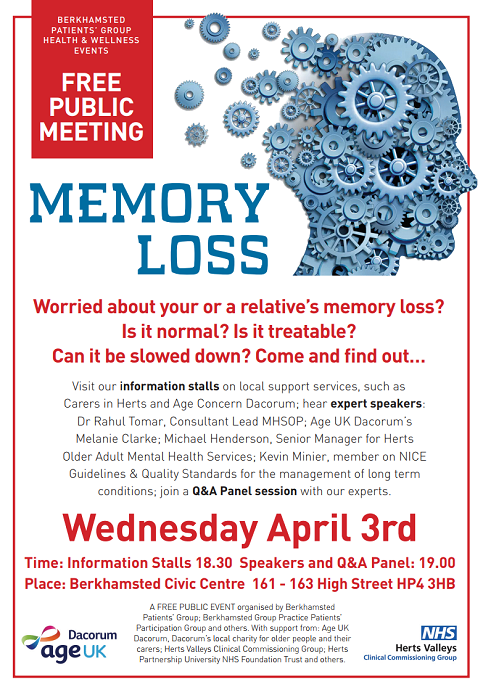 Worried about yours or a relative's memory loss? Is it normal? Is it treatable? Can it be slowed down? Come and find out more at this free public meeting on memory loss.
Visit Berkhamsted Patient Group's Health and Wellness Memory Loss Event on Wednesday April 3rd at Berkhamsted Civic Centre, 161 -163 High Street, Herts HP4 3HB.
Information stalls on local support services from 6.30pm. Listen to experts and have your questions answered at the Speakers and Q&A session at 7pm. Speakers include
Dr Rahul Tomar, Consultant Lead at MHSOP
Michael Henderson, Senior Manager, Herts Older Adult Mental Health Services
Kevin Minier from NICE Guidelines and Quality standards for the management of long-term conditions
Melanie Clarke, Operations Manager, Age UK Dacorum
This is a free public event organised by Berkhamsted Patients Group, Berkhamsted Group Practice, Patients Participation Group with support from Herts Valley CCG, Herts Partnership University NHS Foundation Trust, Mental Health Services for Older People (MHSOP), NICE (National Institute for Care and Excellence) and Age UK Dacorum.
----------------------------------------------------------------------
After-event update
If you missed the event here are some answers from each of the speakers in the Q&A panel