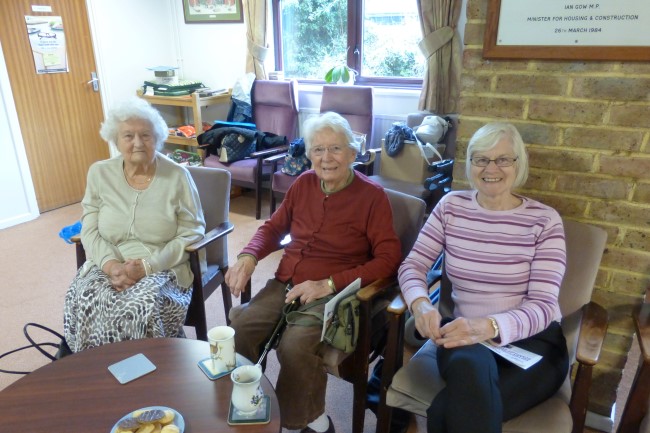 We run a number of weekly clubs in the Hemel Hempstead and Berkhamsted area (club days and locations listed below) with a new club about to open in Tring in July. The clubs take place in the comfortable lounges of sheltered accommodation and run from 10.30am - 2.30pm
At our weekly clubs we provide door-to-door transport, all your refreshments and a hot midday two-course meal. A day typically starts with coffee and biscuits.

Our weekly morning activities vary but there is always the opportunity to take part in quizzes, board games, enjoy craft making and sometimes we offer light exercise sessions and speakers on different topics.
The afternoon sessions vary but we usually have a game of Bingo and a small raffle and often we have entertainers visit us.
During autumn & winter season our outings are weather permitting but we try and go out at least once a month.
We plan our events around our clients interests - it's your club so you decide!
There is always a team of supportive staff and volunteers on hand to welcome and assist you.
The cost of the day is £16 if transport is required or £11 without transport.
For further information on our clubs/day centres, please contact Sarah Lovejoy, Living Well Manager at 01442 259049 ext 200 or email her at lwmgr@ageukdacorum.org.uk
Club Days and Locations
Our Active Living Clubs are held on the following days in Dacorum (Please click on each day for the addresses and location of the clubs):
Monday
Chestnut Club
The Lounge
Florence Longman House
Weymouth Street
Apsley
HP3 9SN .
Tuesday
Cherry Tree Club
The Lounge
Florence Longman House
Weymouth Street
Hemel Hempstead
HP3 9SN
Sycamore Club
The Lounge
Two Beeches
Avon Square
Grove Hill
Hemel Hempstead
HP2 6BG
Happy Tuesday Club
The Lounge
Shaftsbury Court
90 Valley Road
Berkhamsted
HP4 3PE
.
Wednesday
Bovingdon Club
The Football Club
Green Lane
Bovingdon
Hemel Hempstead
HP3 0HT

Apple Blossom Club
The Lounge
Phyllis Courtnage House
Smithfield
HP2 5YN
.
Thursday
Ivy Leaf Club
The Lounge
Gilbert Burnett House
Long John
Bennetts End
Hemel Hempstead
HP3 9ND

Maple Tree Club
Evelyn Sharp House
Field Road
Adeyfield
Hemel Hempstead
HP2 4RX
.
Friday
Tring Club
Every 2nd and 4th Friday of the month
10.30am -1.30pm
Oaklawn
Akeman Street
Tring
HP23 6AH
.