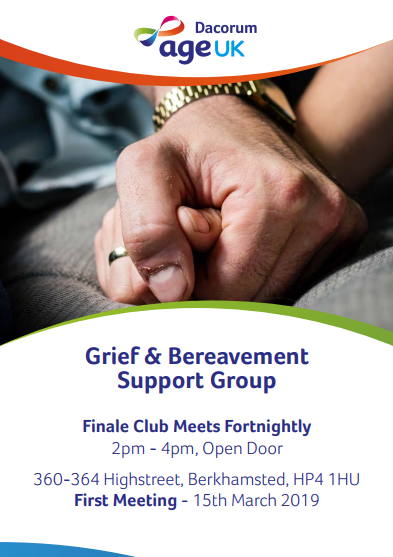 Talking about the end of our own life and that of our loved ones is usually difficult. You may feel daunted at how to plan to protect your family when you are no longer there, or you may be overwhelmed by the news of a life-limiting illness or death of a loved one. You may feel lonely or isolated and would like support and guidance.
When someone important to us dies, it leaves an empty space in our lives and we can experience strong feelings. Perhaps you feel sad that they are no longer with you, bad that you could not do enough, guilt about your relief that they no longer have to suffer illness or frailty or anxious about how your own life may be changed. Grief is a natural process but it can make you feel many different things. It can shake things up - your beliefs, your personality, and even your sense of reality.
FINALE CLUB

Grief & Bereavement Support Group
Providing community support to anyone seeking information, advice and guidance on end-of-life planning, death, funerals and bereavement.
Friday afternoons, once a fortnight, commencing 15th March 2019

2:00 to 4:00 pm
Open Door
360-364 High Street, Berkhamsted, Hertfordshire HP4 1HU
Facilitated by an experienced Funeral Celebrant/Officiant and Funeral Adviser, each week Finale Club will focus on different topics and offer varied activities and visits. Club members will be encouraged to suggest and contribute towards meeting content. Club members often get to know each other well and some continue to meet informally offering each other continuing friendship and support.
Why is it called Finale Club?
A Finale is the culmination of much work and a celebration of all that has gone before. It is joyous, memorable and comforting as it brings together many different elements but, also, poignant as it marks an ending. So, this is Finale Club's aspiration: to promote and support preparation, cohesion, inclusion, comfort and joy.
Finale Club meets once a fortnight, on Friday afternoons, from 2:00 to 4:00 pm at Open Door, 360-364 High Street, Berkhamsted, Hertfordshire HP4 1HU. 2019 dates commence from 15th March. Do join us.
How much does it cost?
Finale Club is free to attend. Age UK Dacorum is a registered charity and relies on gifts and donations to carry out its work. Because of people's generosity it is possible to offer this support free of charge to everyone who needs it. We receive only a third of our budget from statutory authorities (We are not funded by Age UK National).
We do not expect donations but any contributions you might like to make will be gratefully received. Every donation, large or small, helps us to make a difference.
Donations received will be shared by Open Door and Age UK Dacorum.
For further information please contact:
| | |
| --- | --- |
| | |
| Telephone | 01442 259049 |
| Email | |
Publications
When someone dies there are many things to do, often at a time of great personal distress when we feel least able to manage.

Things you can do to look after your mental wellbeing, as well as steps you can take if you think you need some help.

Although bereavement is a highly personal event, there are recognisable reactions and emotions many of us experience when someone close to us dies.