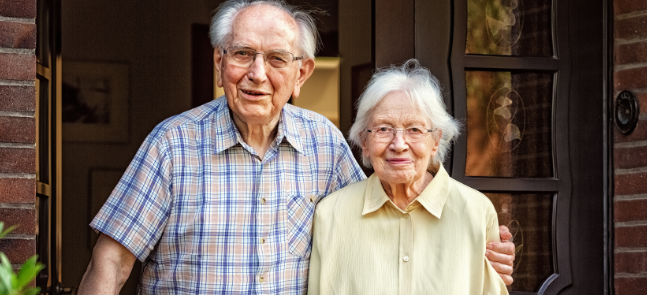 Age UK Dacorum offers support to people living in the Borough who give unpaid care to a relative, neighbour or friend, where one of them is over 50.
What is our Carers' Support Service?
If you spend time caring for someone and feel tired, worried, alone or frustrated and in need of some friendly, non-judgemental, practical and emotional support then Age UK Dacorum is here to help.
Our aim is to help you take control of your life and your situation so you can make decisions that are right for you. We don't make judgements, we don't make decisions on your behalf, we are simply here to help, if and when you need us.
What we can do ?
• Provide accurate information and guidance on a range of issues from sitting services and respite care to Adult Care Service assessments for you and the person you care for.
• Help you to secure your financial entitlements.
• Inform you about the services available to help carers and how to access them.
• Provide information about leisure and social activities.
• Provide regular emotional support phone calls.
We offer help over the phone or one of us can come and see you at home, or meet you elsewhere – it's up to you.
Our service is free and confidential.
Carers Week 2023
To celebrate this year's 'Carers' Week' we held two events for Carers' living in Dacorum.
Terry suffers with dementia, his wife Janice cares for him, he told Age UK Dacorum the following:
"I don't suffer with it, my wife does. Dementia's not something you can see. You can't see dementia. It's not like having the flu, you can see someone's ill with the flu". If you care for a loved one like Janice our Carers' Support Service is here to help. (names above have been changed)
Carer's Groups
Hemel Hempstead Carers' Group - Leys Road, Bennetts End
The Hemel Hempstead Carers' Group takes place every 3rd Thursday of the month at Bennetts End Community Lounge, Leys Rd, Hemel Hempstead HP3 9LZ.
Group meetings are from 1:30pm to 3pm.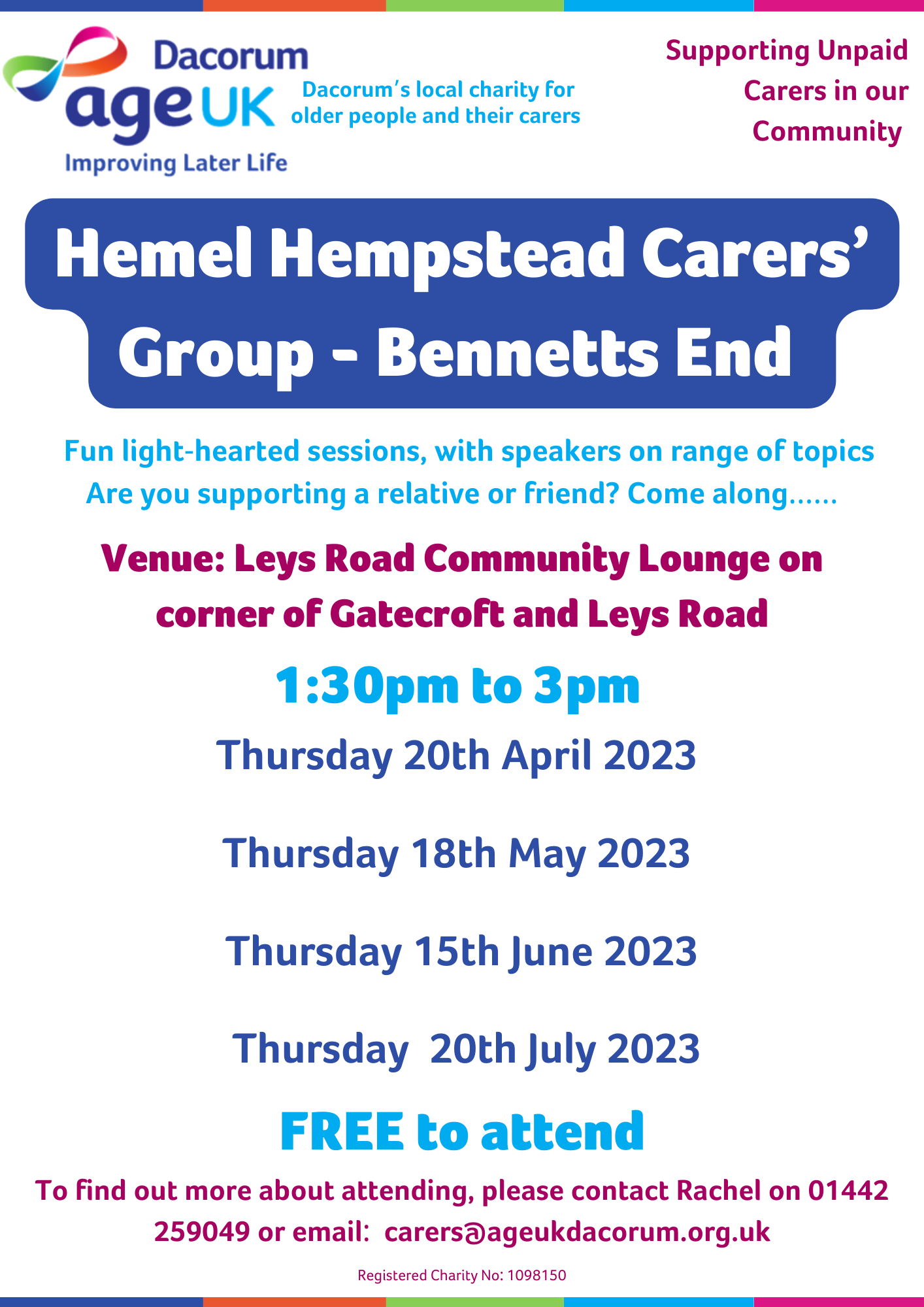 Carers' Support Groups (Pre-Covid-19)
Regular meetings took place in Hemel Hempstead and Tring. Meetings were varied with activities such as gentle chair-based exercise, speakers on a wide range of issues and occasional local outings.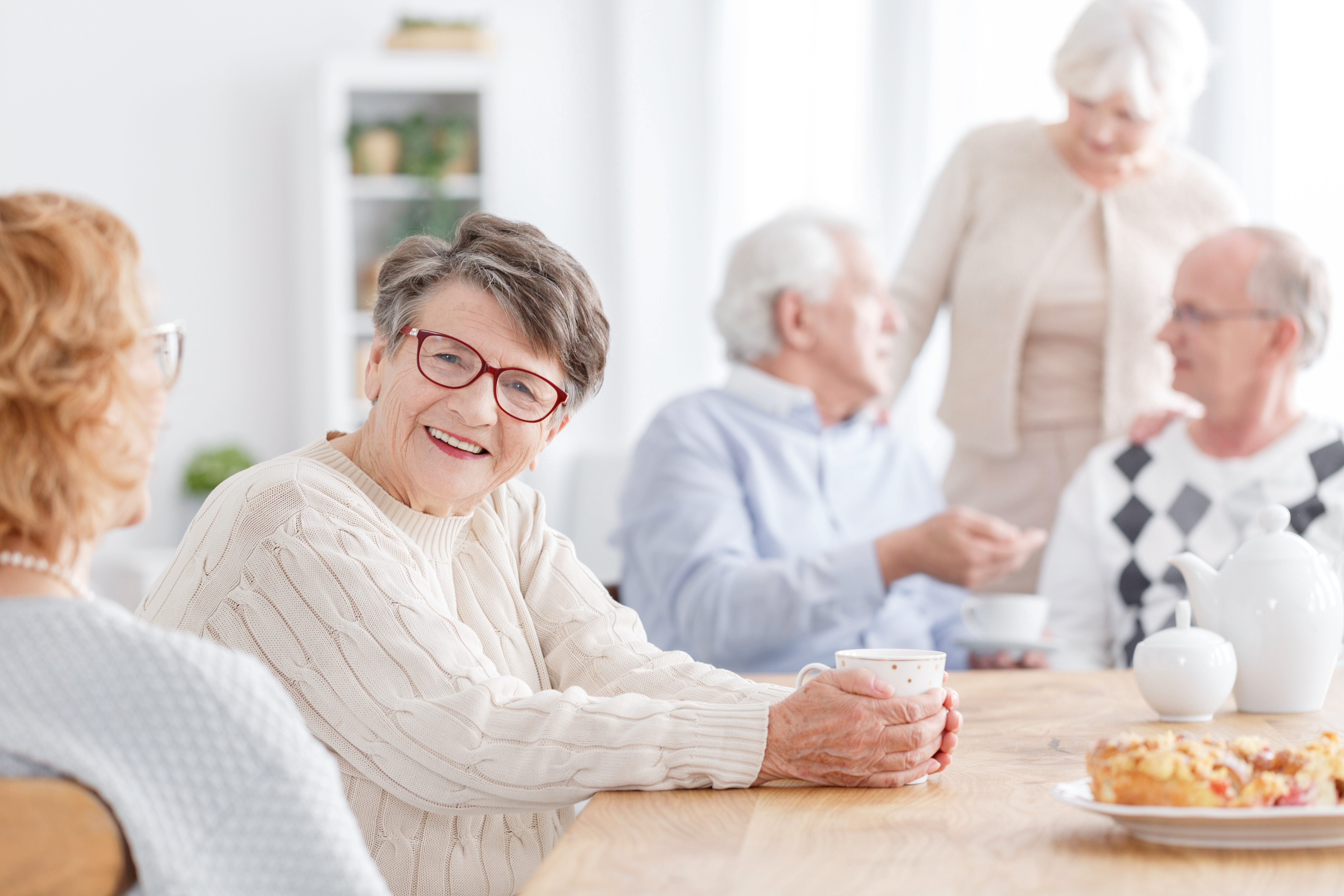 Friendship Support Group, Warners End, Hemel Hempstead
The group meets every fourth Thursday of the month atVarney Road Supported Housing Scheme –Communal Lounge, Off Great Sturgess Road, Hemel Hempstead, HP1
Group meetings are between 1:30pm- 3pm
The Group is open to anyone who has been or is a Carer for a family member, friend or neighbour.
If you would like to make friends, please come along to our friendship group and enjoy coffee and a chat. The group is open to anyone who would like to attend.
If you would like to attend or want to know more about this Group please contact Rachel on 01442 259049.

Carers Information and Advice Leaflets
Caring for a friend or relative can be hugely rewarding, but it can also be challenging. So it's good to know what support is available for you
and the person you look after.

Every year, up to £3.5 billion of state benefits goes unclaimed by older people in the UK. Some are put off by the claims process, others simply don't know that they qualify for extra support.
The word 'carer' means different things todifferent people. You may not think of yourself as one, but if you look after a partner, relative or friend who would find it difficult to manage without your support, then you are a carer. The person you care for may have physical or mental health needs, or a disability.

Everyone's experience of dementia is different. But being prepared can help you and the person you care for, now and in the future. In this guide, you'll find information on what to expect, practical things you can do, strategies that could help you cope, and where to turn for support.